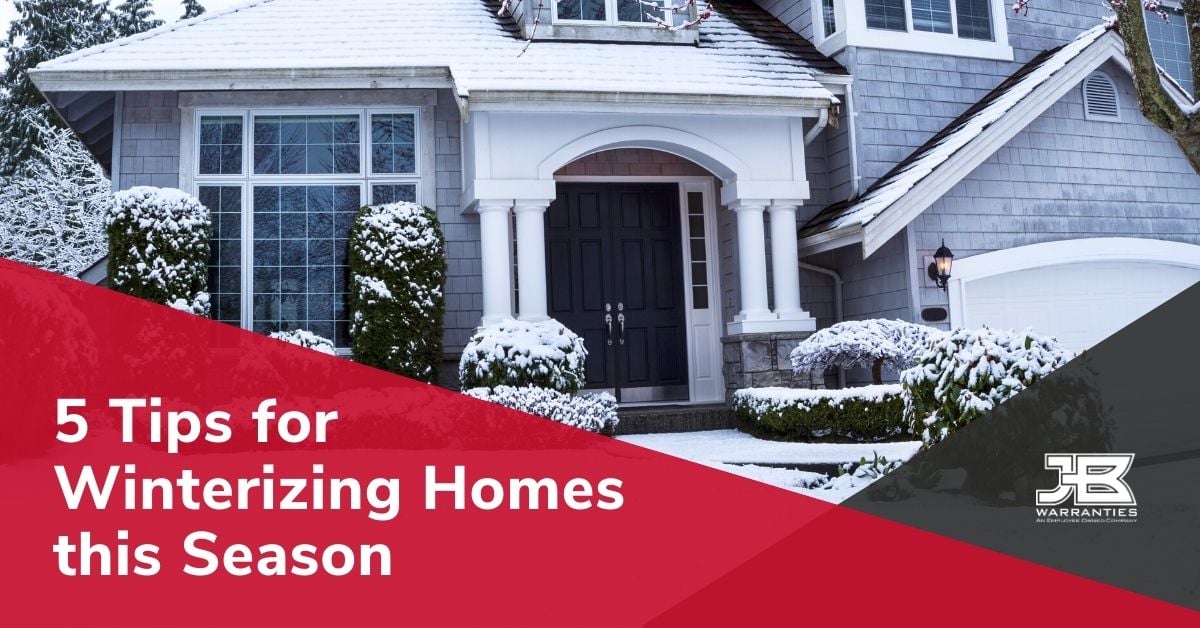 Cooler temperatures across the country mean seasonal maintenance on HVAC systems will soon hit an annual high. Before leaving any customers in the cold this winter, it's important for technicians to offer winterization at each service appointment. Whether you'll be checking heating and cooling vents for potential gaps or upselling customers on smart thermostats, these improvements can ensure each customer is toasty and warm this chilly season.
From routine maintenance appointments to cold weather service calls, consider these five tips for winterizing homes.
How is Home Winterization Related to HVAC Systems?
Home winterization can have one of two meanings:
To prepare an HVAC system for inactivity if a location is vacant through winter months, or

To prepare an active HVAC system for cold conditions ahead
For homes and businesses that are vacant throughout the heating season, winterization helps prepare HVAC systems and their components not to be affected by temperature extremes. In other words, for customers who won't be in their homes or business throughout winter, winterization can ensure pipes won't freeze and damage the property while away. These processes involve thoroughly purging HVAC systems of any water, emptying water heaters, and filling various fixtures with an antifreeze solution.
For HVAC systems that are active through the winter season, winterization promises customers will remain comfortable throughout the cold months. This process ensures all components are prepared to warm the home or business effectively and will be ready for system cooling come the spring and summer months.
For this article, we'll be discussing how to prepare an active HVAC system this winter.
Why Offer Winterizing for Customers with Active Systems?
Routine HVAC inspections each winter assure customers stay on top of everyday repairs and maintenance to extend the lifespan of their equipment. Common malfunctions and replaceable parts can be addressed in a customer's HVAC system before complete failure and the onset of long-term damage. A well-operating HVAC system can also save customers money on utility bills as well as ensure systems are prepped for the harshest winter days ahead.
Such efforts to help save customers money in the long-haul will ultimately increase your overall sales due to the honest customer relationships you build. Routine maintenance services can be offered in maintenance or warranty agreements to improve customer satisfaction, grow company sales, and encourage customer loyalty.
5 HVAC Winterization Tips for Active Consumer Systems
When winterizing a vacant home with an inactive HVAC system, the winterizing process is quite simple. When winterizing an active HVAC system, the process is significantly more detailed and requires a bit more attention. Here are the five tips HVAC technicians should follow.
1. Change the Air Filter
Because air filters can typically go a few months without replacement, they can often be forgotten. HVAC air filters left in place for too long can stress the system, forcing it to work harder to circulate air and produce heat, ultimately increasing a customer's utility cost. Filter replacement is also a convenient add-on or maintenance agreement clause that is cost-effective and simple for technicians to be prepared for.
Furthermore, a quality air filter acts as a form of defense between customers and airborne allergens, viruses, and bacteria particles found within their homes. With an upgrade to higher-grade filters, customers are also left better protected during the upcoming flu season and ongoing COVID-19 pandemic.
2. Seal All Gaps in Heating and Cooling Vents
When cold weather arrives, sealing off any present gaps can help eliminate drafts that seep into homes and lower indoor temperatures. These drafts can cause HVAC systems to overwork themselves to effectively keep up with the influx of cold air and unbalanced room-to-room temperatures.
Be sure technician vehicles remain stocked with caulking tools to quickly and easily repair any gaps found within customer homes, inducing cold air drafts. For larger areas of concern causing a heavier cold air draft, a foam backer rod or spline can effectively seal the area.
3. Inspect the Ductwork
When winterizing a customer's HVAC system, your technicians should also ensure all air ducts are properly connected and no gaps are present between structures. Holes and loose ductwork segments can cause a reduced flow of heat that certainly isn't welcome during the chilly season. Likewise, remember to check for blockage and any large scale damage that could significantly reduce HVAC system performance. If possible, consider offering air duct cleaning services to ensure system performance and readiness, no matter the weather.
4. Check the Electrical Wiring
Frigid cold temperatures can have damaging effects on an HVAC system's wires and cables. Below freezing temperatures can cause system hardware to become brittle and inflexible, prompting them to crack and impact performance. Similarly, customers with older systems might have wiring that has corroded over time, making them more prone to system malfunction issues.
Because customers deserve the peace of mind that their HVAC equipment will withstand a harsh winter snowstorm, be sure technicians remain prepared this season. Direct your team to always thoroughly inspect electrical wiring within a customer's system and alert customers of any potential concerns. Likewise, bear in mind, technician vehicles should remain stocked with any necessary resources to tackle any issues that arise quickly.
5. Test the Thermostat
In general, if a thermostat doesn't operate properly, customer homes will not be adequately cooled or heated. This issue can cause uncomfortable living situations and energy bills to soar. Not to mention, customers may assume their HVAC technician or maintenance company made a mistake within their system installation, causing these uncomfortable situations.
Your technicians should thoroughly test each thermostat in a customer's home or business for efficiency and accuracy upon every service visit. With modern advancements in thermostat technology, numerous options are readily available to offer customers if issues with the current thermostat are discovered. Many current options support smart home capabilities that allow customers to control thermostats remotely and apply presets to help save them money on utility bills. These great upsell points can help boost says while better preparing customer homes for the winter.
Keep Customers Warm this Winter
As the winter season continues to settle in, you and your HVAC team should anticipate a few system issue service calls in the near future. By promoting winterizing services and adopting simple practices, customer HVAC systems will be able to withstand harsh temperature drops ahead. From thermostat testing to air filter replacement, be sure your technicians are addressing these key winterizing tips to maintain top customer satisfaction and loyalty this winter season.

Nick Ahrens
National Account Manager