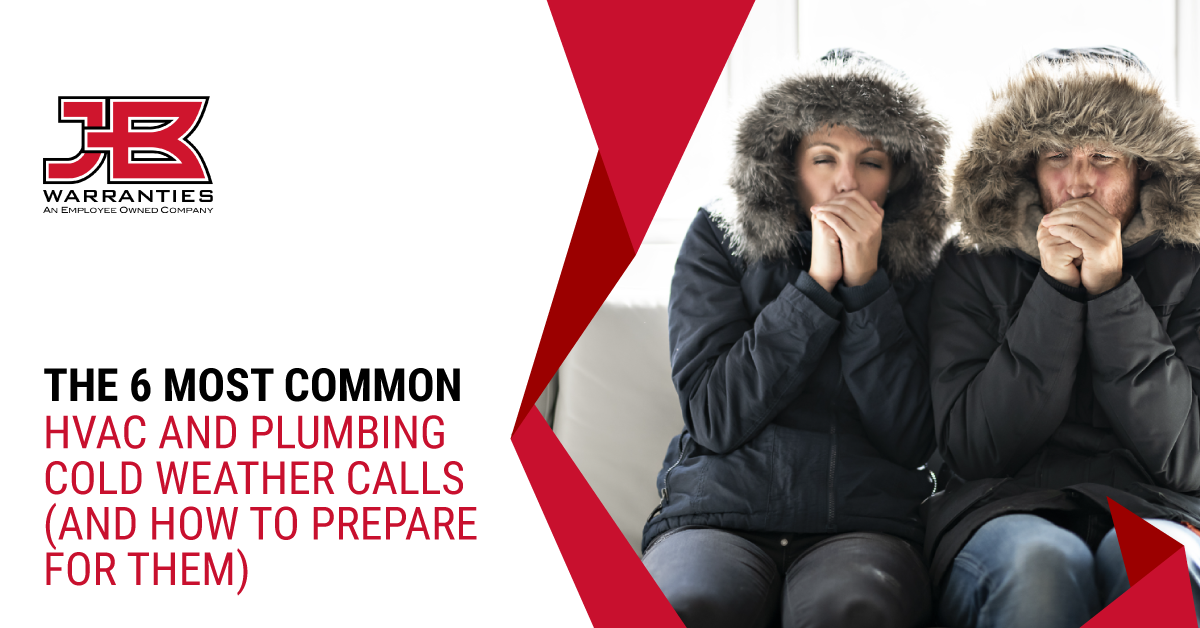 Each year as the temperature drops, we see the same common issues arise across the map. Whether you're answering an emergency call or a routine service visit, it's crucial technicians and teams remain prepared to tackle any cold-weather concerns that come about. Consider these common issues HVAC and plumbing companies face annually as the seasons change, and check out what you should be doing to prepare for them.
1. Frozen Pipes
Of the many concerns customers face each winter, frozen pipes are typically a top problem-causer. HVAC and plumbing piping found in above-ceiling and sub-floor spaces can freeze and burst, wreaking havoc in customers' homes when winter temperatures fall below freezing. To help protect clients and prevent any in-home disasters, send out a few seasonal notices via email or social media of the precautions customers should take to avoid frozen pipes. A key point to remind customers of is to maintain a temperature of 65+ degrees at all times during freezing months.
While simple tips can help prevent significant damage, you and your team should expect a few calls involving frozen pipes this winter. When customers call, be sure to have enough replacement piping and clean up tools on hand. When pipes burst, in-home flooding can occur, so always have a wet-vac in your trucks to alleviate some of the stressful cleanup processes customers will face. Likewise, consider offering upgraded options, such as insulated piping or thermostatic control tape, to prevent and treat any further issues.
2. Minimal Air Flow That Isn't Warm Enough
HVAC systems will work their hardest during colder months — causing one of the most problematic times of the year for customers. A common issue customers face annually is decreased airflow throughout the home that just "doesn't seem warm enough." While causes can vary, the most common culprit is simply a dirty air filter. An air filter past its prime can restrict airflow, causing the system to work overtime while still providing less-than-satisfactory results.
During this time of the year, be sure to remain stocked with common filter sizes, including 12 X 24, 14 X 20, and 14 X 30, to alleviate this common issue. For an added perk for clients, consider creating seasonal reminders to have customers change their filters at the start of cold weather. Also, use this time to remind customers to schedule their cold-weather checkup appointments in advance to ensure optimal functions through the fall and winter.
3. Malfunctioning Heat Pumps
The last thing customers want to endure on a freezing night is a malfunctioning heat pump. But due to high wind chill, low temperatures, and ice build-up during the fall and winter months, many local customers will undergo issues with their home's heat pumps regardless. Typical heat pump malfunctions are often caused by failed start capacitors, broker reverse vales, and thermostat issues.
During the chilliest time of the year, remember to stock up on these replaceable parts to grant a quick turn-around for customers. Likewise, this would be an excellent time to offer upgraded options, like smart thermostats, to ready your customers for the remainder of the cold season. Similar to minimal airflow issues, offering system checkup specials during this time of the year can also better prepare and prevent these systems from causing problems during these crucial months.
4. Clogged Drains
Between holiday festivities and freezing temperatures, customer concerns surrounding clogged drains are pretty common this time of year. Debris build-up plus freezing temperatures commonly cause blockages in customer's kitchen sinks. Throughout the holiday months, be sure that technicians are readily equipped with snakes, drain rooters, and drill-style drain cleaners to tackle customer concerns quickly.
For customers who are more of the DIY-type, consider reinforcing the dangers of snaking their own drains. Without professional help, doing so can damage the pipe itself, adding to pipe corrosion or scratching the porcelain on sinks and toilets. Furthermore, consider these months as the perfect time to offer system upgrades like garbage disposal systems and professional drain cleaning services to ready customers for the remainder of the cold season.
5. Faulty Pilot Lights
Because some furnaces will only ignite as long as a pilot light turns on, a faulty pilot light can result in customers being left in the cold. The common cause of a faulty pilot light is a dirty or damaged flame sensor located within the furnace. Fortunately, this issue is a quick-fix, so remind all technicians to keep their service trucks equipped with this common replacement part.
Make pilot light inspections a point of interest for all system checkups and, above all, remind customers not to attempt igniting pilot lights themselves as this can be dangerous.
6. Carbon Monoxide Leaks
A quiet yet scary concern, carbon monoxide leaks result from cracked heat exchangers or flue pipes within a customer's heating system. This issue, combined with blocked vents, intake valves, and chimneys, can cause a dangerous build-up of carbon monoxide within customer homes. As the winter chill sets in, be sure to keep a running stock of these replaceable parts. Take the time to offer customers system inspection and cleaning services to ensure optimal performance throughout the year.
Customer safety should always be a top concern. Educate customers when in-person and on social media about the dangers of carbon monoxide build-up and the importance of monitoring ice and snow build-up on vent locations. Remember to offer carbon monoxide monitor installation as an extra step to show your commitment to customer safety truly.
Don't Leave Customers Out in the Cold This Winter
Don't let cold weather calls put you and your HVAC or plumbing business behind. An unprepared and unstocked team can leave a bad taste in your customer's mouth. By acknowledging these common cold-weather concerns, and the simple steps you should take to better prepare for them, you and your team can continue providing top service within your area for the cold months to come.

Cody Grant
Regional Manager at JB Warranties