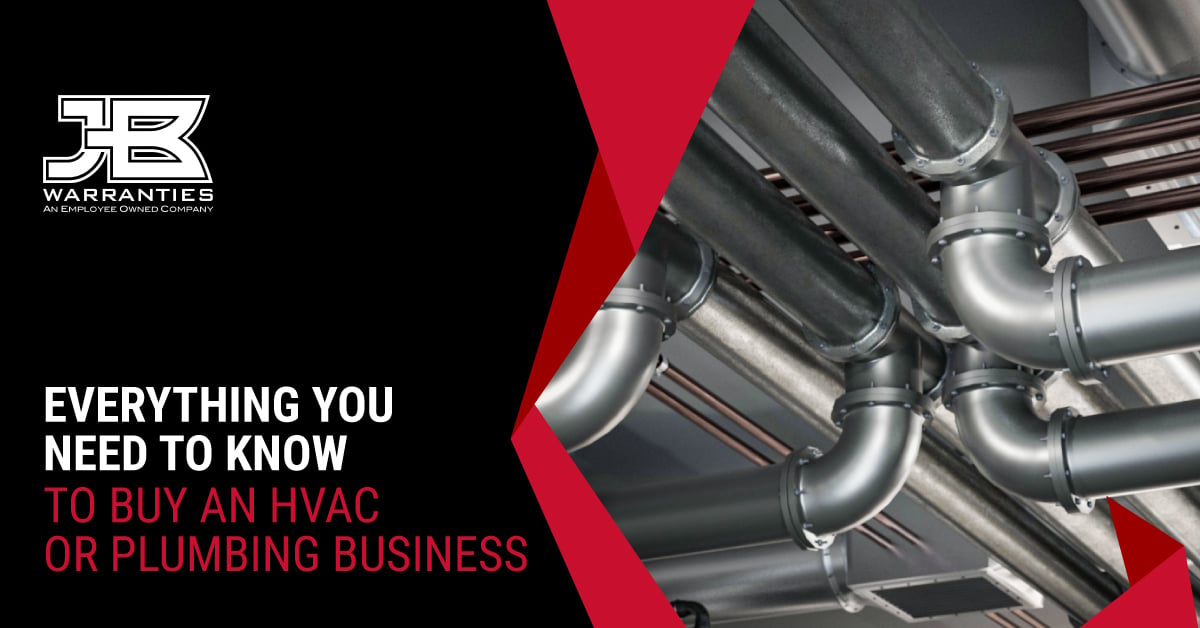 Whether you're beginning a new chapter in your entrepreneurial career or extending the longevity of your HVAC or plumbing tenure, buying an existing business can be a good step in the right direction. But with the market at a competitive high, it can be challenging to determine which company is suitable for acquisition.
In this segment of our Boosting, Buying, & Selling: A Beginner's Guide to Business Series, we're diving into everything you need to know to buy an HVAC or plumbing business.
1. Do Your Market Research
Now that you've decided to buy an HVAC or plumbing business, market research is a crucial first step in reaching a successful acquisition. First, decide on a locality and assess where the current market stands. These details are an excellent indicator of how profitable or risky an investment may be.
Likewise, take a look at the competition in the area and where they currently stand. Do they have poor reviews? Are they dominating Google or Angie's List? Understanding where others lack or lead can help you better comprehend what direction your company will need to go to succeed.
Before settling on a locality, be sure to research available services in the area. While it won't be hard to find an HVAC or plumbing business that provides basic services, do any of them offer specialty services that can help set them apart from the rest? If not, this can be your chance to shine. From smart technology to geothermal technology, adding unique services to your list is an excellent way to boost profit while demonstrating to local consumers that your company is a top choice.
2. Look Into Potential Sellers
Once you've decided on a location, now's the time to look into available business listings. At this point, you may want to consider the help of a business broker. With immediate access to company listings, financial standings, and all necessary communication routes, a business broker can assist in effectively investigating any potential sellers you have in mind.
Begin by narrowing down a pool of potential sellers and analyzing their current customer base and online presence. One thing to take into consideration before buying is the possibility of inheriting a poor online presence, so be sure to check out everything from third-party reviews to their use of social media. These items are also good indicators of where company weaknesses lie, such as technician productivity or customer service, so you can plan for what adjustments you may need later on.
Don't forget to ask the sellers a few essential questions. Consider asking why they're selling the business, as this may dig up any unknown red flags, such as financial hardships. Also, implore about what's included in the sale, such as employees or a vehicle fleet. And while the listed price might sound good, a lack of passed down resources can leave you spending more than you expected. So, you'll want to ask for the financial proof and reasoning behind the asking price as well.
3. Make an Offer and Finalize the Sale
If you've found a business listing you deem a worthy investment, it's time to make an offer and finalize the sale. But before making an offer on your own, consider working with a certified public accountant (CPA) and business broker. Together, these professionals can ensure your chosen company is listed at a fair asking price and is a financially-sound investment. You don't want any underlying debts affecting your growth after signing the dotted line.
Likewise, you must lay down a complete set of terms and conditions with the seller before purchasing. Word for word, establish which assets will be provided to you as the buyer and if purchasing fees will be covered. A CPA can be immensely beneficial here. They can ensure that all necessary state requirements, legal aspects, and necessary inspections have been completed prior to purchase.
To finalize the sale, complete and acquire all necessary paperwork. Purchase agreements, transfers of vehicle titles, customer warranty agreements, and financial history are critical documents needed to continue running the company. This is where a business broker can make the sale significantly easier for you.
4. Develop Your Post-Buy Plan
Now that you're set to acquire a new HVAC or plumbing business, commit to creating a personal plan outlining your goals for the company. Develop a financing strategy using the current numbers available to you. This process will help you understand any further investments or efforts that may need to be completed before seeing a profit or even reopening for business.
Expand your plan into increasing your customer base and satisfaction. Analyze weaknesses in current reviews and work to expand customer relations by possibly offering new owner incentives and specials.
Finally, get to know your newly inherited employees and/or begin the hiring process if necessary. Consider implementing training or education plans to expand on the newly acquired business and show employees that you're ready to work with them and improve their careers.
Are You Ready to Buy a Business?
Buying a business can be nerve-racking, but following these simple tips to purchasing an HVAC or plumbing company can significantly reduce the stress. From performing market research to investigating potential sellers, these steps are key to profiting from a solid business investment.
Unsure if you should buy or build your own business? Tune in next week for the last installment of our Boosting, Buying, & Selling: A Beginner's Guide to Business Series!

Jeff Bohannan
President & CEO of JB Warranties