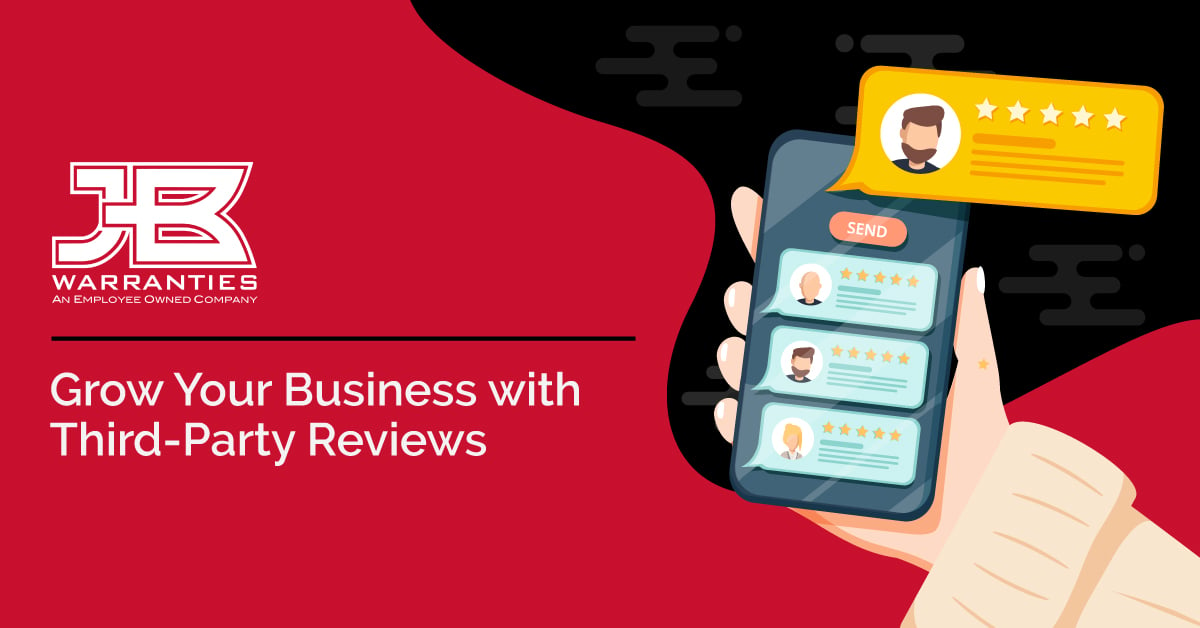 From a blind date to a job interview, you know first impressions can make or break your success. Now, consider a potential customer on a Google search for the top HVAC and plumbing services in the area. Without glowing reviews or an established online presence to make an excellent first impression, your company will quickly be buried under a list of competitors. To better place your business on top, you'll need to maintain a healthy and positive presence in the world of third-party reviews—we're talking Angie's List, Google, and the ever-dreaded Yelp.
Consider these key steps for growing your HVAC or plumbing business with third-party review platforms.
What Are Third-Party Reviews?
As with any type of business, customer reviews and testimonials are critical to your HVAC and plumbing company's long-term health and appeal. They draw customers to your business and speak to your professionalism and skill. Online reviews are generally split into two categories: first-party and third-party.
When a company collects reviews and displays them on a personal or business-owned website, they are considered first-party testimonials. These testimonials are always placed on a domain the reviewee owns. However, first-party reviews can easily be manipulated and altered in the business' favor. This type of review can appear to create a lack of transparency and honesty on behalf of the business owner.
That's where third-party reviews step in.
Third-party reviews are ratings and reviews on consumer-generated websites like Yelp, Google, Angie's List, and even social media platforms like Facebook. Here customers can write as they wish, ranking either poorly or positively on the services they received from your company. Unlike first-party reviews, business owners have minimal control over these reviews.
Third-party reviews cannot be edited by a business, which helps provide customers a legitimate and honest opinion about your company. This legitimacy is just one of the reasons third-party reviews are so influential.
Why Are Third-Party Reviews Important For Your Business?
If a customer needs HVAC or plumbing services, they're likely to conduct a Google search of their best local options. Search engines show preference to companies with an established online presence, and third-party reviews on Yelp or Angie's List can populate search engine results in your favor. Not to mention, potential customers are provided proof of your business legitimacy and the services you provide right out of the gate.
Unfortunately, if search engines immediately display poor reviews and a lack of rebuttal on your part, a potential customer can be easily unimpressed and move along to a competitor. So, while you can't control what customers write about your business, you can control how you respond to it. Many third-party review platforms, including Google and Yelp, allow business owners to converse with customers and offer solutions or thanks in response to negative or positive feedback.
Managing your review profiles and interacting with both positive and negative customer experiences is a top business practice to boost overall first impressions with potential customers. Consider these steps to manage your online third-party reviews further.
How to Manage Third-Party Reviews and Scale Your Business
By taking simple steps to establish your presence with third-party reviews, your HVAC or plumbing business has increased chances of discoverability. Whether your reviews are good or bad, taking these steps to manage your online presence can boost overall sales, customer service, and local popularity.
Step 1: Establish and Maintain Business Branding on Third Party Sites
The first step to using third-party reviews to scale your business is to decide which networks you want to establish your business branding. You need to add your stamp of individuality to a third-party review site. Begin by verifying your business listing on sites like Google, Angie's List, Yelp, and Facebook to gain the ability to interact and manage the business listing. Upload branding points such as logos, professional-quality photos, and contact information to provide customers with an overall feeling of business legitimacy.
Don't forget to provide a few informational paragraphs about you, including your business history, owner information, and a list of current services. This information allows a customer to gain a thorough understanding of what your HVAC or plumbing company has to offer while also browsing past customer experiences. These steps for taking your HVAC or plumbing business digital enhance your online presence and boost your odds of customers finding you.
Step 2: Participate in Routine Online Engagement
Now that you've established your online presence, you must participate in routine online engagement. Consider developing a weekly schedule dedicated to reviewing engagement. But remember to not limit your participation to responding solely to problematic reviews. Responding to positive reviews and thanking clients for their business is equally as important. This dedication helps build strong customer relationships and improve customer loyalty to increase recurring clients and referral customers.
When slammed with a negative review, it's key to remain positive rather than become defensive. Respond quickly and offer potential solutions, such as one-on-one conversations, revisits, and refunds. By going the extra mile and staying positive throughout all reviews, you publicly present your company as professional and transparent.
Step 3: Reach Out to Customers Before They Reach Third Party Review Sites
With the world of third-party review sites at everyone's fingertips, you can expect people are going to leave reviews after using your HVAC or plumbing services. Minimize the chances of a negative review by following up with a customer first. Consider developing a customer satisfaction survey for technicians to offer clients after each completed work order. A Google Form or simple star rating system to complete while signing paperwork is a fool-proof way to gauge a customer's experience before they leave a review on a site like Yelp.
If the initial review is negative, follow up with the customer internally to offer a potential solution. In this way, there's less of a chance the customer will head straight to a review site to discuss their bad experience, and instead take into consideration the positive efforts you made to fix it. If the initial review is positive, follow up and thank them personally for using your business. From here, you can politely and professionally direct them to third-party review sites if you wish.
Build Your Business with Third-Party Reviews
These steps to better manage third-party reviews and the online presence of your business can create a long-lasting sense of company transparency, honesty, and customer satisfaction. Customers appreciate the small efforts you take to boost their overall experience. With routine management of your third-party reviews, you can expect your company to be a local industry leader in no time.
Taylor Bohannan
Director of Technology at JB Warranties