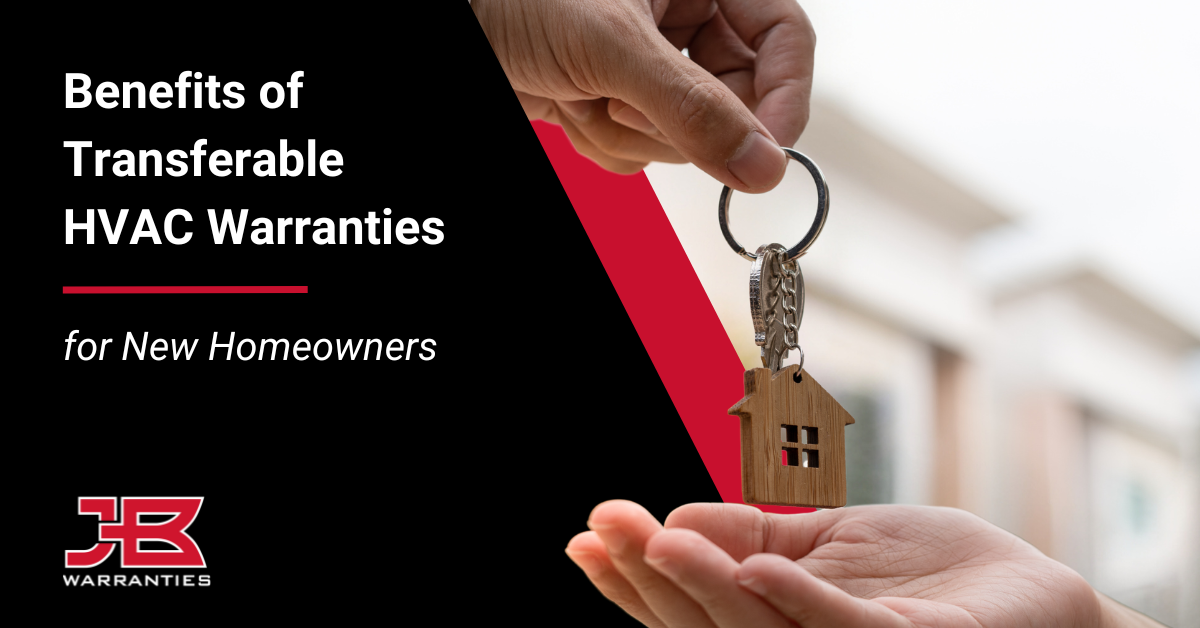 When it comes to HVAC warranties, the majority of homeowners and new buyers aren't aware of the full capabilities and features of their system plans. Beyond the extended coverage for component defects, system damages, and general breakdowns, many HVAC extended warranties are also equipped to transfer from the original or current owner of the property to the recent buyer.
As an HVAC contractor, offering protection plans with warranty transfer capabilities opens the door to a collection of benefits that positively impact both your company and your customers. However, in order to reap these benefits, you must understand the ins and outs of a transferable HVAC warranty. Keep reading to learn about the types of HVAC warranties, how they work, and the top benefits and best practices contractors should remember when navigating a warranty transfer.
Types of HVAC Warranties to Consider
Before diving into the specifics of warranty transfers, it's essential for contractors and customers alike to understand the different types of plans that could offer this capability. When investing in a new HVAC unit, homeowners are typically automatically granted an equipment warranty upon purchase in addition to an offer from the installing contractor to add an extended warranty plan.
An equipment warranty, also referred to as an original equipment manufacturing (OEM) or limited warranty, is coverage provided directly by the manufacturer of the given equipment. OEM warranty protection usually covers system malfunctions prompted by faulty parts for a range of 5 to 10 years following purchase. Note that many OEM warranties solely cover defective parts replacement and not labor costs, as manufacturers are not responsible for system installation or maintenance.
In addition to OEM warranty coverage, homeowners who have recently purchased a new HVAC system are also often presented with an extended warranty plan. These plans are supplied by the installing HVAC contractor, who has partnered with warranty companies to provide customers with protections that extend beyond OEM warranty coverage. Extended coverage often applies to the labor cost of repairs, costs of parts not covered under OEM warranties, and refrigeration costs.
Do Warranties Transfer to New Owners?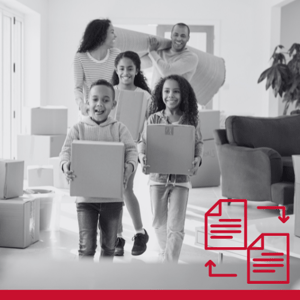 With an OEM warranty and extended warranty in hand, homeowners may be left wondering if they can transfer their existing coverage to the home's new owners in the event they sell their property. While there are many manufacturers and providers that offer transferable warranties, the process and ability to do so will boil down to the terms and conditions of the individual plan itself.
For many transferable OEM HVAC warranties, the original owners of the unit must have first properly registered their product with the manufacturer after purchase to obtain coverage. From here, HVAC manufacturers will then typically offer a set timeframe in which coverage can be transferred, and may require new homeowners to pay a transfer fee to obtain the existing coverage.
Regarding extended warranties, the process of transferring such solutions is oftentimes more streamlined compared to manufacturer's warranties. In fact, the service provider who installed the unit and sold the protection plan can typically handle much of the transfer process themselves. As such, HVAC providers should select a warranty provider that offers zero transfer fees and an expanded eligible timeframe so as to not burden new owners with unexpected costs.
What Are the Benefits of a Transferable HVAC Warranty?
If you are an HVAC contractor looking to increase sales by offering extended warranty services, transferable warranties are the way to go. To encourage successful upselling, contractors should consider the various customer-focused benefits of a transferable HVAC warranty, including:
Increased Resale Value of a Property
Homeowners who purchase a transferable HVAC warranty often overlook the ability to use it as a selling point for potential buyers. As a matter of fact, transferable HVAC warranties can increase the resale value of a property by eliminating a buyer's need to purchase their own sort of coverage or dish out unexpected repair costs after purchasing the home. Once you consider the steep expenses associated with buying a new property, the benefits of a transferable warranty practically sell itself.
Ensures Peace of Mind and Added Protection for Buyers
When looking to purchase a home, buyers will focus heavily on the current health of costly household components, such as the HVAC system. Fortunately, transferable HVAC warranties can ensure fair value in the selling price by providing peace of mind against unexpected repair costs in the event system troubles arise after purchasing the home. This added protection also demonstrates that the seller made an effort to maintain HVAC unit health, helping reduce replacement concerns.
Instantly Establishes a Relationship with a Specific Provider
Upon the successful transfer of an HVAC warranty, a new homeowner can gain an instant connection with a reliable service provider. As the HVAC service provider who sold the previous owner the HVAC system and extended warranty, you now become the new owner's point of contact in the event of system troubles and maintenance requirements. This relationship can be quite a relief for new owners who are just getting things figured out with their home and don't want the extra hassle.
Best Practices for Transferable HVAC Warranties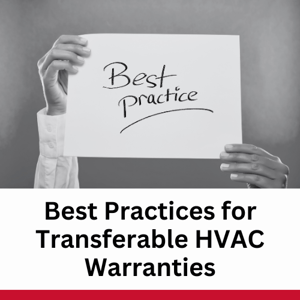 To ensure customers receive the full value of their transferable HVAC warranty, contractors must follow best practices when managing their client's plans. With transferable warranty solutions helping set up new customer relationships and potential sales opportunities, be sure to:
Educate new homeowners on warranty details upon successful transfer, highlighting the various benefits they now hold under their plan as well as any need-to-know plan limitations, time-frames, and filing processes that will be helpful later on.
Maintain proper documentation of all your customer HVAC warranty plans to help streamline any future transfer requests as well as simplify the potential parts and labor reimbursements covered under each plan.
Highlight the importance of routine maintenance to ensure customers receive optimal HVAC performance while protecting themselves from instances of poor system care that could potentially void their warranty coverage.
Though basic knowledge of transferable warranties is great, following transferable warranty management best practices allows you and your customers to more effectively navigate warranty questions and claims. This additionally supports stronger customer relationships which can eventually lead to higher company ratings, more referrals, and increased upsell opportunities.
Why JB Warranties is a Top Choice for Transferable HVAC Warranties
When looking to offer transferable extended warranty services to your HVAC customers, contractors deserve a provider they can rely on. At JB Warranties, we are proud to offer a variety of transferable warranty plans that range from just labor warranties through complete parts and labor, all of which cover every major HVAC brand. Each of our premium protection plans also has zero fees and can be transferred to a new homeowner at any time over the course of the warranty agreement.
To learn more about why thousands of HVAC contractors trust JB Warranties for their transferable extended warranty needs, contact us and speak with one of our warranty experts today!

Brian Bohannan
Vice President of Sales at JB Warranties