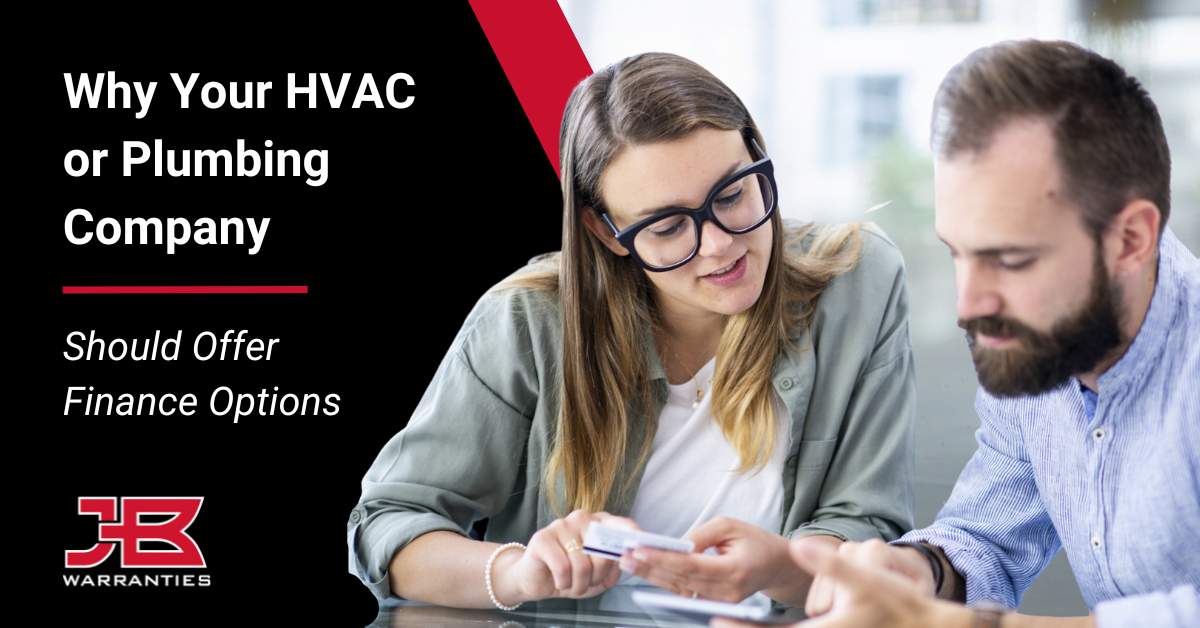 As per a 2022 consumer market survey, homeowners consider home improvement projects a major investment; however, not all have the budget to complete such projects completely out of pocket. At a time when nearly 80% of homeowners would prefer to finance part—if not all—of their home improvement projects, have you considered the benefits of HVAC and plumbing financing?
With customer financing options, business owners provide homeowners with accessible means to complete desired projects, which, in the case of HVAC and plumbing projects, are often necessities, not luxuries. Read on to learn more about how customer financing works, the benefits of adopting these services, and what HVAC and plumbing companies must do to adequately reap these benefits.
What is HVAC and Plumbing Financing, and How Does it Work?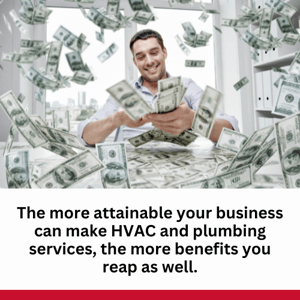 Financing is used by customers across industries to offset the upfront costs of a product or service. Through financing, customers can break a purchase total down into more manageable monthly installments, eliminating the need to dish the full cost out of pocket. These smaller monthly payments also provide customers with more financial flexibility when selecting a service provider.
In most cases, customers must go through an application process to be accepted for financing. This process typically includes the use of credit score assessments to determine if an applicant is a trusted candidate for lending and, if so, to calculate their given interest rates. Note that monthly interest amounts will also vary depending on the length of the selected installment plan (12 months, 24 months, etc.), with some lenders offering rates as low as 3% on certain plans.
With many HVAC and plumbing projects being a necessity for homeowners, it's important for contractors to understand just how beneficial financing services can be for making clean water, clean air, and comfortable living spaces accessible to customers. Fortunately, the more attainable your business can make HVAC and plumbing services, the more benefits you reap as well.
Top 5 Benefits of Offering HVAC and Plumbing Financing
While the goal of HVAC and plumbing financing is to provide customers with enhanced financial flexibility, the benefits of such services simply don't start and end with homeowners. Below are the top five benefits business owners can generate when offering their customers financing services.
1. Provide Increased Buying Power for Customers
Without access to financing options, many customers become limited in the services and products they can purchase from your company. Luckily, HVAC and plumbing financing services can alleviate the need for a strict (and oftentimes smaller) upfront budget to provide customers with much stronger buying power or how much value they can attain with the project budget they've set.
With expanded buying power, customers are far more enticed to not only select your HVAC or plumbing company as their service provider but also to confidently purchase better quality, higher-performance equipment. Financing empowers customers to reach the in-home energy savings and sustainability goals often associated with upscale units without the concern of steep upfront costs.
2. Boost Annual Company Sales and Revenue
When it comes to certain HVAC and plumbing project estimates, contractors know firsthand the level of sticker shock and hesitation customers can have when faced with steep totals. To help alleviate this concern—and boost annual revenue—finance services provide peace of mind to customers and more effectively encourage their decision to move forward with your services.
While financing won't reduce the overall costs of services, labor, and equipment, it can absolutely help make home improvement projects far more attainable. Likewise, with the flexibility of HVAC and plumbing financing services, customers are far more motivated to select higher-priced units and services that ultimately help increase your average ticket sizes and boost annual sales.
3. Gain a Competitive Edge Over Local HVAC and Plumbing Companies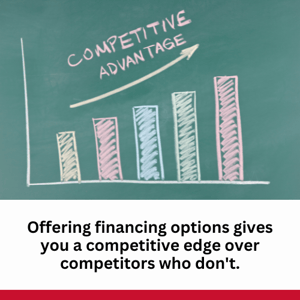 From accessing emergency repairs to obtaining desired system upgrades, customers oftentimes seek an HVAC or plumbing provider that offers finance options to offset unexpected (and pricier) upfront costs. However, not all HVAC and plumbing business owners understand the benefits of financing services, nor do they offer them to customers. By providing finance services, HVAC and plumbing contractors can gain a competitive edge over local competitors who fail to offer them.
Not to mention, customers tend to request multiple service quotes when on the hunt for the best HVAC or plumbing provider. While your business may not be the most affordable option, attaching information about your financing options to all project quotes will help you stand out amongst the competition. Your less intimidating monthly payments can aid with closing more sales.
4. Leverage a New Unique Value Proposition for Marketing
In the world of marketing, a unique value proposition (UVP) is the distinct benefit or solution that sets your HVAC or plumbing services apart from the rest. While financing options are ideal to gain a competitive advantage over fellow service providers, they're also a smart selling point for your marketing efforts. In addition to highlighting your top-tier services, your company marketing materials should also communicate the benefits of your various financing service offerings.
Several types of marketing assets can help plug the benefits of your financing options, from digital marketing efforts like paid ads to traditional methods like pamphlets. Whether it's email newsletters, social media posts, or door hangers, market your financing services across all of your marketing ventures to encourage customer awareness and drive interest in such services.
5. Improve Customer Satisfaction, Loyalty, and Referral Rates
When it comes to customer satisfaction, clients prefer a suitable service provider who can address their needs with ease and efficiency. With financing services, contractors can provide a simple solution for those who require HVAC and plumbing services, but who may not be able to cover the upfront costs. This benefit is especially important as the nationwide cost of living continues to rise.
Eliminating the hassle of payment while supplying grade-A services helps build a high level of customer loyalty and appreciation. Plus, with strong customer loyalty will also come a heightened chance of successful customer referrals. Following each service call, be sure to educate customers about the referral programs you offer and plug any important details regarding your finance services.
How Contractors Can Support Customer Financing Success
Now that it's clearer how finance services can benefit an HVAC or plumbing operation, contractors must know how to actually attain such benefits. Once you decide to offer direct financing options for your HVAC and plumbing services, follow these five steps to select a customer financing lender, implement the necessary program, and maintain financing success over the long term:
Research lenders that offer robust customer and business support.
Narrow your options to those that offer various payment plans and interest rates.
Browse provider that offers customers easy-to-use payment portals.
Use JB Finance to select a trustworthy and reputable lender for your customers.
Educate technicians on finance service offerings to support sales success.
How JB Finance Makes Financing Easy for Contractors and Operators
Here at JB Warranties, our combined experience in the trades has taught us a thing or two about HVAC and plumbing financing. That's led us to introduce JB Finance, better known as JBFin, which provides access to dozens of lenders eager to finance home improvement projects. Our easy-to-navigate, contractor-preferred financing platform offers eligible homeowners loans in seconds.
When it comes time to offer financing options, JB Finance is an avenue to locate investors that contractors trust, rather than alternative finance providers that can charge homeowners exorbitant rates on necessary, quality-of-life impacting services. If you're considering tapping into the benefits of customer financing, do local homeowners a favor and learn more about JB Finance today!
Kevin Thornton
VP & GM, Dealer Business Services Division