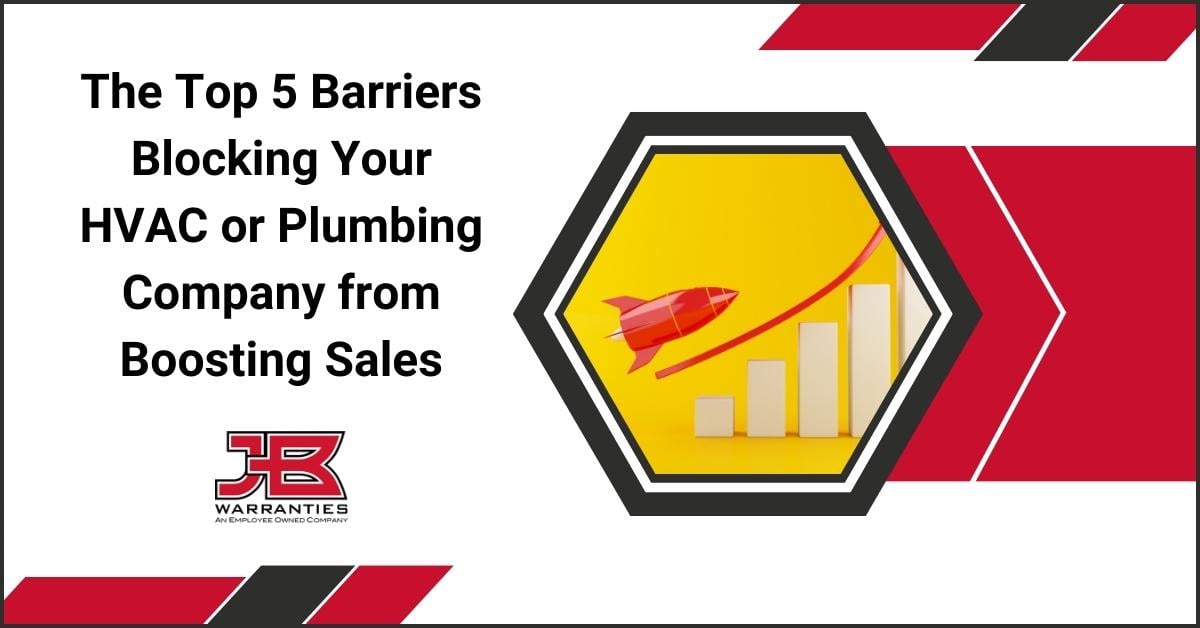 Across HVAC and plumbing sales processes, countless factors can impact the number of leads in your trade company's pipeline. Even with a proper strategy in place, failure to supply and power it with the right resources will result in the loss of potential customer revenue and the loss of numerous investments you made to develop a sales pipeline in the first place.
For the HVAC and plumbing companies struggling to keep their sales efforts afloat, specific barriers are likely blocking the stream of leads in your pipeline. While some of these barriers are straightforward and obvious, others may require you to dive deeply into your current processes to discover underlying restraints on your sales pipeline.
Take a look at the top five barriers that block HVAC and plumbing companies from boosting sales and the general best practices business owners can take to eliminate them.
Top 5 Barriers Blocking Your Sales Success
From upselling customers on HVAC and plumbing system upgrades to securing extended warranty agreements, there are numerous sales opportunities industry professionals can use to boost company profits and growth. However, if your monthly sales have yet to reach the mark, consider if these top five barriers to the HVAC and plumbing sales processes could be to blame.
1. Lack of Technician Sales Training
As the frontline of HVAC and plumbing operations, your technicians have the highest potential to close sales successfully when dealing with customers one-on-one in the field. However, sales skills rely on adequate technician training. With the proper guidance, your staff may understand the correct approach to upselling, cross-selling, or even general project quoting.
To better encourage technician-driven leads, teach your team to be open to sales opportunities — without being too pushy. It's important for technicians to listen to customer concerns and system preferences closely to gauge the sales opportunities for that customer best. From here, technicians can more effectively communicate the value of their sales pitch and explain why this opportunity best fits the customer's needs.
2. Failing to Produce Estimates Quickly
When it comes to large-scale HVAC and plumbing sales pitches, customers will often request a physical estimate to outline the details and cost of a job before feeling confident enough to make a purchase decision. Because of this, companies that fail to produce job estimates for customers quickly may face the consequence of missed sales opportunities and, of course, missed revenue.
Equipping your team with the right tools to help pump out project quotes ASAP is essential to streamline your estimate processes. In fact, many customers will request an estimate on the day you meet with them. To immediately address estimate needs, consider using field service management software that allows technicians to construct and present estimates in real-time and provide seamless payment methods if customers wish to move forward.
3. Not Incorporating Maintenance and Extended Warranties Into Sales Efforts
Outside of equipment sales, extended warranty and service agreement offerings can generate revenue for your company. Unfortunately, many HVAC and plumbing service providers fail to see the value in such services and don't push technicians to endorse extended agreements following a new system installation. The result? Tons of missed sales-boosting opportunities. A quality extended warranty service allows technicians to upsell customers once they're already on location, eliminating communication barriers between your company and your customer. Technicians should discuss what a manufacturer warranty includes and how an extended warranty or service agreement can elevate a customer's coverage for extra sales.
4. Failing to Track Sales Metrics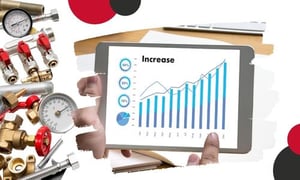 Sometimes, an HVAC or plumbing company's sales efforts struggle due to a lack of sales metric tracking. By tracking various sales metrics, a company can better assess individual employee performance and understand the areas of strengths and weaknesses in its overall sales process. Metrics and reporting are crucial, as lacking an understanding of any underlying weaknesses will only continue to negatively impact sales performance and distract from the best improvement methods.
As with speedy project estimates, field service management software is also excellent for ongoing metric tracking. Some of the many sales metrics company owners should be paying attention to can include but are not limited to average ticket size, leads generated, successful customer referrals, and overall customer satisfaction.
5. Leveraging Low-Quality Marketing Tactics
Marketing is a powerful tool trade companies must use to support the generation of leads and higher conversion rates. However, while there are numerous marketing approaches companies can take to encourage sales better, leveraging low-quality or improperly executed marketing practices will result in missed opportunities and a negative return on investment. In today's age of digital marketing, it's essential to embrace the many readily available web-based marketing solutions. Social platforms such as Facebook and Instagram can be used as marketing tools to educate local viewers about your services through daily posts, paid advertisements, and even live video sessions. You can also use these platforms to build a robust email list to distribute service specials and sales-driven company details.
Keep Your Sales Process Afloat All 2023
If your sales pipeline isn't meeting your desired level, it's time to address the underlying issues affecting it. To do so, remember these five top barriers and address them within your sales efforts to see where your strengths and weaknesses lie. For more sales and business management tools to help you hit your revenue goals, be sure to also check out JB Warranties' Dealer Services Marketplace for tools that meet your operational needs.

Nick Ahrens
National Account Manager