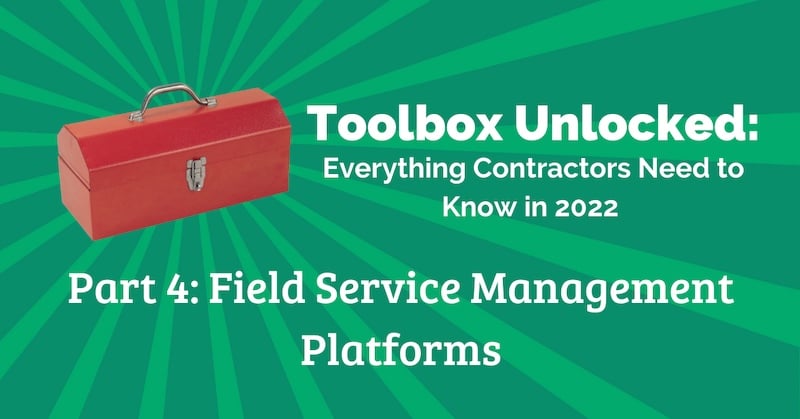 Welcome back to Toolbox Unlocked: Everything Contractors Need to Know in 2022! Over the past three installments of this series, we've covered a haul of business solutions every HVAC and plumbing contractor should add to their operational toolbox, from communication and marketing software to human capital management solutions.
This week, we'll take a final dive into what's possibly the most crucial HVAC and plumbing business solution — field service management. For service-based businesses like HVAC and plumbing companies, well-known field service management solutions like FieldEdge, Sera, ServiceFusion, and ServiceTitan can offer robust tools to help significantly streamline daily operations.
A comprehensive field service management solution can help business owners enhance customer relationships, increase technician productivity, and boost profit from one convenient platform. Read more to discover the five reasons why every HVAC and plumbing business needs field service management software in 2022.
5 Reasons You Need Field Service Management Software in 2022
Across the board, field service management (FSM) solutions can increase company productivity immensely. From customer and technician management to remote payments and inventory controls, check out these five reasons to adopt an FSM solution this year.
1. Improves Work Order Management
Technician work orders vary significantly depending on the type and size of the job at hand. Since your technicians likely tackle a variety of jobs each day — each with its own unique customer details or preferences — the lack of a work order management system can quickly cause operational slowdowns and errors that ultimately leave customers disappointed.
Fortunately, an FSM solution simplifies work order management efforts. For example, an operator with an FSM solution can quickly schedule tasks for technicians from one platform that can then be viewed on the go via technicians' mobile devices. In addition, each work order will contain the details to ensure a speedy and productive visit, including necessary tools or supplies and customer warranty data.
2. Enhances Scheduling with Route Optimization
Bookending the work order management capabilities supplied by FSM solutions is route optimization to better schedule technicians. With technicians tasked with multiple work orders per day, the last thing you want to do is send them across town for one job just to have the next job be around the corner from where they were previously located.
Route optimization capabilities supplied by field service management solutions allow operators to automate work orders with smart route planning to create a daily workflow for each technician. This efficient workflow helps HVAC and plumbing companies reduce fleet costs, save technician time, and increase customer satisfaction. Likewise, route monitoring capabilities ensure workers stick to the plan and safely operate company vehicles.
3. Amplifies Customer and Technician Communications
Incorporating an FSM solution can take communication efforts to the next level in an industry that relies on strong customer and technician interactions for maximum productivity. FSM solutions allow operators to communicate with customers via SMS text messages or emails that provide quick answers for estimated arrival times, project estimates, and customer satisfaction surveys.
FSM solutions can also help HVAC and plumbing business owners enhance employee communications. Rather than time-consuming phone communications, FSM systems offer messaging capabilities that can provide crucial work order details via a mobile app. During customer visits, technicians can use FSM solutions to record service details, images, and even labor and equipment costs that can be documented and relayed to company managers.
4. Streamlines Customer Payments
Did you know that field service management solutions go hand-in-hand with finance and accounting solutions? Rather than rely on old-school, hand-delivered paper invoices that practically ask for payment delays and accounting errors, field service management solutions provide opportunities to help businesses get paid fast with accurate record-keeping.
FSM solutions let you quickly dispatch an invoice to a customer after a service visit and offer multiple payment options like credit or bank transfer. Technicians can also collect payment and customer signatures while on-site to ensure quick payments. These payment details are automatically recorded and can be synced with accounting software, such as QuickBooks, to enhance company accounting management and accuracy.
5. Helps Better Manage Company Inventory and Equipment
From HVAC and plumbing company fleet vehicles to service parts and equipment, mismanaging company inventory is one of the easiest ways to fall behind on day-to-day operations — and drain company profit. In comparison, understanding what resources you have on hand and the correct quantity and quality helps ensure customer demand is always met.
If managing company resources seems like a time-consuming task, incorporating field service management solutions can help automate the process. With effective FSM solutions, everything from vehicles to hand tools is documented with resource locations, maintenance details, and user information to ensure inventory remains well-stocked and in good condition.
Enhance Your Service-Based Business Toolbox Today
Well, there you have it, folks — the HVAC and plumbing contractor's guide to packing the ultimate operational toolbox in 2022! If you're beginning to ramp up your resources for the New Year, there's no better place to start than the JB Dealer Services Marketplace. We specifically designed our marketplace to be your one-stop shop for every Business Management Tools.
Inside, you'll find trusted finance and accounting solutions to ensure your HVAC or plumbing business remains in the green. You'll also find human capital management solutions to best cater to your talented team and marketing solutions to spread the word about your company. Finally, check out the trusted field management solutions to start the year strong.
Load up your toolbox for 2022!

Brian Bohannan
Vice President of Sales at JB Warranties