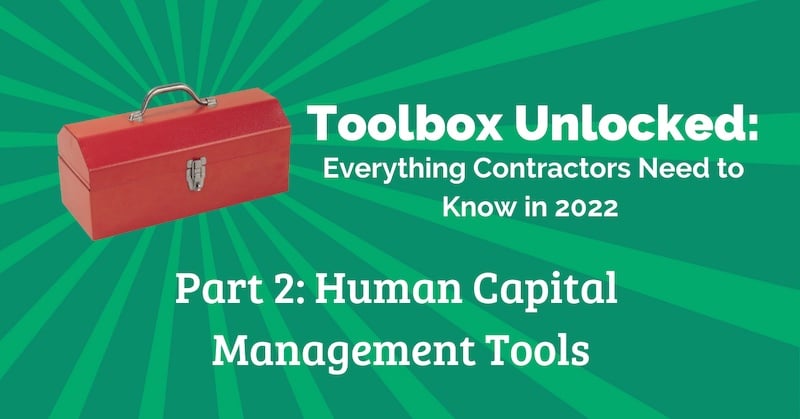 Welcome back to Toolbox Unlocked: Everything Contractors Need to Know in 2022! Beyond hand tools and hardware, HVAC and plumbing business operators must diversify their toolboxes with non-physical resources, like industry software and services. Last week, we discussed valuable finance and accounting tools every contractor should consider adding to their resource collection.
Now that you're geared to financial solutions to benefit your HVAC or plumbing business operations, let's shift the focus to another critical operational component — human capital management. The right human capital management solutions can streamline dozens of operational tasks, from employee recruitment to payroll management and everything in between.
Take a look at some of the top human capital management solutions from the JB Dealer Services Marketplace and learn how they can advance your HVAC or plumbing business in 2022.
6 Types of Human Capital Management Solutions to Consider for 2022
Without the right resources, employee management processes like benefits management and recruitment efforts become time-consuming and inefficient, ultimately causing operational slowdowns and internal issues. These six human capital management solutions can help streamline operations to help save significant time and money down the line.
1. Recruitment Services
The HVAC and plumbing industry has faced ongoing, extensive staffing challenges that the COVID-19 pandemic has worsened. When navigating such a competitive job market, recruitment services are the answer. Recruitment professionals can quickly and efficiently connect HVAC and plumbing employers with quality talent that oversaturated job boards simply cannot.
Blue Collar Talent Scouts is a leader in the HVAC and plumbing employee recruiting space that offers in-depth services to help build your team. With a heavy focus on retention, Blue Collar Talent Scouts work with employers and prospective employees to provide onboarding services, career development, and employee feedback to ensure quality hires stick around.
2. Employment Screening Solutions
Between operating company vehicles and entering customer homes, HVAC and plumbing employers must ensure their team is completely qualified (and safe!) to represent their company out in the field. Drug testing, criminal background checks, and validating driver's licenses are necessary yet time-consuming tasks that can slow down recruitment and day-to-day operations.
Fortunately, myHRscreens is an industry-leading employment screening solution that checks these boxes without the manual labor. With the contractor-specific screening package, myHRscreens:
Dives deep into criminal background and Department of Motor Vehicle records
Performs multi-panel drug tests to help quickly identify any red flags you should be aware of for those who represent your company
3. Outsourced HR Services
HVAC and plumbing business operators may often find themselves in an odd position where they feel like they could use the assistance of a human resources (HR) professional but don't require the help of a full-time employee. Luckily, outsourced HR services, like myHRconcierge, help business owners conquer company HR needs on-demand.
MyHRconcierge features a haul of services to help mitigate workforce management risks and ensure smooth operations. This HR solution offers state and federal employment law compliance services, internal workforce issue review, and internal policy audit tools. These tools help employers reduce legal risk and save significant salary costs associated with a full-time HR professional.
4. Employee Benefits Solutions
As previously mentioned, the competitive job market in the HVAC and plumbing industry can make expanding your technician and in-office staff quite a challenge. But with the right employee benefits offerings in place, it may be easier to entice potential talent to join the team. JB Dealer Services Marketplace solution SMB Benefits Advisors comes into play in this area.
SMB Benefits Advisors is an industry-leading solution that connects HVAC and plumbing employers with quality healthcare solutions that match their specific needs. Flexible payment options of insurance premiums help ensure non-stop employee coverage and access to health services such as virtual doctor visits, dental and vision coverage, and workplace accident assistance.
5. Payroll Solutions
The last thing HVAC and plumbing business owners want to face is employee frustrations brought on by payroll delays and errors. If internal payroll operations are becoming a bit too much to handle, you may need to incorporate an external payroll solution. A third-party payroll service passes time-consuming and error-prone payroll tasks to professionals who understand the financial sector.
For instance, Journey payroll solution provides industry professionals with high-quality payroll processing solutions at an affordable price. Each employer is assigned a dedicated payroll specialist from a local branch to help quickly navigate company payroll concerns. Individual payroll professionals ensure on-time employee payment delivery and 24/7 online access to payroll data to guarantee both employers and employees have what they need at a moment's notice.
6. Coaching and Training Services
Even with a great collection of financial and human capital tools, HVAC and plumbing business owners may find themselves struggling to take their operation to the next level. There are resources to connect you with the coaching you need, from not knowing how to develop a growth strategy to feeling under-qualified to take on modern business management software solutions.
Go Time Success Group is a powerful resource to help advance your HVAC or plumbing business. It offers a wide array of business consulting, coaching, and technician training services to help tackle any underperforming aspect of your company. One-on-one business coaches help you fully identify problem areas so that you can implement a plan to eliminate operational slowdowns and grow your business.
Expand Your Service-Based Business Toolbox Today
Though it might seem daunting at first glance, daily human capital management processes can become a breeze with the right tools. The JB Dealer Services Marketplace is home to readily available solutions, ranging from professional payroll management to complete business coaching to set your HVAC or plumbing business on the path to success for 2022.
To learn more about these human capital management services, as well as additional service-based toolbox necessities, be sure to visit the JB Dealer Services Marketplace today.

Brian Bohannan
Vice President of Sales at JB Warranties