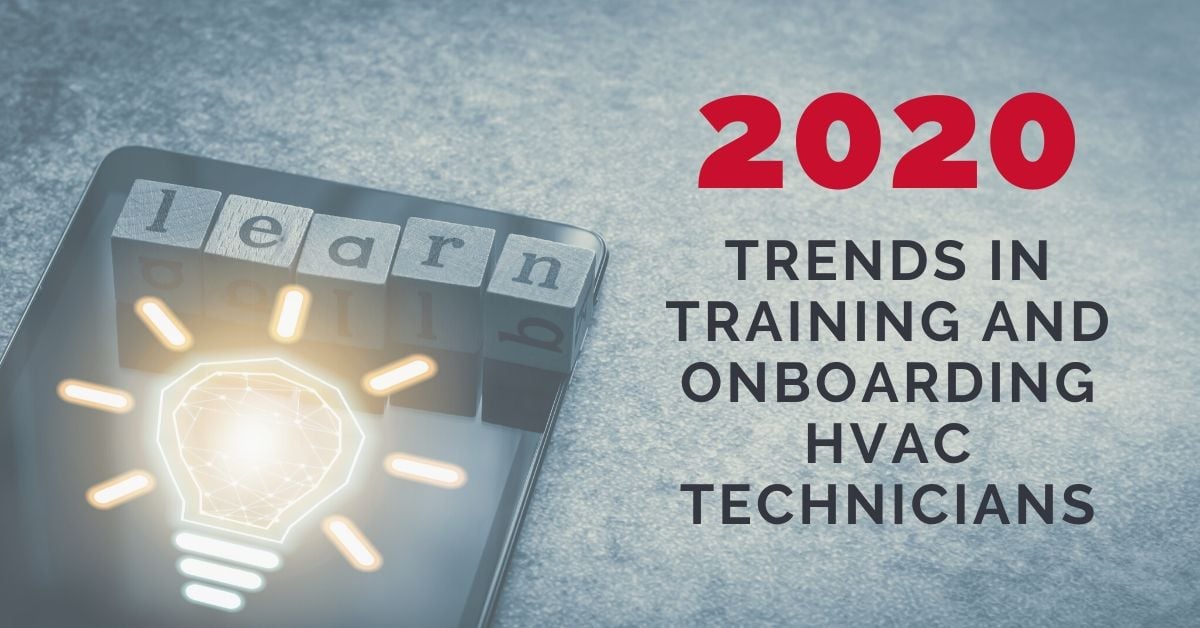 The HVAC industry is experiencing a time of unprecedented growth. Both residential and commercial customers are upgrading their systems to take advantage of advances in comfort, efficiency, and technology. At the same time, many HVAC business owners are facing a new challenge: a growing skills gap. A record number of skilled, experienced technicians are reaching retirement age. At the same time, the advanced technology driving these systems require a new level of training both for experienced techs and new recruits.
Trend One: Digital Natives and Digital Resources
Fortunately, two other forces are coming together that will smooth this transition. The first is a new level of comfort with technology for young technicians making their start in the field. These recruits come from a generation often referred to as "digital natives."
They were born into a world where computers and touch screens are a part of daily life. As they moved through our education system, they were some of the first to be exposed to online learning opportunities. These are men and women who may regularly learn a new skill by watching a video on YouTube. Dovetailing with this shift is the availability of HVAC training that leverages digital technology to help these digital natives learn more efficiently and at their own pace.
Trend Two: From the Classroom to the Screen
For years, the typical way to teach the required knowledge was gathering people in a classroom for instruction. It was never considered an especially effective method for teaching the fundamentals of HVAC, but there were few other options. Since the new generation of technicians has grown up consuming content on a screen, there is a significant opportunity to improve the process.
The flexibility of on-demand video options that team members can watch at any time on any device can increase effectiveness and efficiency. There is no longer a need to arrange for an appropriate space, find a suitable instructor, or transport employees to another location for training. You can also expose technicians to a higher quality of instructor without increasing expense. Video also makes it possible to ensure that each technician can get the specific training they need instead of relying on one-size-fits-all training models. New hires can be exposed to the basics while veterans can get training to keep up with the latest innovations.
Also, learning platforms are now available that can track participation in training, offer knowledge testing, and encourage employees to continue through their training. Much of the work that used to be placed on the company owner or manager can be handled online, on-demand, training options that ensure everyone is getting what they need.
Trend Three: From the Field to Virtual Reality
While on-demand video is a fantastic innovation for training and onboarding, the most exciting trend in HVAC learning is virtual reality. Imagine giving your technicians access to all the tools and equipment they need for immersion in field-like experiences. Now picture these techs having the ability to rehearse common tasks over and over until they have mastered them. This is the promise of virtual reality training.
Virtual Reality (VR) has quickly moved from the purview of gamers and gadget lovers to a serious tool used in training for multiple industries. Airlines have invested in VR simulators for years because they know that the only way for someone to truly master a skill is for them to be immersed in a visual experience that allows for learning, repeating, and mastering. Head knowledge is critical, but practice is what develops skills. Now, thanks to the lower costs of VR hardware and more available VR simulations, the skilled trades like welding, machining, and HVAC can take advantage of VR training.
According to Chris Hunter of Go Time Success Group, "Virtual reality is no doubt the future of 'hands-on' training! The VR training for HVAC, Plumbing, and Electric in our Go Time University is unparalleled in the troubleshooting experience and is so enjoyable that it makes learning exciting."
Trend Four: Gamification
One last trend in training and onboarding HVAC technicians that is gaining popularity is the use of gamification to help employees retain more knowledge, learn faster, and enjoy training. Gamification is about using aspects of gameplay in other activities not usually considered games.
Most people enjoy a little bit of healthy competition. By just adding some simple scoring for completion of training components, developing a leaderboard, and offering small token prizes, owners and managers can improve engagement, and add a level of low-pressure accountability. Gamification can also add a dimension of team building and camaraderie while helping team members to reach training goals.
The Essential Nature of Training Remains the Same
While we are seeing advances in technology and new thoughts in learning science, the needs remain the same. We need our technicians to receive the knowledge and information necessary to do their work and develop the core skills and competencies required to do it well. As the HVAC industry faces new challenges fueled by increasing demand and a growing skills gap, we can continue to look towards innovation to help us onboard our new team members, and keep our current techs working at their best.
Training isn't just for your employees. Teach your customers about the benefits of an extended HVAC warranty for their HVAC system. Register for JB Warranties'
for the very best program around.

Brian Bohannan
Vice President of Sales at JB Warranties