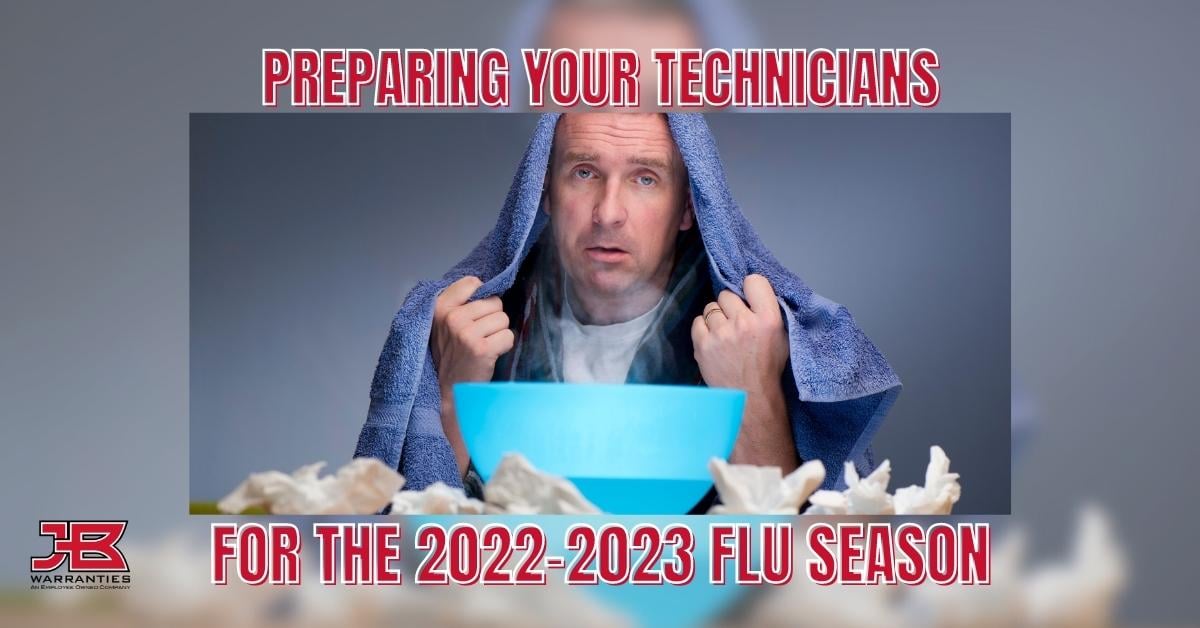 Believe it or not, it's already been two years since we began adapting to ongoing COVID restrictions, delays, and all-around operational stress. Though we have finally reached a point of (somewhat) normalcy where restrictions and delays have begun to subside, and daily operations are back to business as usual, we simply cannot ignore the looming risk of the annual flu season.
During the height of the pandemic, we learned how deeply illnesses can damper overall operations. While COVID cases have stabilized, the annual flu season is once again upon us — and HVAC and plumbing company owners should take action to prepare technicians. Keep reading to learn more about expectations and proactive measures for the 2022-2023 flu season.
What to Expect this 2022-2023 Flu Season?
As the world battled COVID concerns from 2020 until now, the flu positivity rate hit a historic low of 4.5% due to less transmission resulting from extensive lockdown restrictions. However, experts believe that reduced exposure and lessened antibody levels during that time may be the driver behind a surge in the positivity rate of this 2022-2023 flu season.
Knowing there is a surge in cases this flu season, HVAC and plumbing companies should take critical steps to prepare technicians to protect themselves and their customers. Many customers remain wary of infection risks due to COVID, and techs at the forefront of operations must maintain best practices to ensure customer safety and satisfaction.
How Failure to Prepare for Flu Season Can Impact Operations
We get it…flu season is an unavoidable annual concern, but our 2020 Flu Outlook noted that employee illness concerns could significantly impact day-to-day operations. The most critical hit an HVAC or plumbing business can take from a flu outbreak is to labor capabilities.
In the event of a flu breakout among staff, you can expect an increase in sick days that will limit your ability to meet customer demand. You may see significant impacts to project timelines for technicians assigned to contracted jobs or in the middle of an installation.
Failing to take general precautions and preventive measures to avoid the spread of the flu also places your customers at risk, which reflects poorly on your company. The last thing your company needs is a negative review of a sick technician showing up at a customer's home, putting them at risk.
Top 3 Preparation Tips for HVAC and Plumbing Company Owners
We cannot escape flu season nor the potential for increased employee sick time; however, there are prevention tactics we can take. Consider the below three best practices when determining the best way to avoid flu season complications in your company throughout the rest of the 2022-2023 flu season.
1. Host a Team Meeting and Educate on Best Practices
One of the first things HVAC and plumbing companies can do to prepare technicians for the flu season is to hold a team meeting to discuss the organization's various preventive measures and distribute any resources technicians can use to protect themselves and others.
These resources can include personal protective equipment (PPE) like masks and gloves and information on preventive measures such as local flu shot administration sites. Additionally, a flu season team meeting is an excellent time to discuss in-home and business practices technicians must take to prevent customer concerns. These practices include general hygiene processes and asking whether or not clients prefer technicians to wear masks.
2. Consider Contact-Free Customer Options
Another precautionary step HVAC and plumbing companies can take to prevent the spread of flu and reduce customer worry is to offer contactless customer options. The pandemic modernized the sales processes for HVAC and plumbing businesses, encouraging more consumers to request contact-free solutions from various service-based companies.
For customers who are hesitant about technicians entering their homes, a video consultation is a great way to gauge present concerns or interests before tackling any needs in person. Companies can also offer appointment slots for a technician to enter a home, complete the work when a customer is not home, and collect payment online or over the phone.
3. Prepare for Absences
At the end of the day, no single effort can completely remove the worry of flu season implications. Because of this, employers must expect technician absences during flu season months and should best prepare for absent sick employees. Encourage employees to be open and honest with their health concerns and immediately discuss problems with their employer if they become ill.
If you are short on staff due to sickness absences, you may need to shift your operations a bit until workers are back in action. This shift can include offering overtime or on-call hours to healthy technicians willing to take on the work and rescheduling low-priority service calls that conflict with your current labor capabilities.
Keep You and Your Team Healthy Throughout 2023
While you're likely beyond tired of hearing about it, COVID demonstrated the devastating impacts an illness outbreak can have on a large service-based business. Consider leveraging the prevention tactics above to protect your employees and customers this 2022-2023 flu season. For business management tools that can help streamline operations for any time of the year (or any challenge), check out the JB Warranties Dealer Services Marketplace.

Tommy Cue
Vice President of Strategic Partnerships at JB Warranties