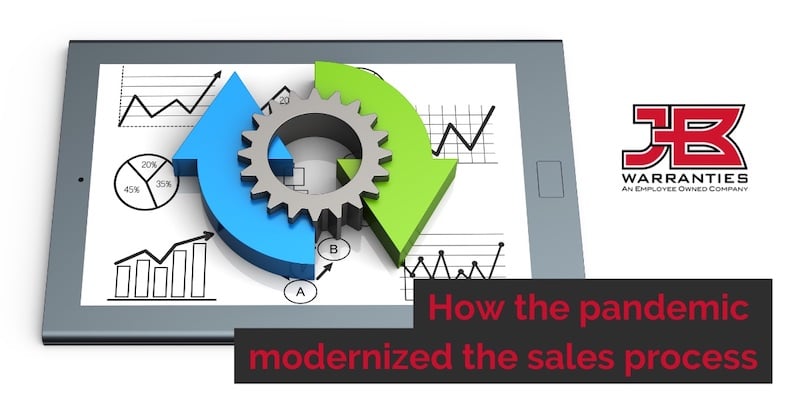 Undoubtedly, the COVID-19 pandemic has permanently altered service operations for trade professionals across the industry. From enhanced customer safety expectations to newfound supply chain delays, ongoing implications of the pandemic have necessitated that industry operators discover new avenues for obtaining business and maintaining customer satisfaction.
One of the most notable changes across the industry has been the general modernization of the sales process. With the influence of COVID-19 shifting many sales processes online, HVAC and plumbing professionals must now refresh their understanding of digital services and learn how to navigate seamless implementation and operation for years to come.
Keep reading to learn more about how the pandemic modernized HVAC and plumbing sales processes and the best tools and tips you can use to benefit.
How HVAC and Plumbing Sales Process Evolved During COVID-19
Traditional HVAC and plumbing sales processes typically begin and end with a one-on-one phone call. This singular phone call often leads to an in-person sales visit, where a technician examines existing HVAC and plumbing equipment to develop a project quote. However, this process has changed, with many customers still a bit uneasy with face-to-face contact.
In the depths of the pandemic, increasing numbers of HVAC and plumbing professionals found themselves alleviating such concerns by utilizing solutions like virtual sales calls and online project estimates. Such solutions allowed trade companies to maintain their sales efforts and ensured top-tier customer service and satisfaction amid a public health emergency.
Even with pandemic concerns lessening, many professionals are discovering that customers still prefer the advantage of online sales tools over traditional sales efforts. So, whether you've already wholly adopted online tools or are just now looking into how to modernize your sales process, it's essential to understand the readily available solutions you can use to adapt.
Top Technology to Digitize the Sales Process
When looking to modernize your HVAC or plumbing sales process, you need the right online tools and general practices to help get the job done. Top technology to digitize the sales process includes but is not limited to virtual sales calls, online estimation calculators, and chatbots.
1. Customer Hubs that Improve Customer Experience (CX)
Even if COVID-19 never happened, one thing is certain: People were already increasingly looking for speedy, self-serve options where and when they want them.
The Sera field service management solution provides that convenience to HVAC and plumbing contractors' patrons. In fact, Sera offers a host of features that improve CX and automate workflows to make life easier for customers, dispatchers, and technicians.
For example, Sera provides contractors with a Booking Widget feature that lets patrons book an appointment from their laptop or phone via the contractor's website. Customers can book at any time of day at their convenience.
2. Virtual Sales Calls and Walkthroughs
At the start of the pandemic, much of the trade industry was stuck figuring out how to navigate daily processes that required in-person, face-to-face customer interaction. While many thought Zoom, Google Meet, and FaceTime were only suitable for educational and B2B interactions, others quickly realized that these video tools could also adapt to various trade industries.
When looking to offer virtual sales calls, start by creating a new appointment tab on your website that users can use to request a virtual appointment. This virtual appointment option should also allow a potential customer to choose between their preferred method of virtual communication (Zoom, Facetime, Google Meets, etc.) along with their preferred time and date.
With these details, HVAC and plumbing owners can host a virtual sales call where a potential client can conduct a walkthrough to demonstrate current equipment, provide general measurements, and ask specific questions, all in under an hour's timespan. This information enables HVAC or plumbing company operators to create more accurate estimates and secure incoming sales.
3. Online Estimation Calculators
In addition to virtual sales calls, clients sometimes seek simple online solutions that can provide a quick, general project estimate without upfront communication. For example, to help gain potential sales leads, you may consider using online estimation calculators. These solutions can be embedded into a company website to help further streamline sales.
Online quoting tools are a great way to obtain customer contact details while encouraging a successful sale. Users will start by inputting their details and general project needs. Then, depending on your HVAC or plumbing company service offerings, the tool may also request details regarding a user's home — such as zones and square footage — to help calculate a general estimate.
After collecting these details, the quoting tool can present a project estimate and company contact opportunities if they wish to move forward. Suppose a user fails to move forward with their quote. In that case, the already-supplied customer contact information can then be used to follow up and answer any underlying concerns preventing them from moving forward.
3. Chatbot Tools
Believe it or not, you can rely on artificial intelligence (AI) tools to help jumpstart your sales process online. In addition to HVAC and plumbing, many industries have begun embedding chatbot services like Chatfuel and Aivo into their company websites to help automate company sales processes and more effectively answer customer inquiries, concerns, and general questions.
Potential customers can use chatbots to schedule virtual walkthroughs or request a call-back from a company representative, all without the need for actual communication. Chatbot services will notify an HVAC or plumbing company of these customer interactions and provide the necessary inquiry details and contact information to move forward with one-on-one outreach.
Maintain Virtual Sales Processes for Time to Come
It's no secret that the pandemic made waves within the trade industry. However, with the right tools, HVAC and plumbing companies can better adapt to changing customer expectations and streamline their overall sales processes. When determining which HVAC or plumbing business tools work best for you, remember that the JB Dealer Services Marketplace is here to help.
JB Dealer Services Marketplace can help connect you with automation tools, like Podium and Sera, to help streamline your sales process and boost company revenue. It's also home to various other tools to guide you in the new era of modern customer interaction. So, what are you waiting for? Update your sales process today.

Brian Bohannan
Vice President of Sales at JB Warranties