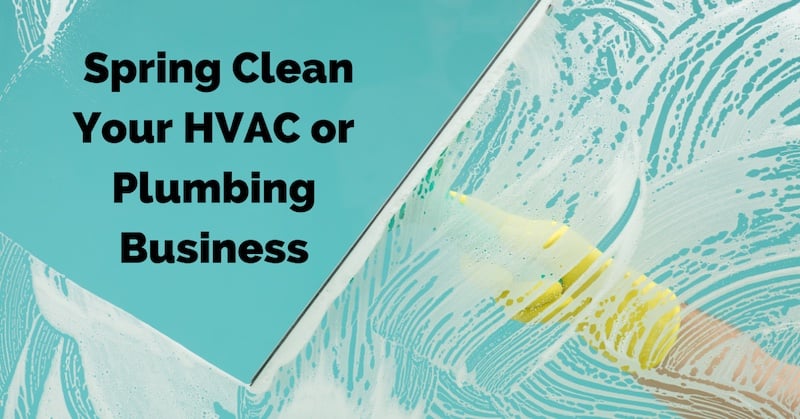 In the HVAC and plumbing industry, spring is synonymous with the slowdown of business. But before the start of the season was associated with the dreaded "spring slowdown," it was actually associated with something far more productive: Spring cleaning! As temperatures across the country become milder and reliance on heating and cooling decreases, for the time being, take advantage of the slow season to deep clean your company.
No, you don't need to break out the feather duster. Instead, take a deep dive into your website, finances, business goals, and outreach efforts to give your company the breath of fresh air it needs this spring. Here's a convenient guide to help you get started.
Deep Clean Your Website
In case you missed it, we published a complete 2020 guide of HVAC sales tips for the spring slowdown, in which we covered a ton of different ways you can spruce up your website. Some of 2020's tips included ensuring your company site is mobile-friendly, optimizing for increased local search queries, and inputting easy-to-use contact options for new and old customers. This year, we'd like to embellish with some additional tips that can help tidy up the website foundation you've already established.
First and foremost, be sure to check your previously inputted links, from your website pages to marketing collateral such as email newsletters. Possible shifts in page structure and URLs over the past year might have impacted previous links and are now leading visitors to a "404 page-not-found" error page. These "404 page" encounters can be incredibly frustrating for the customers searching your site, so be sure to comb through your link and update where necessary.
Next, with all the work you put into creating and updating your HVAC or plumbing business website, wouldn't you want to see how it's performing? Take this time to set up analytics functions, either on your website host or through Google Analytics. Doing so will reveal details such as the number of people visiting your site, where they're primarily heading, and the last page they view before leaving, so you can address weak points potentially weighing down your site.
Tidy Up Your Finances
As an HVAC or plumbing business owner, you're likely well aware that your accounting books are the source of all information regarding company transactions and financial records. By maintaining and updating your books regularly, you can better comprehend your company's current financial standing and what business decisions you can take in the future.
During this 2021 spring business cleaning, take the extra time to dive in and sort through your accounting books. From completed work order payments to customer balances, gather any financial records your company has produced and use accounting software such as QuickBooks to digitize them. Doing so will automate your accounting process and provide you with more readily available resources when you need to access your financial records.
In addition to organizing your company books, be sure to take a look at your current expenses as well. Utility, vehicle, and supply costs are all forms of business spending that should be routinely assessed to locate savings opportunities. Many of these business costs can be significantly lowered year-to-year by researching top current options and providers.
Dust Off Your Business Goals
Through 2020 and onwards into 2021, industries across the board have felt the effects of the COVID-19 pandemic. For HVAC and plumbing contractors, your past year has been no different. Take this downtime to reflect on 2020 and review what changes (good and bad) were made to your company. Whether this was adding or losing workers or having to introduce a new work order protocol due to the pandemic, seeing where the past year took your business provides a better vision for the year ahead—and the goals necessary to support it.
While substantial profit is generally the basis of most business goals, reaching your desired profit will not be possible without addressing your downfalls first. Understanding where profit was lost, whether it was failed marketing campaigns or extensive company cost, will help you better understand where changes need to be made. Try also taking a look at local competitors and observe what they're doing differently. It might be as simple as one unique service or product offering that's setting them apart from the rest.
Spruce Up Your Marketing Tactics
There's no better time than the spring slowdown to take a step back and examine your current marketing strategies. No matter what industry, year-to-year top marketing practices are constantly evolving to best match current trends. Failing to spruce up your current marketing efforts can mean you're falling behind the times.
While addressing your current marketing efforts, consider incorporating these marketing approaches:
Update or invest in social media marketing
Attend and network at an HVAC or plumbing conference or trade show
Research current HVAC and plumbing market trends to see what's hot
Assess your current branding, such as your logo, and gather the opinions of other
Incorporate automation software to send out thank you notes, quote follow-ups, and surveys
Use analytical tools to review last year's marketing material performance
You can also ramp up your email marketing with our latest tips on avoiding the email spam folder and increasing email open rates.
Organize Client Information
As an HVAC or plumbing business operator, you know the importance of a recurring customer base first hand. As people move residences and emails and phone numbers change over time, contact information for those loyal customers can quickly slip through the cracks. Without accurate and organized client information, much of your marketing efforts won't even reach the client base you hoped for.
Take spring cleaning as a chance to dive into your work orders from the past year to pull relevant customer contact information. Likewise, take a look at any customer details you may have gathered from quote requests or newsletter sign-ups and input all of these details into some sort of database, such as customer management software. With a strong customer information base, you ramp up your ability to automate marketing campaigns, follow up with customer satisfaction surveys, and quickly reach out to settle any concerns.
Spring is Upon Us, Get Cleaning Today
Let's be real, 2020 was quite a hectic year for HVAC and plumbing business. With this unexpected turbulence finally beginning to settle and the spring slowdown quickly approaching, now is the time to do some spring cleaning with your business. From simple client information organization efforts to investing in or updating your marketing campaigns, simple tune-ups can help your company flourish in the coming year.

Jenna Ochoa
Vice President - Claims, JB Warranties