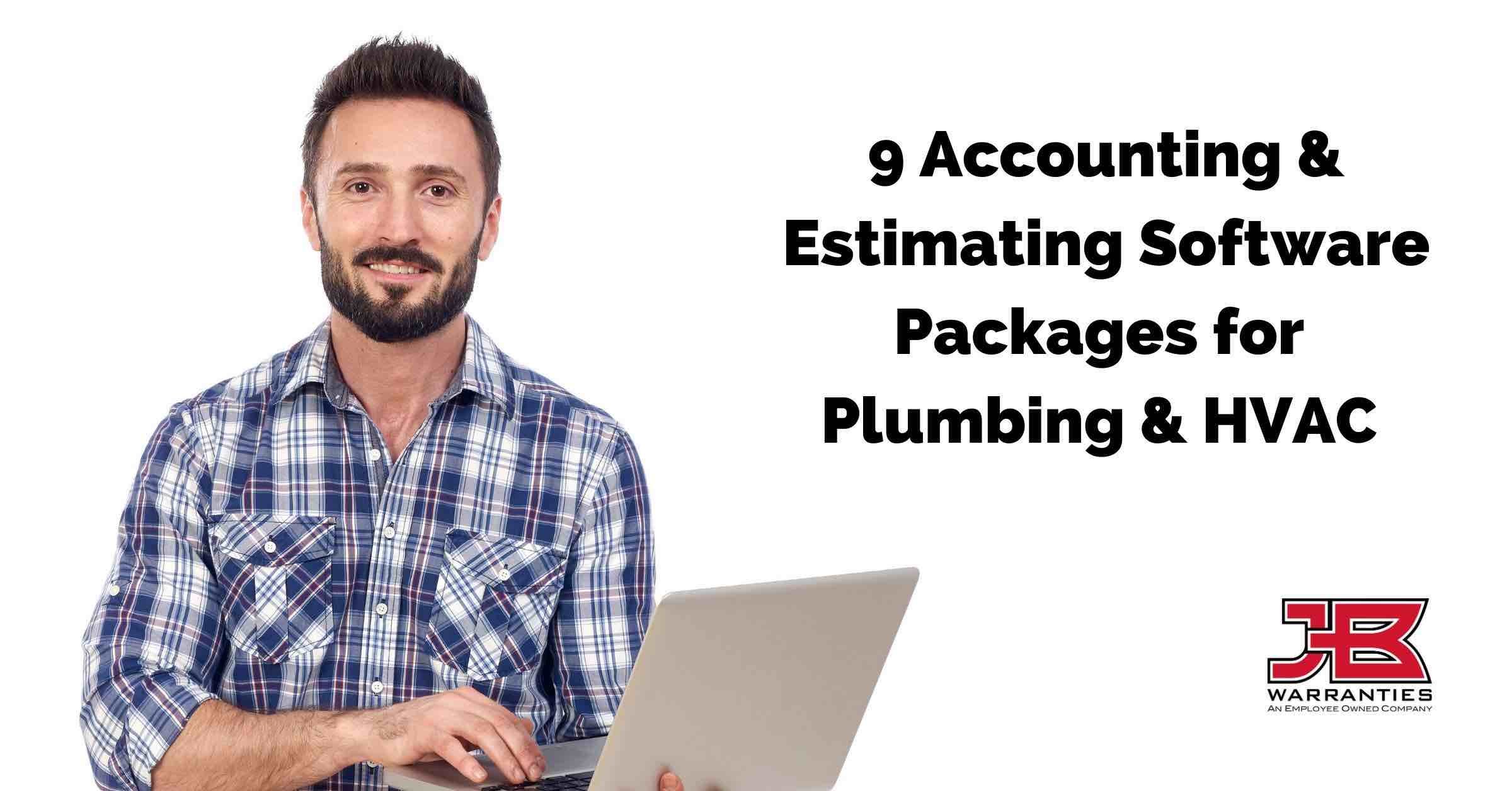 Effective management of both your time and your finances is critical to running a successful HVAC-R or plumbing business. But when you're operating on an already-tight schedule, it can be difficult to track your daily flow of money or plan for future growth. Fortunately, time-consuming tasks like payroll management, billing and invoicing, and estimating new projects can be automated for optimal time management.
Accounting and estimating software reclaim hours of your week previously spent pushing numbers. Even better, their accuracy and precision to detail can boost your bottom line. In this post, we're rounding up the nine best accounting and estimating software ideal for HVAC and plumbing contractors.
1. QuickBooks
QuickBooks is probably one of the most well-known and most trusted accounting software packages around. There are different QuickBooks options available based on the size of your business, your preferences regarding cloud-based or installed software, and the features you need.
Regardless of which QuickBooks options you choose, you'll find features (the level of functionality may vary based on package choice) that allow you to:
Track income and expenses
Invoice and accept payments
Maximize tax deductions
Run reports
Capture and organize receipts
Track miles
Track sales and sales tax
Create and send estimates
And more
JB Warranties proudly partners with Baytek, an Elite QuickBooks Solution Provider, to offer the lowest prices on QuickBooks products and services to our HVAC and plumbing customers who are new QuickBooks customers.
2. Construct for Sage 50
Targeted at small to medium-sized businesses, Construct for Sage 50 aims to help contractors increase their margins, manage projects, and save time and money. In addition to basic features, including payroll and purchase order management, this software monitors your existing contracts and budgets to streamline your relationship with subcontractors—and ensures you don't overspend on a project.
You may be interested in Construct for Sage 50 if managing the risk of supplying or subcontracting the necessary services or labor to get a job done is keeping you at your desk way past office hours. Construct for Sage 50 is currently available in three pricing tiers, each which caters to the unique accounting challenges faced by contractors. Contact a Construct for Sage 50 representative today to learn more about their pricing.
3. T-Bill
Founded in 1979, T-Bill by McCormick Systems is no stranger to the HVAC and plumbing industry. Created by a team who's well-versed in the daily struggles of a contractor, T-Bill software has been designed to eliminate overspend and keep your projects on track. T-Bill allows contractors to generate and track invoices, right down to key details such as time and material, time and material not to exceed, and time quoted. Pricing starts at $1,500.00, and while T-Bill does not offer a free trial, there are several demo videos to walk you and your techs through their software.
4. Eclipse
Eclipse software is ideal for HVAC and plumbing contractors frequently working on large-scale projects. Not only can Eclipse take care of all of your accounting needs—including budgeting, forecasting, quotes, and estimates—but the platform also specializes in job costing features. From cost-to-completion and percent-complete tracking to overrun reporting, you can be sure each project is running on-budget and on-time.
Eclipse software is available as a one-time purchase of $30,000.00. But before you dismiss the platform as too expensive, bear in mind your one-time expense will allow you to utilize Eclipse's features for years to come. Plus, you can customize your software with add-on modules such as human resources or an equipment service manager to truly make the platform work for you.
5. STRUCTURE Blue
STRUCTURE Blue is accounting software specifically built for specialty contractors. With this platform, you can create and instantly send customers G702 & G703 forms and complete certified payroll reports with the touch a button. Not to mention, this all-in-one accounting tool also allows you to create work orders on-the-go for online dispatch and provide instant access to relevant customer information. Incorporating these features can improve customer satisfaction and streamline how quickly an off-site tech can reach a job.
STRUCTURE Blue pricing begins as a $17,000.00 one-time payment. However, it is worth noting that your purchase also provides access to a suite of mobile apps that can further connect you, your technicians, and your customers.
6. FastDUCT
If you're in the HVAC industry, FastDUCT by FastEST Inc. should be a name you're well-familiar with. FastDUCT is a complete cost-estimating solution for commercial and industrial sheet metal contractors. Self-described as "ready-to-go" estimating software, FastDUCT offers the most robust HVAC-specific estimating catalog, with over 250,000 items in their library. The platform is complete with data for oval, round, and rectangular ducts, as well as accessories, fittings, and labor costs—and their database is routinely updated.
FastDUCT's comprehensive estimating software makes accurately pricing HVAC jobs easier and faster than ever before. It's currently available as a one-time purchase of $4,995.00, though you can lease FastDUCT software for $225.00 per month.
7. ServiceTitan
If you're looking to grow your business and streamline your revenue, ServiceTitan may be the best HVAC accounting solution for you. ServiceTitan handles all the fuss behind billing and invoicing, labor rates, and quotes, and estimates. But for contractors looking to scale their company, ServiceTitan also offers an expansive tablet app that includes work order management, service history tracking, and a customer database for off-site technicians—which can supposedly grow your revenue by a whopping 24 percent.
These additional tablet app features are especially beneficial for contractors offering HVAC warranties and management agreements, as you can automate both service orders and billing for your routine clients. Contact ServiceTitan for a free demo and to learn more about their pricing plans.
8. Wenduct and Wenpipe
Much like its name might suggest, Wenduct and Wenpipe software is ideal for plumbing and piping contractors. Boasting a 50 percent reduction in estimating times, Wenduct and Wenpipe were designed for both commercial and industrial estimating projects. Use Wenduct and Wenpipe's fast on-screen digital takeoff with your mouse or stylus pen worry-free—their voice verification tool for each takeoff item ensures error-free data entry. Plus, the platform offers pre-loaded labor & material pricing to ensure your bids are accurate.
Wenduct and Wenpipe are available as a 30-day free trial and includes a free web demo with training and set-up instructions.
9. STACK
Last but certainly not least, STACK is a fan-favorite accounting and estimating software for contractors. For starters, this easy-to-use platform is available free of charge and can be used on any device—from your computer or tablet to your cell phone. STACK is loaded with features to accelerate your bid process, and its cloud-based capabilities allow you to collaborate with your team in real-time from anywhere across the globe.
Chances are you'll find it easier to keep your ducks in a row with STACK's historical database and audit trail features. Not to mention, their library of pre-built and custom material databases will ensure your upcoming bids are as accurate as possible. You can visit the STACK website today to start your free trial or download the software for good.
Get Started with Accounting and Estimating Software Today
Accounting and estimating software manage your risk of over-stretching your budgets, both in-house and on contracted jobs. Plus, they increase your chances of producing the most precise bid for any sized project. By acquiring the latest software for your business, you can cut down on the time spent tracking each dollar and get started boosting your revenue instead.

Jenna Ochoa
Vice President - Claims, JB Warranties