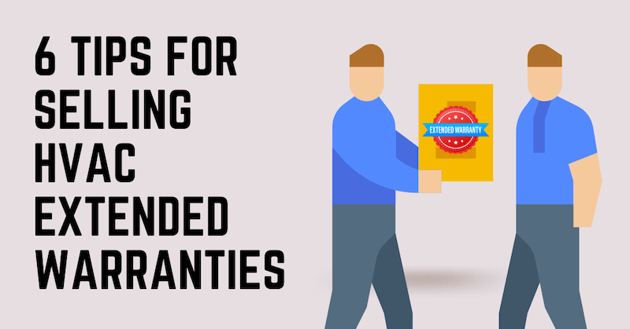 Professionals in the HVAC industry know the installation and purchase costs that accompany a residential or commercial HVAC system—as well as the potential future costs customers may incur down the line in the event of repair or replacement. When your customers decide to take on this investment, they want to feel secure in their purchase and protected against future troubles.
As a business owner, you can provide this peace of mind by selling your customers extended warranties. Not only do extended warranty plans shield your client base from costly repairs, but they also boost the bottom line for your business. With these top tips for selling HVAC warranties, you can better serve your company as well as the loyal customers who keep you in business.
What Offering Extended Warranties Can Do For Your Business
An extended warranty plan benefits your customers, which, in turn, helps the health of your business. For one thing, extended warranties are an excellent way to enhance customer retention. Locking customers in with a warranty agreement practically ensures your company will be first in line for future maintenance and repair requests, helping contribute to stronger customer relationships.
Secondly, offering a premium extended warranty program aids in reducing liability. In the event of warranty repairs, a customer may face little to no charge for services covered under the agreement. A strong warranty program will also ensure personal labor, parts, and equipment costs are appropriately paid back to the company.
Lastly, selling extended warranties can help generate additional revenue outside of general day-to-day services. Whether it's a successful warranty sign-up or an upsell opportunity during a warranty-covered visit, extended warranties create other options for your business to earn profit.
Top Tips on Selling HVAC Extended Warranties
After selecting a premium extended warranty program that works in the best interest of your customers and your company, you have to remember that a warranty won't sell itself. Instead, you and your technicians will need to adopt best practices to sell them. Since customers may be wary of accepting an extended warranty offer, the following tips can make clients feel confident in the sale.
1. Completely Understand What's Included
Before selling a customer on a warranty agreement, you must understand what's included. First, ensure that your product offerings match the brands that the warranty provider covers. Although many warranty providers cover an expansive list of brands and equipment, the last thing you need is a lack of coverage for already installed systems.
Likewise, be sure to always keep the fine print for agreements on hand to read off to inquiring customers as well as for your reference. From the length of coverage to how the claim management and reimbursement process will work, both you and the customer will want this information in close reach.
2. Be Consistent
When attempting to sell an extended warranty, don't second guess whether a customer will be likely to buy or not. While some customers will be more skeptical at first or hit you with an immediate no, be sure to remain consistent and always offer each customer a warranty agreement on their new HVAC system.
Many warranty providers also offer plans that can be purchased up to 24 months following the equipment start-up date to lessen immediate decision pressure. If a customer is left uncertain, be sure to embrace this opportunity and follow up a week or so after your visit to reignite the potential interest in purchasing a plan.
3. Highlight Ease of Warranty Use
When a customer agrees to purchase an HVAC extended warranty, they'll want the reassurance they'll be taken care of in the event of repair needs. So, ensure you're taking on a warranty program, like JB Warranties' Premium Protection Plan, that offers a simplified claim management platform and quick reimbursement turnarounds.
This reassurance on your end allows you to then quickly move forward on repair requests without worries of delays. Be sure to highlight that in the event of system troubles, all the customer needs to do is call you, and you'll handle not only the repairs but any warranty management efforts.
4. Help Buyers Understand the Value
Most homeowners you deal with will never have to make a decision to replace their HVAC systems. Others will only experience this type of purchase once in their lives. In other words, this may be a buying experience they can't wrap their heads around.
To help buyers understand the value of an extended warranty for an HVAC system, try comparing this to other big-ticket purchases they have made in the past where extended warranties are involved, such as buying a new car. Vehicle purchases often include extended warranties for repairs with a similar cost to HVAC repairs. The primary difference is that a JB Warranties' HVAC extended does NOT terminate based on runtime, like a vehicle extended warranty that expires at a set number of miles.
If the homeowner still isn't sure about the warranty purchase, try reducing the total cost down to "the ridiculous." Discuss the investment in terms of:
Total warranty agreement cost vs. the expense of a single large repair
Cost per year or per month
Cost per week: You'll find that the cost per week for a warranty is typically less than a cup of coffee from a certain Seattle-based coffee chain.
5. Remember Timing is Key
To ensure a customer is comfortable purchasing an HVAC extended warranty, they must believe it's a good decision. However, they may not feel that confident while still staring at a busted HVAC unit. When a technician arrives on the property to replace an HVAC system, the last thing a hot (or cold) customer wants to hear upfront is a warranty offer.
Instead, set up a process for technicians to follow. Have techs assess the problem and deliver top-notch customer care before offering a warranty agreement. A customer who feels cared for will be more enticed to add a warranty when they see the type of service they can expect when you do need to return for repairs and maintenance.
6. Incorporate Warranties into Your Marketing Efforts
You can also tie warranty offerings into your marketing efforts to help increase potential reach outside of face-to-face sales efforts. For example, if you currently operate a monthly email newsletter, dedicate a section to the benefits of purchasing an extended HVAC warranty and how your company can help.
Likewise, use follow-up emails to remind customers of their warranty options for instances where they didn't purchase one upfront. Social media is also a powerful platform to spread information on the importance of HVAC warranties while answering any questions users may have.
Lock in Customers with an Extended HVAC Warranty Today
By successfully signing customers to an extended HVAC warranty plan, you benefit both them and your business. From completely comprehending what is included in your warranty program to incorporating the use of company marketing efforts, be sure to use these tips when working to increase your warranty agreement rates. With the success of a warranty purchase, you can create a long-running customer relationship that helps you become a true local leader in the HVAC industry.
Want to offer the industry's best extended warranties to your customers? Register for your
dealer account today!

Scott Wharton
Territory Manager at JB Warranties