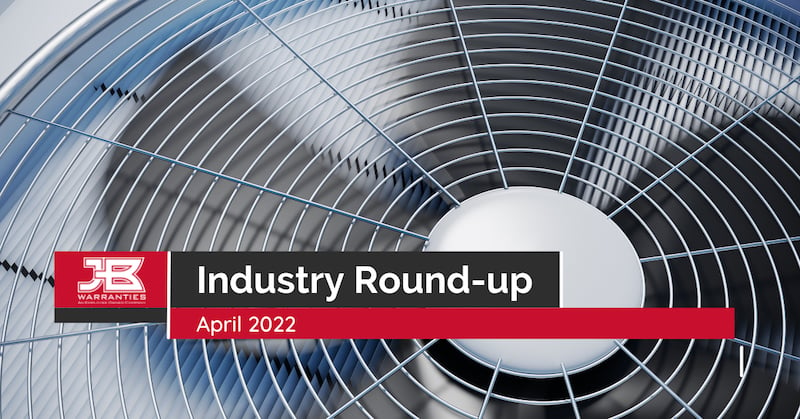 Hi there, fellow plumbing and HVAC trades folk! Welcome back to JB Warranties' Monthly Round-Up, where we highlight the hottest topics across our shared industry. As a leader in extended warranty services for HVAC and plumbing professionals, we understand how important keeping up with current industry trends can be for a successful business.
In our previous March round-up, we discussed a variety of topics, including the impact of spiking fuel costs on contractors and Women in Construction Week. So let's keep the conversation rolling this month with the following five highlights from some of the top topics and trends to hit the industry during April.
Johnson Controls, a national HVAC control equipment manufacturer, released the findings of their annual Energy Efficiency Indicator Survey this month. The study revealed that approximately 62% of organizations expect to increase their investments in renewable energy, energy efficiency, and smart building technology in 2022. In addition, the United States and Europe lead in every metric surrounding green building planning, signaling a potential return to pre-pandemic levels.
In fact, U.S. survey respondents had the highest demonstration of green building certifications and are expected to follow net-zero energy or carbon building plans in the next decade. These efforts include implementing significant building control improvements and adopting on-site renewable energy practices. However, it's important to note that while these company sustainability plans are on the move, there are still barriers HVAC industry professionals may face when doing so.
For instance, roughly 23% of respondents currently face uncertainty in their return on investment for sustainable initiatives. In addition, almost half of the respondents worry that the current lack of accessible technology can impact their organization's sustainability efforts. As ongoing pandemic-related supply chain and labor shortage concerns continue, HVAC professionals should expect to approach their sustainability plans with a bit more caution for the time being.
In an effort to reduce the neglect of HVAC systems in schools across the country, Connecticut Governor Ned Lamont recently proposed legislation that would establish a grant program to assist public school districts in HVAC and other Indoor Air Quality (IAQ) improvements. This effort comes in part from the need for infrastructure upgrades in the wake of the COVID-19 pandemic.
Governor Lomont proposed a program that would include an investment of $90 million received from the American Rescue Plan Act (ARPA), an effort passed by the federal government to assist in the U.S's pandemic recovery. In his efforts, Governor Lomont recognizes that many local schools need air quality improvements by using modernized ventilation systems that can help filter and reduce airborne contaminants, such as COVID-19.
While still in the drafting period, Governor Lomont has requested the Connecticut Department of Administrative Services to coordinate a plan with the Department of Education, the Department of Energy and Environmental Protection, and the Department of Health outlining the next steps. With in-depth research backing this large request, studies have shown that schools with improved IAQ ventilation and filtration technology saw upwards of 48% fewer COVID-19 incidents.
Members of the Air Conditioning Contractors of America (ACCA) recently wrapped up their annual conference and expo, covering a broad mixture of workshops, vendors, and networking opportunities. During the event, a panel of HVAC manufacturing executives discussed various major issues impacting contractors across the globe today.
One of the major concerns discussed at the 2022 ACCA Conference and Expo was the looming January 1, 2023 deadline for the higher-efficiency HVAC unit sales requirement. Under this upcoming law, HVAC contractors will only be allowed to offer air conditioner systems with a minimum efficiency rating of 13.0 SEER in the Northern U.S. and 14.0 SEER for Southern areas.
The ACCA panel also discussed the ongoing concern of HVAC industry labor shortages. The group explained why contractors should constantly be thinking outside the box while working to recruit new employees. Panel speaker Ken Goodrich of Goettl Air Conditioning and Plumbing discussed how he stepped outside the industry and found one of his best managers in an elevator company.
As a national provider of HVAC and plumbing services, the Wrench Group announced the launch of their Coolray Academy this month. To address the ongoing concern surrounding the skilled worker shortage, the Wrench Group opened its doors to the Coolray Academy to offer students a paid vocational training school opportunity.
Coolray Academy offers an accelerated path to becoming a licensed skilled trade technician via either a 14-month program for HVAC professionals or a 36-month program for plumbers. The program leverages a fully functional lab to give students first-hand experience with water heaters, HVAC units, and various function appliances in a controlled environment.
To eliminate the concern of balancing work and education—and more proactively address labor shortage concerns—the Coolray Academy pays its students to attend their programs in exchange for an agreement to work for Coolray for a period of time following graduation. This arrangement helps drive student focus while also ensuring available work straight out of certification.
Stay Tuned for JB Warranties' May Round-Up
It's just a quarter of the way through the year, and it's clear there's no end in sight for updates to the HVAC and plumbing industry. So, stay tuned for our upcoming May Round-Up to remain up to date with relevant industry topics that may affect your business. Also, check out JB Warranties' marketplace hub to successfully deploy the industry changes that can impact current operations.

Brian Bohannan
Vice President of Sales at JB Warranties