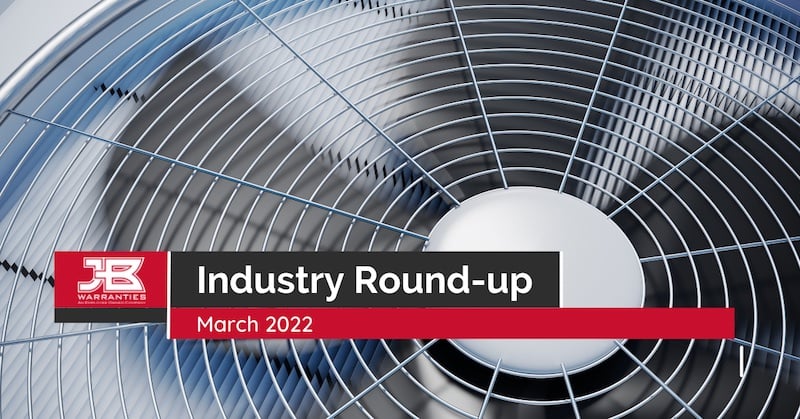 Welcome back, fellow plumbing and HVAC trade professionals! Over here at JB Warranties, the nation's leading provider of Extended Warranties and marketplace hub for Business Management Tools, we've recently introduced a new round-up series highlighting the hottest trends and topics across the HVAC and plumbing industry. If you're anything like us, you can't get enough trade news.
During our inaugural February round-up, we discussed various industry topics, ranging from the celebration of Black History Month in the HVAC and plumbing industry to the upcoming 2022 American Standard Awards. To help keep this discussion going into the new month, let's look at the biggest conversations surrounding our industry throughout March.
There's no hiding that gas prices rose to jaw-dropping levels over the past month. Though price surges result from ongoing geopolitical activity, they've also become quite the challenge for HVAC and plumbing companies. Contractors are now faced with hefty fill-up costs at the pump, which has created some pretty steep (and unexpected) increases in operational costs.
On March 9, the nationwide average price for gas hit $4.25 a gallon, with states like California seeing upwards of $5.57 a gallon — this is a 22% increase from February and 54% increase from this same time last year. Accompanied by ongoing supply-chain delays, high inflation rates, and labor shortages, HVAC and plumbing contractors have been stuck figuring out how to navigate such unpredictable times for weeks now, if not months.
With certain HVAC and plumbing companies owning large fleets of 30 or more vehicles, contractors have begun to consider imposing a fuel surcharge on customer bills to cover these heavy fuel costs. Others have even considered eliminating the gas concern altogether, swapping their fleet out for some electric vehicle (EV) alternatives. The verdict is still out on whether either tactic will stick.
Following COVID shutdowns in 2021, the International Air-Conditioning, Heating, Refrigerating Exposition (AHR Expo) returned earlier this month in Las Vegas. Referred to as the HVAC Superbowl, this year's event might have looked slightly different (mask mandates were still in effect). Still, participants' eagerness didn't hold back any exciting industry conversations.
With a series of operational impacts arising over recent years, here are a few of the hot topics discussed at the 2022 AHR Expo:
Ongoing supply chain issues see no end in sight, with four major factors contributing to the struggle — a shortage of raw materials, including copper and steel, labor shortage issues, transportation delays, and a microchip shortage for numerous products.
With a booming housing market over recent years, HVAC operations in the residential sector have seen some strong sales. However, this boom is expected to slow down slightly, with industry sales expected to level off.
As ongoing labor shortages continue, many HVAC product manufacturers have begun addressing the concern by offering more products that provide easier installation; simpler products can also save technicians valuable time while out in the field.
From March 6 to 12, we celebrated Women in Construction Week, an event led by the National Association of Women in Construction (NAWIC). This week spotlights the women of the trade industry and brings recognition to the career growth and development of trade positions for females. This article tells us the story of Doreen Cannon, president of Journeymen Plumbers Local 55 in Cleveland, Ohio, and her journey from retail manager to plumbing expert.
As a self-described advocate for women in the trades, Cannon outlines the various trade benefits for women, including union programs that offer healthcare. Cannon also debunks a few common misconceptions in the industry, the first being that plumbing apprenticeships are only a backup to college. Next, she explains that women should not feel intimidated by the male-dominated aspect of the industry and urges female trade professionals to connect and share experiences with other women.
Earlier this month, leading trade tool manufacturer RIDGID announced that they have begun accepting entries for the RIDGID Experience Contest. Five grand prize winners will win an all-expenses-paid trip to the RIDGID headquarters in Ohio. In addition, the winners will receive a VIP tour of the facility, a custom pipe wrench, suite seats to the Cleveland Guardians, and a photoshoot celebrating the winner's dedication to the skilled trades.
Winners will also have the opportunity to assist with professional tool development by providing expert insight to RIDGID engineering, marketing, and product development leadership teams. For more details on how to enter, you'll want to read more here. You never know; your HVAC or plumbing expertise that helps create the next best RIDGID tool!
This month, the leading global water heater and water treatment solution provider, A.O. Smith Corporation, alongside the A.O. Smith Foundation, announced that they made a $100,000 donation to the American Red Cross in support of their Ukrainian Relief Effort. As global tensions continue, the American Red Cross states that more than two million people have fled Ukraine to nearby countries, and an estimated 18 million will require assistance.
Kevin Wheeler, A.O. Smith CEO, released a statement saying, "Our foundation's leadership agreed unanimously to offer this contribution as a small gesture to provide basic human necessities — food, water, shelter, medical care — to those affected." He also added, "the foundation deeply believes in giving back to our communities, and while the company doesn't have operations there, it is impossible not to have compassion for those suffering in Ukraine."
The A. O. Smith Foundation has been committed to bettering local communities since 1955 and has an extensive track record of partnering with numerous nonprofit organizations worldwide. Since its beginnings, the foundation has provided more than $50 million in support to organizations, institutions, and programs worldwide.
Congratulations to the team at Doctor Cool & Professor Heat for receiving the ACCA 2022 Residential Contractor of the Year, sponsored by Honeywell.
ACCA president and CEO Barton James said, "With over 40 years serving the industry, customers can trust Doctor Cool & Professor heat to take care of all their HVACR needs. This is a well-deserved recognition, and we look forward to seeing their future accomplishments."
Congratuations to the team at Rosenberg Indoor Comfort for receiving the ACCA 2022 Elite Marketing Master Award sponsored by RYNO Strategic Solutions.
"Congratulations to Rosenberg Indoor Comfort on winning the highest honor of our Marketing Masters Awards," said Barton James, ACCA president & CEO. "The creativity and hard work put into creating your marketing materials did not go unnoticed, and is sure to catch the eyes of customers and industry members alike."
Stay Tuned for JB Warranty's April Round-Up
As you can see, the HVAC and plumbing industry doesn't hold back when it comes to monthly hot topics and trends. So with a healthy March dose of industry news and conversations, stay tuned for our April round-up, where JB Warranties promises to keep you up-to-date with all the industry's breaking news, hot topics, and innovation that could impact your operations.

Brian Bohannan
Director of Operations at JB Warranties