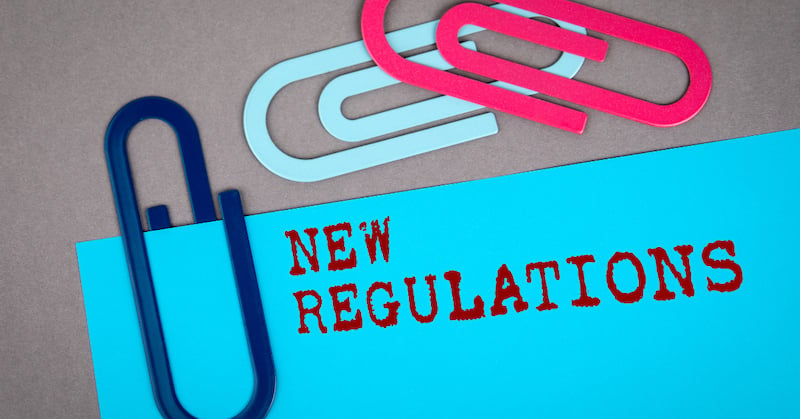 With the ongoing impacts of shipping delays, price inflation, and supply chain shortages, the last thing HVAC professionals need right now is to be unprepared for upcoming 2023 HVAC industry regulation changes. These forthcoming regulations entail new minimum efficiency standards for heat pumps and air conditioners that can affect how to conduct business in the new year.
Because of these recent regulations, it would be wise for HVAC professionals to understand the exact details of what's to come to best adjust their business finances and operations. So keep reading to learn more about these 2023 HVAC regulation changes and how to best prepare.
So, What's Happening in 2023?
An undertaking by the U.S. Department of Energy (DOE), new regulations have been passed to require HVAC professionals to meet minimum efficiency requirements by January 2023. These new regulations have increased the federal minimum Seasonal Energy Efficiency Ratio (SEER) efficiency requirements for customer air conditioning systems and heat pumps.
SEER is an efficiency measurement used to monitor the amount of expected energy output per year for an HVAC unit. So, what elements of SEER will change? Under current 2022 regulations, the minimum efficiency for new HVAC air conditioner installations is 13.0 SEER in Northern U.S. locations and 14.0 SEER for Southern areas.
However, come January 2023, HVAC professionals will only be allowed to install HVAC systems that possess a minimum 14.0 SEER rating for the North and 15.0 SEER for the South, an increase of 1 unit. In addition to air conditioning units, heat pump systems are also undergoing regulatory changes in 2023.
Under upcoming regulations, a heat pump system must possess a minimum SEER efficiency rating of 15.0, compared to the current 14.0. Likewise, air-source heat pumps will also see a rating increase under the Heating Seasonal Performance Factor (HSPF) measurement method, from 8.2 to 28.8.
Who's Ready in the HVAC Industry Space?
The upcoming 2023 regulatory changes seem pretty straightforward; however, you may be surprised to learn the level of awareness and preparedness (or lack thereof) across the industry. For example, leading industrial, commercial, and consumer HVAC manufacturer Emerson recently surveyed SEER efficiency requirement updates among HVAC contractors and wholesalers.
The survey found that roughly 87% of HVAC professionals were aware of the upcoming 2023 changes, a pretty strong number considering the numerous industry distractions and delays we've encountered recently. On the other hand, the Emerson survey also questioned HVAC professionals on their level of preparedness for the upcoming 2023 regulatory changes.
Roughly 44% of survey participants claimed they hadn't created any plan of action for their HVAC business to navigate the upcoming changes. With nearly half of the survey participants having no actionable plan in place, it's more vital than ever to use the remaining months of the year to construct one. This preparation could not only save you valuable time come 2023 but also some pretty steep costs that could be in store due to ongoing supply chain interruptions and COVID-19-related delays.
What Can HVAC Professionals Do to Prepare for These Changes?
For those with minimal to no established course of action for the upcoming 2023 minimum efficiency regulation updates, there are a few steps you can take to best prepare before the new year. For one, start by initiating some education efforts. Gather your office staff and field technicians for a quick meeting to educate your team on the upcoming minimum efficiency updates and the specific rules that pertain to your business location.
With your team properly aligned and well aware of the upcoming changes, be sure to do the same for your current customers. From communicating updates in person during service visits to digitally through a monthly newsletter, this insight is crucial to what customers can expect with service updates and requirements come 2023. This insight also creates an opportunity to have customers reach out with any questions regarding their older units and to offer inspection services.
When capping off your 2023 minimum efficiency regulations plan, you must consider how you will obtain systems that comply with the new law. As the HVAC industry has been troubled by ongoing supply chain and manufacturing delays, now would be a good time to discuss the current availability of compliant systems and tentative restocks with your distributor. In addition, with higher performance systems in higher demand, expect possible delays and cost increases in 2023.
Don't Let 2023 Changes Surprise Your HVAC Business
With the provided details surrounding the upcoming 2023 minimum efficiency requirements for HVAC equipment, there's no reason for you not to begin to prepare your business for this update. From educating team members and clients to discussing with distributors regarding ongoing availability, these simple steps will set you up for success come 2023.
Not sure where to start with your 2023 plans? Check out the JB Dealer Services Marketplace for tools that can help streamline your day-to-day operations and help prepare for the year ahead.

Brian Bohannan
Vice President of Sales at JB Warranties