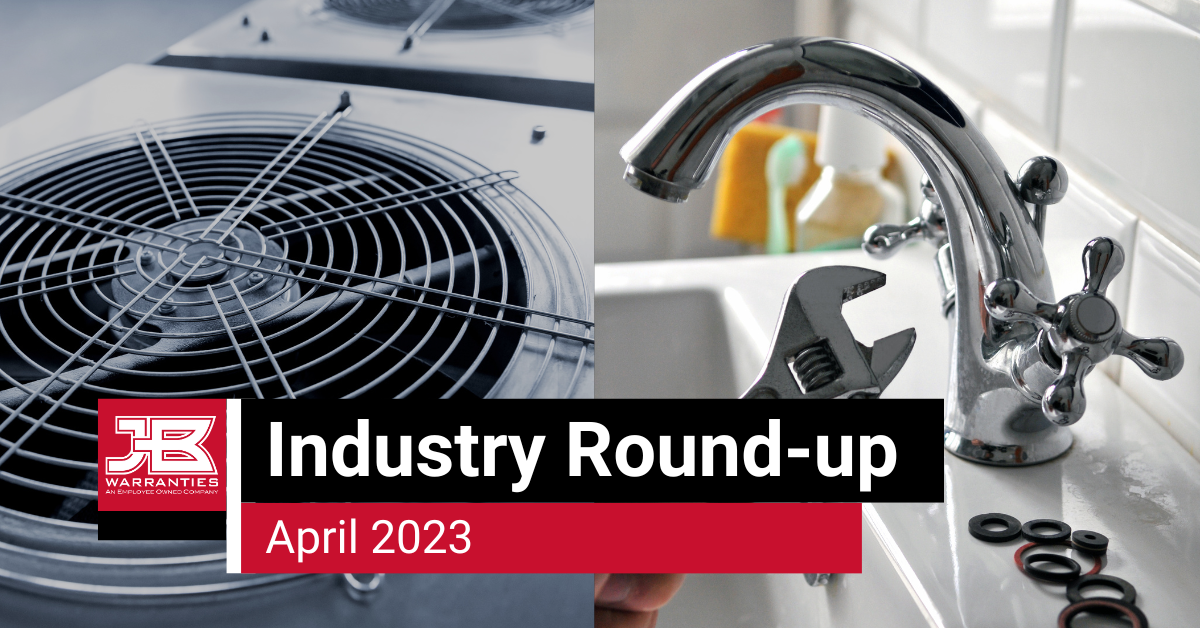 Hey there, HVAC and plumbing professionals! April was quite busy for those of us in the trades. From completing routine service calls to preparing for Small Business Week and celebrating Earth Day, most business owners spent as much time in the field as they did in the office this month. But that doesn't mean that the industry slowed down… in fact, it's just starting to heat up!
We already dished out a ton of industry news in the March JB Warranties Round-Up, including San Francisco's ban on natural gas heaters and furnaces, application openings for Jobber's $150,000 business grant, and the EPA's proposal for the first-ever national drinking water standard. Now, let's look at what played out across the HVAC and plumbing industry during April.
Jobber, an industry-leading operations management software provider for home service businesses, released their Home Service Economic Report: 2022 Review and 2023 Outlook Report this month. The Jobber annual report covers a wide variety of expert insight and data from more than 200,000 home professionals, including HVAC technicians, electricians, and plumbers.
A hot topic in the report was the industry employment gap. According to technical and trade school enrollment data, new apprenticeships reached new record levels in 2022, a positive means to combat the employment concern. The Jobber report also covered the state of supply chain stabilization, which showed significant improvement in the second half of 2022 and early 2023.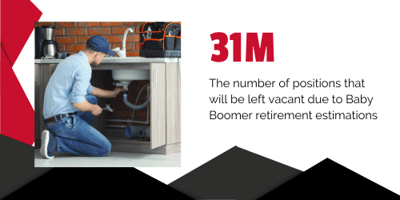 The Associated Builder and Contracts (ABC) Association recently announced the winner of their 2023 National Craft Championships. This was the 34th year of the competition, showcasing the expertise and skills of roughly 200 top-performing craft professionals from across the U.S. Participants included electricians, pipefitters, plumbers, welders, and many more.
The National Craft Championship took place through 16 competitions covering 12 crafts and a team competition incorporating various professionals to complete a joint project. Milwaukee Tool, the official sponsor of the competition since 2019, provided tools and prizes to the competitors and the winners for their significant roles in the trade industries.
Service Experts, a leading national HVAC company, announced this month that they would begin offering an Earth Day-inspired promotion. Company CEO Rob Comstock said that this new promotion is because the HVAC industry plays a huge role in improving energy efficiency in homes and better protecting the planet, a primary focus on Earth Day.
For a limited time, customers can receive a free AC Precision Tune-Up from Service Experts to raise awareness on how simple maintenance and upkeep can positively impact system efficiency and reduce a home's environmental impact. The company also shares homeowner tips, such as the benefits of smart thermostats and ENERGY-STAR upgrades, as part of their Earth Day efforts.
The Electric & Gas Industries Association (EGIA) Foundation announced this month that they have begun accepting applications for their annual HVAC HERO Scholarship program. EGIA is a nonprofit organization that follows a mission to develop long-lasting solutions for the ongoing trade industry workforce shortage and help remove barriers for those seeking a career in the trade industry.
The 2023-2024 academic year HVAC HERO Scholarship will award up to 20 HVAC students $2,500 to help them pursue a trade education at a college, trade school, or accredited program. The scholarship recipients will be selected based on their financial needs and career goals. The final day to submit a scholarship application is May 31, 2023, with awards being distributed in July.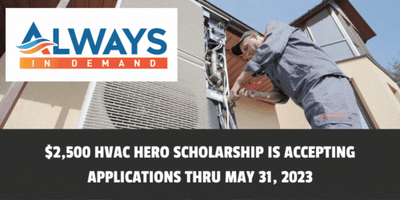 This month, New York City Mayor Eric Adams, alongside other city stakeholders, unveiled a new project titled "New York Climate Exchange" to be built on Governors Island. The upcoming project will be a first-in-the-nation climate research, education, and job facility providing thousands of new jobs and a $1 billion positive economic impact on NYC.
The campus will feature various innovative approaches that highlight the power of sustainable and resilient design. Such designs include a geothermal HVAC network that will serve the entire campus and help reduce energy use by up to 70%. The project will also feature rainwater and treated wastewater systems providing the area with 100% of its non-potable water supply. The New York Climate Exchange is slated to begin construction in 2025 and open in 2028.
Stay Tuned for JB Warranties' May Round-Up
Month after month, there is simply never a slowdown for HVAC and plumbing industry news. In a few weeks, you can find us back here covering all the industry topics we encountered throughout May. In the meantime, check out our JB Dealer Services Marketplace for a collection of business management tools that will help keep your operations up to speed this spring.

Brian Bohannan
Vice President of Sales at JB Warranties