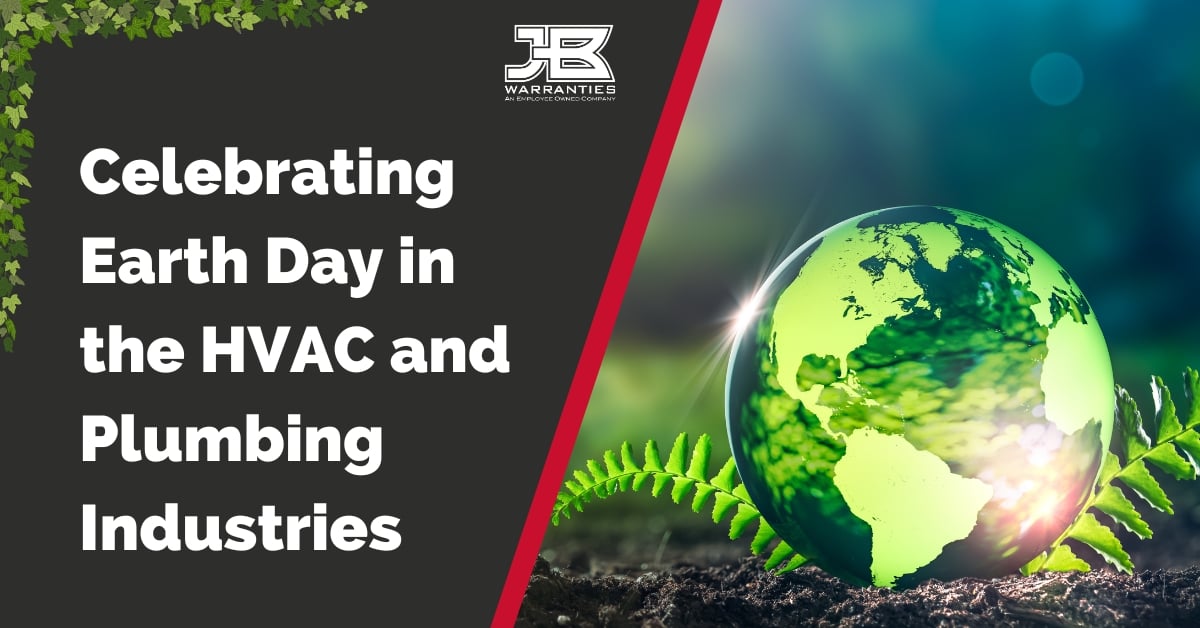 Earth Day is an annual celebration of the ongoing environmental efforts taken around the globe to preserve Earth's natural resources and raise awareness of ongoing environmental protections. If you thought this April 22 celebration didn't involve the trade industries, think again! Trade corporations, especially HVAC and plumbing organizations, are integral to Earth Day.
Working with some of Earth's most valuable resources, the HVAC and plumbing industries continue evolving alongside the eco-friendly movement to provide customers with more sustainable options. Keep reading to learn more about the importance of environmental awareness in our industries and our sustainability initiatives to become more environmentally sound.
Importance of Sustainability Efforts in the HVAC and Plumbing Industries
It's no secret that HVAC and plumbing operators handle some of the Earth's most precious natural resources daily: water and air. What's less obvious is how we manage sustainability. From reducing energy overuse to preserving clean water sources, the HVAC and plumbing industries have faced countless environmental challenges that have prompted innovations.
For example, environmental experts from the United Nations believe that almost half of the globe's population will live in areas of high water stress by 2030. With sustainable water sources becoming more difficult to access, the industry has been ideating and manufacturing new plumbing technology that helps to conserve water better and boost long-term sustainability efforts.
One environmental concern we face in the HVAC industry is the steep amounts of energy consumption seen from our equipment. According to the Energy Information Administration, space heating and air conditioning systems account for roughly half of all household energy consumption, which creates a need for more sustainable and energy-saving HVAC solutions.
Fortunately, the HVAC industry has pioneered greener, more eco-friendly alternatives. So no matter what industry you fall under, you've probably already worked around these new innovative technologies to support environmental health and boost sustainability. In recognition of Earth Day, we've highlighted a few of our favorite industry innovations below.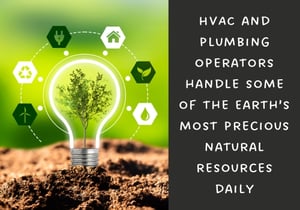 Steps the HVAC Industry Has Taken to Become More Environmentally Sound
Roughly 80% of consumers are concerned about their home's overall environmental impact. With HVAC systems being the most substantial impact on energy consumption in households, experts have begun to develop and promote new clean air and energy technology and systems, including:
Home Automation Technology
In recent years, home automation tools like smart thermostats have made significant impacts on the rate of household energy consumption. On average, the robust capabilities of ENERGY STAR-rated smart thermostats have saved homeowners around 8% on yearly heating and cooling costs. From system scheduling and remote control to energy use monitoring, these simple capabilities allow consumers to become more efficient with their energy use and minimize their carbon footprint.
Geothermal Heat Pumps
Compared to conventional HVAC equipment, geothermal heat pump technology can save consumers 75% of annual energy consumption. Unlike gas and oil heat pumps that use carbon-emitting fossil fuels, geothermal technology uses zero fossil fuels and produces energy using the earth's hot water and steam supply. As a result, this clean and renewable HVAC technology helps significantly reduce greenhouse gas emissions while saving homeowners yearly energy costs.
Solar HVAC Systems
The shift to solar technology has made waves across many different industries, especially HVAC. Solar-powered HVAC systems harness the power of renewable energy from the sun, offering homeowners a significantly reduced carbon footprint and big savings on monthly energy consumption and costs. In addition, solar systems can be equipped to run HVAC systems and a house's entire energy supply, saving homeowners upwards of $1,500 in energy costs a year.
Steps the Plumbing Industry Has Taken to Become More Eco-Friendly
Alongside the many HVAC industry energy-saving innovations, the plumbing industry has also taken considerable steps to develop new technology that reduces excessive water and energy consumption. Some of the more prevalent eco-friendly and environmentally sound plumbing innovations include:
Recirculating Hot Water Pumps
Across the plumbing industry, hot water pumps are viewed as some of the least efficient solutions due to their excessive hot water flushes that result in water waste and high utility bills. Fortunately, recirculating hot water pumps were developed to recirculate old hot water flow back into the water heater tank resulting in an endless supply of hot water. This helps substantially reduce water waste and lower monthly homeowner water bills.
Tankless Water Heaters
On average, tankless water heaters (also known as on-demand water heaters) are 24% to 34% more energy efficient when compared to traditional tank water heaters. Without a storage tank, a tankless water heater will heat water on-demand via a heat exchanger unit that helps avoid unwanted heat losses often associated with a tank heater. With roughly double the lifespan of a tank heater, tankless water heaters last more than 20 years on average, offering home and business owners a more sustainable heating solution.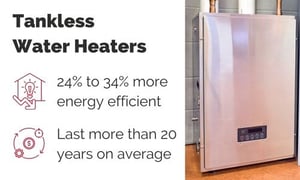 Greywater Systems
Greywater systems are water-recycling technology that repurposes already used water from sinks, bathtubs, showers, and laundry machines for later use in outside irrigation or toilet flushing. Rather than sending greywater directly to the septic system, these systems recycle the used water and reroute it to a separate tank for later use. This process results in homeowners potentially reducing their yearly water usage by up to 50%.
Help Encourage Long-Term Sustainability and Savings With JB Warranties
The first step to greener operations — and saving on energy consumption and utility costs — is to ensure customer HVAC and plumbing systems are operating up to par and with peak efficiency. With JB Warranties Premium Protection Plan, you can offer your customers peace of mind by ensuring that their repair costs are covered if any operational issues impact efficiency, their repair costs are covered.
As you celebrate Earth Day this April 22, don't forget to contact JB Warranties to learn more about our Premium Protection Plan and how it can help you supply top-tier customer service and protection each step of the way.

Brian Bohannan
Vice President of Sales at JB Warranties