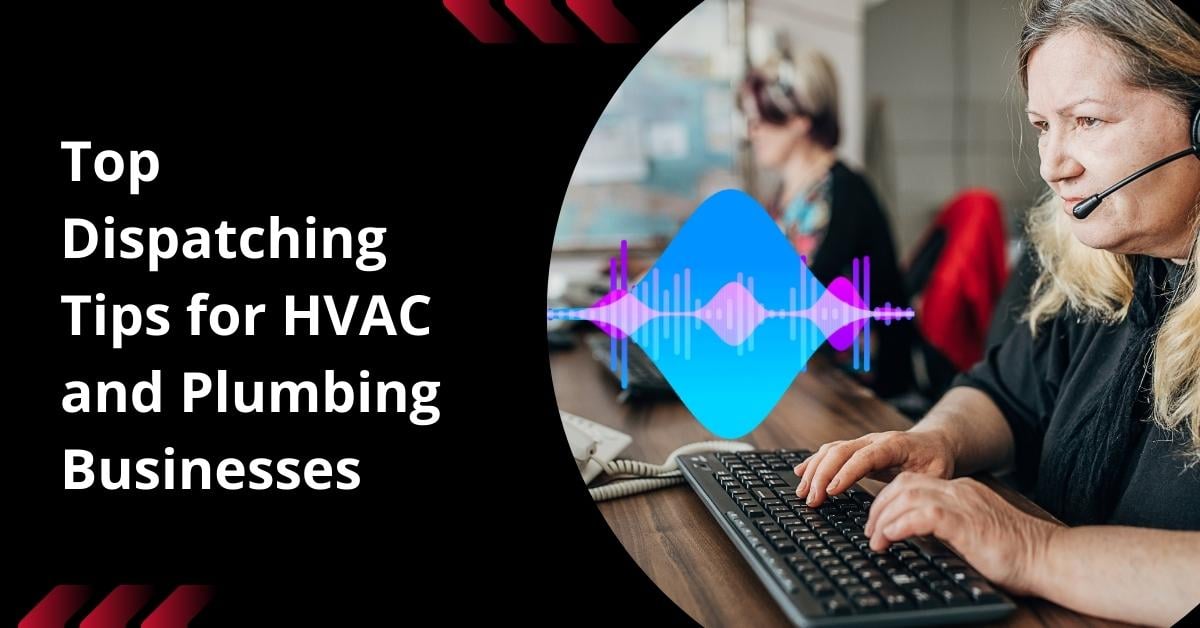 The majority of trade businesses rely on experienced dispatchers to maintain consistent, efficient technician and customer management — and HVAC and plumbing companies are no exception. With many of these day-to-day management tasks unfolding behind the scenes, it's important for you to utilize dispatch services to streamline operations, increase technician efficiency and delivery times, and of course, grow your revenue.
But readers be warned, failure to properly manage a dispatch service, including equipping your team with the necessary resources for success, will only hinder your efficiency (and your growth). Keep reading to discover the importance of proper dispatching processes, along with the top tips for HVAC and plumbing business operators to ensure seamless implementation and management.
What is the Role of HVAC and Plumbing Dispatchers?
Company dispatchers are an integral component of many service-based businesses, including but certainly not limited to plumbing, HVAC, and electrician services. Dispatching includes a multitude of management processes required to ensure consistent field service technician efficiency as well as streamline operational workflow. Common day-to-day dispatching processes can include:
Inventory and equipment management
Daily scheduling of technician work orders and work routes
Ongoing customer outreach to communicate technician arrival
Supply order management and communication with distributors
Office management assistance, including payroll and human resources
The roles and expectations of dispatchers vary from company to company. Some may go as far as to consider dispatchers as supervisors who are responsible for assuring daily working productivity. Others may use dispatchers to simply respond to customer calls. At the end of the day, the role of a dispatcher comes down to specific company needs to ensure efficient operations.
The Importance of Quality Dispatching in HVAC and Plumbing Companies
When discussing the importance of quality HVAC and plumbing dispatching, it's important to look beyond the current influence of these processes and also consider the future impact. Currently, maintaining high-quality dispatching practices helps support an uninterrupted workflow, optimal technician performance, and complete transparency between your company and your customers.
In the future, these advantages can double. With quality scheduling and dispatching services, trade companies can better provide customers with top-tier customer service, take on more work orders, and avoid costly operational slowdowns. This will ultimately result in an HVAC or plumbing company being able to successfully scale over time and bring in more revenue year after year.
Risks of Poorly Optimized Dispatching Processes
When an HVAC or plumbing company fails to properly optimize its dispatching processes, it's not just the technicians' schedules that will suffer. A lack of proper dispatching practices can incur a variety of operational hurdles in various corners of trade business that negatively impact both current performance and future success. A poorly optimized dispatching process can result in:
Unorganized management of supply orders and supplier communications
Poor customer communication that results in missed sales and

bad reviews

Scheduling issues on that impact technician workflow, productivity, and even gas consumption
Inefficient tracking and management of company metrics, including technician hours, completed work orders, and vital payment details
Fortunately, a collection of best practices can help HVAC and plumbing company operators avoid these costly concerns. With the proper processes in place, you can ensure that your customers and your employees receive the necessary details and services they require. To fully optimize your dispatching department and reach peak performance, consider these top three tips!
Top 3 Dispatching Tips To Optimize Your HVAC and Plumbing Business
1. Provide Staff with the Right Resources
If you want to streamline your dispatching efforts, your employees will require certain resources to help reach the level of efficiency you desire. Many companies have now transitioned from old-school scheduling and dispatch management efforts to more innovative solutions, including field service management software.
Providing your dispatchers with quality field service management software helps increase overall visibility of daily operations and gives them the tools they need to maintain productivity. With proper software, dispatchers can quickly access customer records, communicate and schedule field technicians for service calls, and successfully monitor daily performance to help your company reach its goals.
2. Use Real-Time Tracking
On any given day, it's not uncommon for HVAC and plumbing companies to have upwards of ten technicians out in the field. Because of this fact, it can quickly become difficult to track work order completion and communicate precise estimated time of arrivals (ETAs) with the customers who are next in line. This just opens the door to tons of potential customer issues.
Luckily, many field service management software also provides technician tracking capabilities allowing dispatchers to track work order completions and employee locations in real-time. Such capabilities provide dispatchers with the information they need to make more calculated decisions regarding customer ETAs as well as technician scheduling and routing.
3. Have Dispatchers and Technicians Spend the Day Together
A common barrier many companies face is a lack of communication (and understanding) between each business unit. This is no different when it comes to field service technicians and their company's dispatch department. Oftentimes, these two business units find their processes combating against or complicating one another, which can result in frustrating slowdowns.
To help both technicians and dispatchers better comprehend the necessary processes each side completes on a daily basis, consider the use of a ride-along and or visits to the dispatch office. Having dispatchers and technicians work alongside each other for a day gives them valuable insight into each other's workflow, enabling them to communicate recommendations on how they could each better optimize their processes.
Further Streamline Your Operations With JB Warranties
Here at JB Warranties, we understand how essential efficiency is among HVAC and plumbing businesses. That's why we offer contractors an industry-leading Premium Protection Plan, where your customer claims can be easily managed online and receive fast claim reimbursements in 30 days or less. To discover how our extended warranty service can ramp up efficiency in your HVAC or plumbing business, contact JB Warranties and speak with one of our warranty experts today!

Jenna Ochoa
Vice President - Claims, JB Warranties