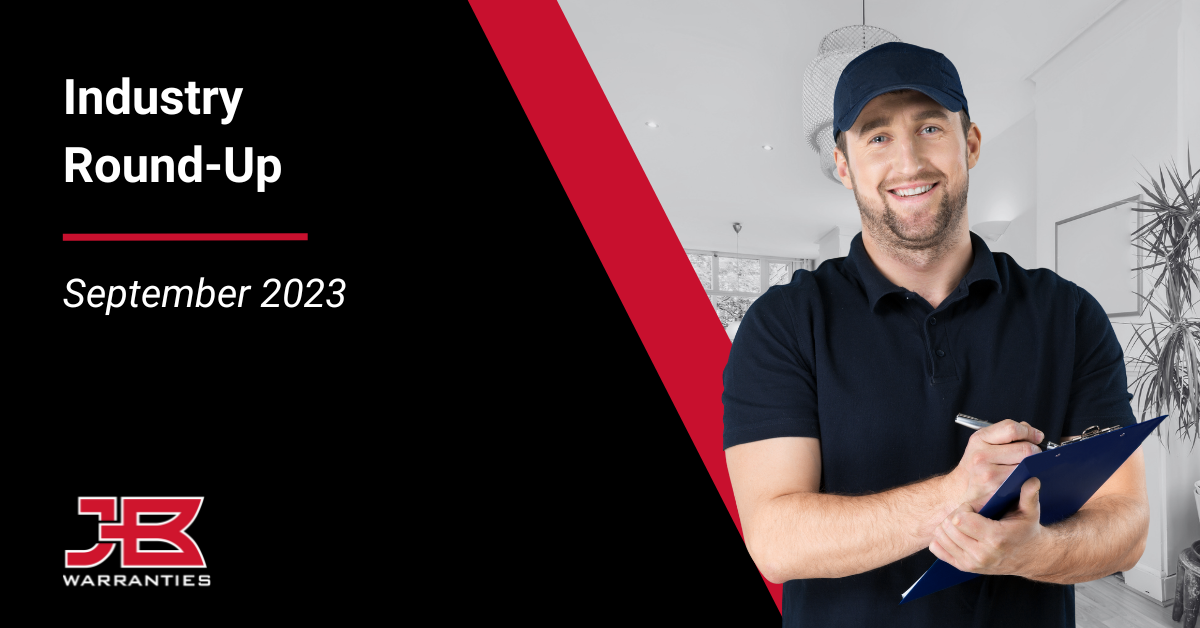 Welcome in, HVAC and plumbing experts! JB Warranties is back again with another Monthly Round-Up, where we take a dive into the most recent HVAC and plumbing industry news and trending topics. We said goodbye to summer and hello (yes, already!), signaling what could be a mild next couple of months. However, we all know once winter kicks in, so will those HVAC and plumbing winter weather calls!
Speaking of service calls, we took a look at a variety of industry topics in our August Round-Up, including our company's fourth appearance on the Inc. 5000 Fastest-Growing Private Company List, the plumbing sector's recognition of National Backflow Prevention Day, and concerns surrounding the DOE's IRA Rebate Program. Now, for a look into what occurred across the HVAC and plumbing industries throughout September, keep reading below!
This past month, Mojave Energy Systems announced a successful $12.5 million round of funding, which they plan to leverage to develop and launch a new generation of liquid desiccant air conditioning technology. Mojave Energy Systems has recently made waves in the energy-efficient HVAC sectors, with many of its products not only cutting energy use in half but also reducing refrigerant use by 20% compared to existing HVAC solutions.
Mojave's upcoming development of its third-generation liquid desiccant air conditioner incorporates a high-concentration salt solution to pull water from the surrounding air, providing users with humidity and temperature control that can support indoor air quality (IAQ). Outside of optimal humidity and temperature control, the biocidal properties of liquid desiccant also help purify surrounding air from viruses and bacteria, further enhancing overall IAQ.
In late September, New York State Governor Kathy Hochul signed new legislation (S.6604/A.6949) to aid in removing barriers that restrict geothermal heating and cooling system development. Under current legislation, the drilling and mining of New York geothermal wells are strictly regulated by oil and gas mining provisions, which significantly limits their development and how wells deeper than 500 feet are regulated.
Under the new legislation, New York State will develop updated provisions specifically for the development of geothermal boreholes that help streamline development and ensure all deep well locations are properly assessed and regulated. Furthermore, these new regulations will work to identify the potential impacts of geothermal well development on local communities to better protect public safety and environmental health throughout the drilling process.
In regards to the new legislation, Department of Environmental Conservation Commissioner, Basil Seggos, stated that, "Tapping into the potential of geothermal energy is critical to advancing New York's transition to cleaner energy sources, helping to reduce the use of fossil fuels currently used to heat and cool our homes and businesses. I applaud Governor Hochul and legislative leaders for this step, which bolsters New York's decarbonization efforts."
Jobber, a leading provider of home service business management software, released its Blue-Collar Report: Gen Z and the Uncertain Future of the Trades assessment this past month. The new report provides an interesting take on the current and future state of the trade industries by collecting survey responses from 1,000 U.S.-based high school and recent high school graduates ages 18 to 20.
Covering a variety of topics, the survey explores Gen Z's current understanding and perspectives of trade careers, higher education, entrepreneurship, and job security. Some key findings of the Jobber report include:
79% of respondents stated their parents want them to pursue a college education after high school, with only 5% saying the same about vocational school.
However, 75% of respondents showed interest in exploring vocational schools that offer paid, on-the-job training.
Two-thirds of respondents want to start a business at some point in their lives, and 11% already have.
However, the majority of participants don't believe that landscaping, residential cleaning, and plumbing businesses can earn over $1 million in revenue per year.
Altogether, report findings demonstrate Gen Z is heavily influenced by their parents to follow a traditional four-year college route, and there is a lack of understanding regarding potential trade-related income. To tackle ongoing skilled-labor shortage concerns, Jobber suggests it's vital for parents and education systems to understand and vocalize the opportunities hands-on vocational paths offer Gen Z.
Johnson Controls-Hitachi Air Conditioning announced this month the launch of their new emissions-reducing residential HVAC dual fuel heat pump system, also commonly referred to as a hybrid split HVAC system. The air365 Hybrid system incorporates the use of an electric Hitachi Mini VRF heat pump as the main source of heating and cooling in addition to an innovative dual fuel module that works with a home's gas furnace.
With the air365 Hybrid system's primary utilization of electricity, Johnson Control-Hitachi Air Conditioning states that these systems will be a much more sustainable way to cool and heat residences while providing owners with a means to reduce their overall carbon emissions. As a result of these benefits, the new system will also qualify for various federal and state tax incentives that are aimed at encouraging energy-efficient home and business upgrades across the nation.
In early September, the International Code Council announced updates to the International Plumbing Code (IPC) as part of its 2024 edition of modern building safety codes. In 2024, the IPC will follow a mission to improve public health by focusing on enhancing waste management practices and plumbing resilience in the event of natural disasters, such as flooding.
Some 2024 IPC Plumbing Code updates will include:
New tracer wire requirements for buried plastic sewer piping.
New standards for chemical waste piping and fitting materials.
New vacuum testing options for Drain Waste Vent (DWV) piping.
New provisions regarding buried piping support under properties with expansive soil conditions.
Maximum showerhead flow reduced to 2.0 gallons per minute (gpm) in regards to high-efficiency requirements.
The 2024 International Plumbing Code is now available for purchase online, where trade professionals can also find additional 2024 resources, including the 2024 International Mechanical Code (IMC) and the 2024 International Swimming Pool and Spa Code.
Don't Forget to Tune in Next Month for JB Warranties' October Round-Up
From updates to plumbing code to the introduction of innovative HVAC technology, the HVAC and plumbing industries can endure some big changes in just a few short weeks. To make sure you stay on top of all the latest industry trends and topics, be sure to check back in with JB Warranties in early November, where we'll take a look at what occurred throughout the month of October!
On the hunt for the latest and greatest business tools? Don't forget to head over to the JB Dealer Services Marketplace, where we can connect you with trusted business management solutions that help improve HVAC and plumbing business profitability, productivity, and customer satisfaction.

Matt Cosby
Director of Marketing