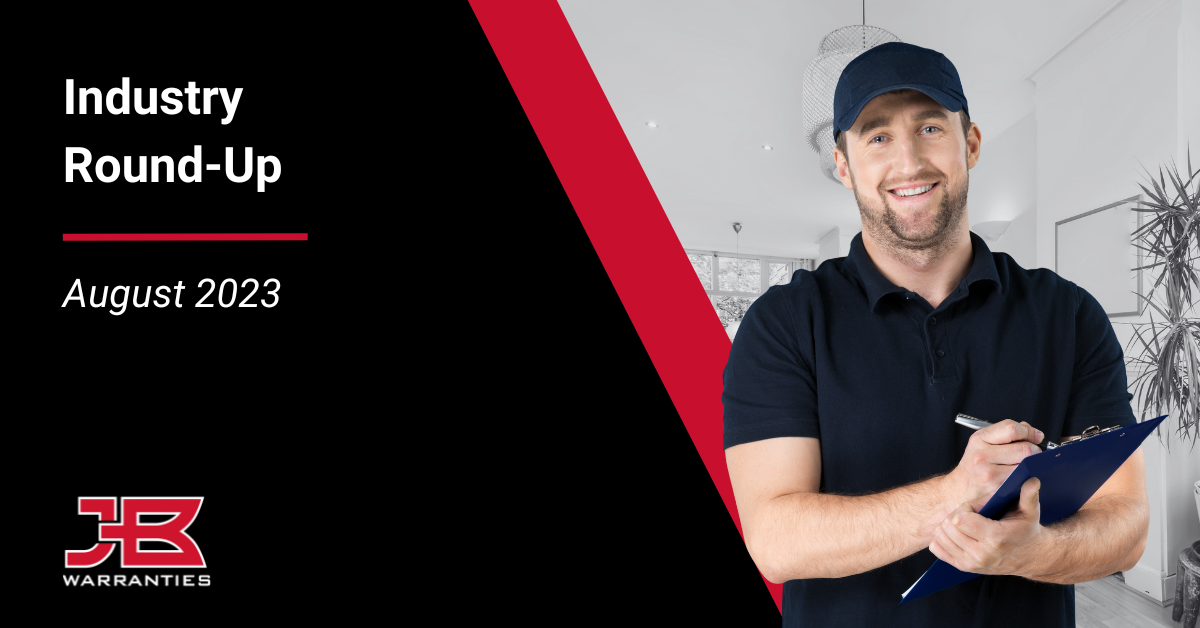 Hey there, HVAC and plumbing professionals! Welcome back to another JB Warranties Monthly Round-Up, your go-to destination for all of the industry's latest hot topics, breaking news, and current events that took place over the past weeks. With the fall season quickly approaching (yes, already!), we hope that you've enjoyed a busy, yet profitable summer season.
In JB Warranties July Round-Up, we covered several topics that impacted the trades, including ASHRAE's new indoor disease transmission standard, Interplay's first-ever AI-powered program, and ARS/Rescue Rooter's release of the top energy-efficient cities in the U.S. Let's now take a dive into August and see what transpired across our industries over the past few weeks!
Inc. Magazine, a leading American business publication, recently revealed its annual Inc. 5000 list, which highlights the fastest-growing private companies across the country. We're proud to announce that JB Warranties has landed a spot on the list—for the fourth time! After demonstrating an impressive 75% growth in revenue in just three years, we placed at No. 4952 in 2023.
"To be among so many respected companies is truly an honor," shares JB Warranties' President & CEO, Jeff Bohannan. "Our team at JB Warranties is committed to providing top-notch plumbing and HVAC extended warranty solutions and exceptional service to our customers. I am proud of the dedication and hard work our team puts in every day."
The Inc. 5000 encompasses a wide variety of companies that demonstrated fast-paced revenue growth from 2019 to 2022, showing particular strength in the face of challenges such as rising inflation and persistent hiring difficulties. All must be U.S.-based, for-profit, and privately held operations that brought in minimum revenue amounts of $100,000 in 2019 and $2 million in 2022.
Johnson Controls, a global pioneer in HVAC and facility management technology, announced a massive $750,000 donation to Habitat for Humanity International this month in support of an ongoing effort to build affordable housing for communities and families in need. This donation comes after another recent $550,000 donation to the Milwaukee Habitat for Humanity, which helped provide 90 of their new builds with various Johnson Controls products.
The $750,000 donation plans to enhance Habitat for Humanity efforts over the span of several years across various missions and programs. One of these programs include the Habitat Strong initiative, which helps U.S. communities build stronger and more disaster-resilient housing for low-income families. Johnson Controls strives to continue partnering with organizations like Habitat for Humanity in support of their 140+ year-old commitment to creating a more sustainable future.
HVAC Excellence, a standards organization that works to improve the quality of HVACR industry education, announced two new accreditation disciplines this month for HVACR institutions looking to expand their roster of certifications. Building Automation Systems is the first new accreditation, which will push institutions to provide in-depth training on software systems that work to control and manage a building's various functions, including HVAC, lighting, and energy consumption.
The second accreditation recently announced by HVAC Excellence is Green Mechanical Systems. This new focus will help guide HVACR institutions in providing education that highlights the use of green technology and how its use can positively impact and preserve the environment. For HVACR institutions looking to receive these accreditations, an in-depth application and review process will be required to ensure students receive the skills and knowledge they deserve.
National Backflow Prevention Day is recognized each year on August 16 to highlight the importance of backflow prevention and proper cross-connection control throughout the plumbing industry. The date commemorates the lives lost at the 1933 Chicago World's Fair, where hundreds of people consumed water contaminated with amoebic dysentery, causing the untimely death of 98 attendees.
To spread awareness of backflow prevention and proper cross-connection design, plumbers from around the nation attended National Backflow Prevention Day virtual events and shared relevant information across social media. The day was also used to educate the general public on how life-saving backflow prevention technology is being used throughout their communities to help keep them safe.
In late July, the U.S. Department of Energy (DOE) released its guidelines for the various Inflation Reduction Act's residential rebate programs. The Home Efficiency Rebates Program (HOMES) and the Home Electrification and Appliance Rebate Program will work to offer rebates of up to $14,000 on residential energy efficiency improvement costs. These programs are expected to expand the home performance market, creating enhanced opportunities for numerous trade professionals.
However, due to the complexity of energy-efficient systems, trade organizations including Air Conditioning Contractors of America (ACCA) are concerned that inexperienced installers will take advantage and undercut the work of qualified professionals. To prioritize quality installation and support contractor-led efforts, ACCA and other trade organizations are now working with state officials to develop program designs required by the DOE to initiate these rebates.
Tune in Next Month for JB Warranties' September Round-Up
There's simply no shortage of HVAC and plumbing topics, news, and events professionals should remain in the loop about month after month. With the new month—and fall season—right around the corner, be sure to tune back in at the end of September. You can rest assured that JB Warranties will provide a recap of the hottest industry topics we encountered over the coming weeks!
Before you leave, don't forget to also head over to our JB Dealer Services Marketplace. There you can get connected with a comprehensive variety of business management tools and solutions that can be used to enhance your HVAC or plumbing operation and ensure your business remains current.

Matt Cosby
Director of Marketing