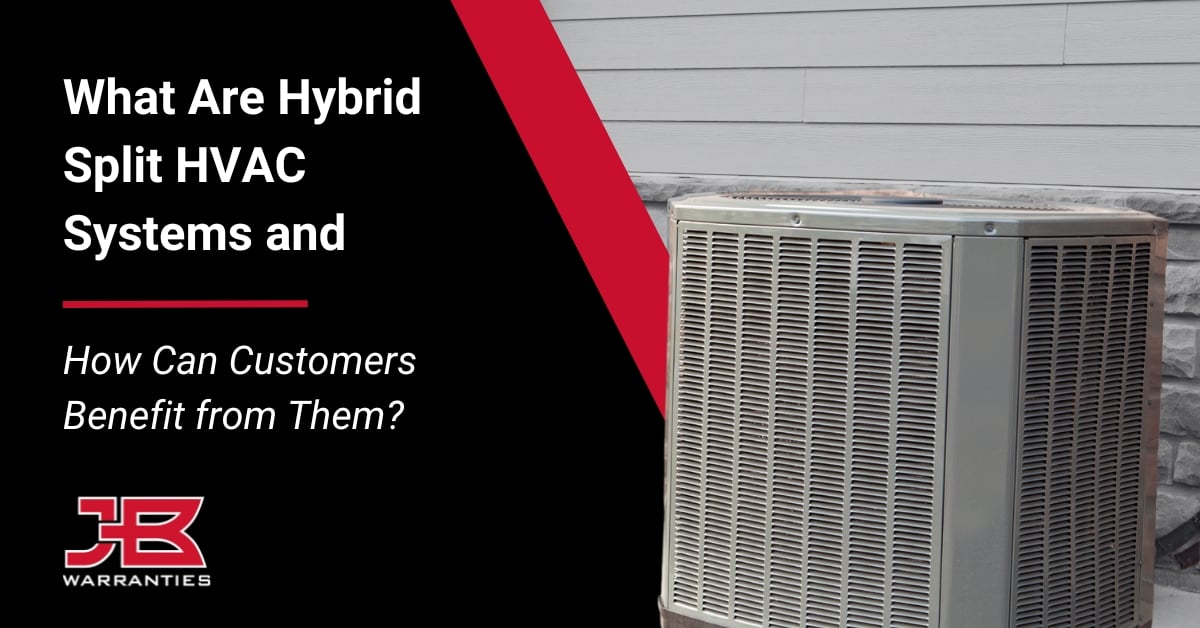 Now more than ever, customers in today's HVAC market are on the hunt for heating and cooling solutions that offer high efficiency and sustainability without any pesky concerns of the potential impacts on performance. Luckily, as an HVAC professional, you can keep up with this rising demand by offering and advertising hybrid split HVAC system installations.
Hybrid HVAC split systems are an interesting type of technology that offers customers complete control over their home climate during all times of the year. Keep reading to learn more about what exactly a hybrid split system is, how it operates, and the various benefits of an HVAC split system you should consider as potential selling points.
What is a Hybrid Split HVAC System?
A hybrid HVAC system partners an electric-powered heat pump with a conventional, propane, oil, or gas furnace. As outside temperatures begin to drop and home heating is required, a hybrid system first uses its heat pump to pull in outside air and warm the home. However, once outdoor temperatures dip below freezing, this will impact the heat pump's performance, triggering the hybrid unit to shift to furnace heating until ideal indoor temperatures are met.
In the spring and summer seasons when air conditioning is required, a hybrid HVAC unit will then reverse its heat pump cycle to remove heat from inside the home. At this point, the furnace blower kicks in and distributes cool air created by the reverse heat pump cycle. Overall, the ability of a hybrid split HVAC system to respond to outdoor conditions and shift to the necessary heating or cooling mode is a key component as to why it's one of the most efficient options on the market.
How to Know When a Hybrid Split System is Right For Customers
When compared to traditional HVAC systems, hybrid split systems often require a larger upfront investment. Because of this, HVAC contractors should be confident that a hybrid HVAC unit is the right fit before recommending it to customers. If it is a good fit, the long-term savings benefits of a hybrid HVAC unit can actually pay for the unit itself within three to five years.
Because one of the benefits of an HVAC split system is that it's designed to tackle any level of heating or cooling, these units are best suited for customers located in areas that endure all four seasons. For example, customers in South Florida will likely never encounter winter conditions that require furnace heating, making a hybrid unit not the best choice. However, customers in Colorado can endure sub-zero winters and triple-digit summers over the year, making hybrid HVAC units a perfect option.
Furthermore, your customers will also require some sort of fuel source to power the heating function on the furnace component. This is why you should always consider a customer's level of accessibility to oil, propane, or gas as well as the overall costs for each option before making a recommendation. Generally speaking, you must assess each case on a home-by-home basis.
Top 5 Benefits of a Hybrid HVAC Split System
If you've determined a hybrid split HVAC unit to be a good fit for customers, you'll then want to take the time to educate them about its advantages. The top five benefits of an HVAC split system are:
1. Energy Efficiency
While there are multiple components of a hybrid split system, the heat pump functionality in and of itself is one of the most energy-efficient HVAC options on the market. Rather than relying on the constant need for heating and cooling generation, the heat pump function regulates a home's temperature by transferring hot and cold air into and out of a home.
Heat pumps can transfer 300% more energy than it consumes under ideal conditions, versus the 95% rating of a high-efficiency gas furnace. This transfer can help customers significantly reduce home energy usage during times of the year when outdoor temperatures have yet to dip below freezing and furnace heating is not required.
2. Complete Climate Control All Year Long
One of the key luxuries that come with investing in a hybrid split system air conditioner is its ability to adapt to any weather condition. No matter the time of year, a hybrid HVAC system is equipped to provide heating and cooling temperature control, regardless of the outdoor temperature. The ability to source all of a home's heating and cooling needs from a single unit makes hybrid HVAC units the perfect choice for customers who encounter significant weather changes across all four seasons.
3. Lower Utility Costs
While many customers may be deterred by the upfront costs of a hybrid split HVAC unit, the long-term energy cost savings they can encounter from this unit can actually pay for itself over time. As mentioned above, a hybrid system uses around 300% less energy to heat and cool a home when compared to traditional HVAC systems.
If a customer's hybrid system is able to operate on its heat pump function for most of the years, this 300% efficiency level means homeowners will need to pull far less energy and furnace fuel in from utility providers to heat and cool their homes. This will ultimately result in significant utility costs savings annually alongside reduced energy consumption.
4. Reduced Environmental Impact
It's important to note that the efficiency of a hybrid split HVAC system not only helps lower annual utility costs but also helps customers reduce the household's overall environmental impact. Due to a hybrid system's ability to alternate between whatever heating or cooling function is most efficient for the outside temperature, consumers are able to minimize wasteful energy use. This high level of continuous efficiency ultimately results in a reduced carbon footprint, making it an eco-friendly choice.
5. High Return on Investment
Lastly, one of the benefits of an split air conditioning system that's a key selling point for customers is the unit's typical high return on investment (ROI). While these systems do require a higher upfront investment compared to traditional HVAC systems, the hybrid split HVAC system's high level of efficiency results in customers being able to make these costs back through utility savings.
Furthermore, the ability to shift to whatever heating or cooling function is most efficient means that the hybrid system will endure far less wear and tear over the long haul when compared to traditional units. With less strain on the system, hybrid split HVAC systems tend to have a longer lifespan than traditional systems, further contributing to a customer's high ROI.
Protect the Benefits of an HVAC Split System with an Extended Warranty
Once customers have made the decision to invest in a new hybrid split HVAC system, plumbers have the ability to cap off their top-tier customer service by providing homeowners peace of mind with a JB Warranties' Premium Protection Plan. Covering all of today's top brands, our extended warranty services protect homeowners in the event of unexpected HVAC troubles and allow for a seamless filing and labor reimbursement process for professionals, a win-win for customers and contractors.
To learn more about the in-depth coverage JB Warranties has to offer, contact us and speak with one of our warranty experts today!

Nick Ahrens
National Account Manager