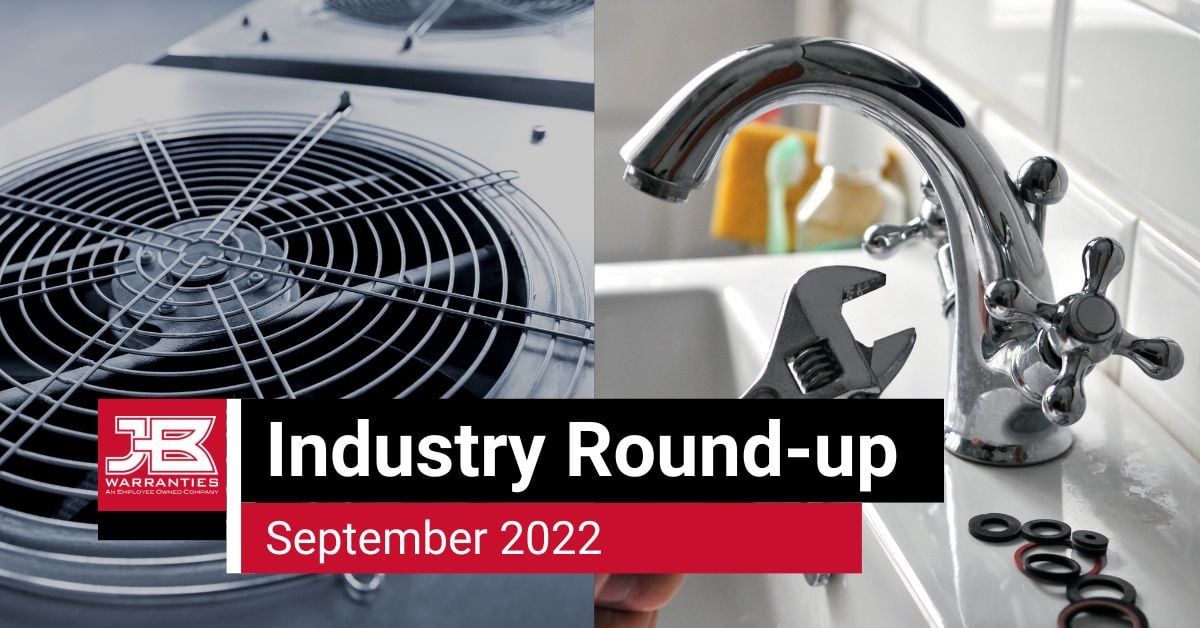 Welcome back, HVAC and plumbing professionals! Another month in the books means another JB Warranties' Monthly Round-Up in the works. If you're new to the JB Warranties blog, our round-ups are a periodic discussion of the industry's trending topics and conversations. It's our hope that these details empower HVAC and plumbing professionals to enhance their operations over time.
In our August round-up, we covered some of the trades' latest breaking news, including Winnsupply's successful completion of the first HVAC drone delivery and the whopping $455.96 billion growth evaluation expected in the HVAC system industry by 2028. To keep the conversation going, check out these relevant industry topics that gained traction through September.
---
[NEWS] JB Warranties and Sera Systems Announce First Of Its Kind Integration For HVAC Industry - Learn more.
---
On September 21, the United States Senate joined more than 130 countries in signing the Kigali Agreement. The Kigali Agreement is an international piece of legislation meant to help reduce the production of harmful HVAC refrigerants that act as a significant contributor of greenhouse gas emissions and play a major role in the overall concern of global warming.
In particular, the Kigali Agreement requires participants to reduce the use and production of hydrofluorocarbon (HFC) refrigerants. Experts believe that a reduction in HFC refrigerants will not only limit emissions but also help expand the global HVAC market by supporting domestic manufacturing workforces and encouraging others to adopt sustainable and clean energy.
Studies show that a push for more sustainable and eco-friendly HVAC options can lead to almost 33,000 new U.S. manufacturing jobs as well as $4.8 billion in annual exports. Furthermore, scientists believe that if the Kigali agreement is followed properly by its various international participants, about 1°F of predicted global warming could be stopped by the end of this century.
An upcoming two-day event in Phoenix, Arizona, was announced this month to work to connect residential HVAC contractors with solar opportunities. The Solar Forum will take place on November 14 and 15 at the Crowne Plaza Phoenix Airport and will feature multiple solar workshops along with several opportunities this technology poses for the HVAC industry.
The Solar Forum was developed by the Air Conditioning Contractors of America (ACCA) group, which includes more than 3,000 HVAC companies nationwide. A recent ACCA member survey found that more than 85% of contractors are interested in solar technology but have concerns regarding training and sourcing equipment. With this event, HVAC professionals can obtain knowledge about the resources they need to eliminate these concerns and benefit from offering solar services.
Topics to be covered under the Solar Forum include solar technology business strategies for HVAC contractors, how HVAC systems can interact with solar home design, and the various tax and rebate incentives HVAC contractors can obtain if they choose to enter the solar space. Event workshops will enable contractors to strategize business opportunities alongside solar companies.
This month, the Kohler Co. announced that their executive chairman, Herbert Vollrath Kohler, Jr., passed away in Kohler, Wisconsin, on September 3. His strong leadership helped transform Kohler Co., a common household name and an international giant in plumbing products manufacturing, into one of the largest and most successful plumbing manufacturers in the world.
Herb Kohler was the grandson of John Michael Kohler, the founder and CEO of Kohler Co., who served the company from 1940 to 1968. During his 43-year run with the company, Herb Kohler built the company to hold more than 40,000 employees and multiple manufacturing facilities across six continents.
Known for his hands-on creative process, Herb and his family company obtained over 200 utility and design patents for a variety of products, some of which Herb designed himself. Herb Kohler was also known for his philanthropic efforts throughout Wisconsin, some of which included environmental conservation projects and investments in manufacturing and engineering education.
Last month, President Joe Biden passed the federal Inflation Reduction Act (IRA), which, alongside many other economic projects and efforts, will work to increase interest in high-efficiency products like various heat pump technologies and variable-speed compressors. This news encouraged many HVAC manufacturers and professionals to plan for how their companies and customers could benefit from the subsequent IRA incentives.
For example, Mitsubishi Electric Trane HVAC U.S. (METUS), a manufacturer of energy-efficient heat pumps, has begun anticipating and stocking a higher demand for their products and educating dealers and contractors in their network on the incentives they face. Likewise, leading manufacturer HARDI is also planning to question the Department of Energy (DOE) to clarify the program's details to streamline incentive programs for their customers.
Stay Tuned for JB Warranties' October Round-Up
From new equipment incentives to industry events, trade trends evolve rapidly month over month. Remember to stay up to date with the next JB Warranties' Monthly Round-Up to see what else unfolds in the industry over the month of October. Also, don't forget to check out JB Warranties' marketplace hub for additional business tools to help keep your operations timely.


Brian Bohannan
Vice President of Sales at JB Warranties