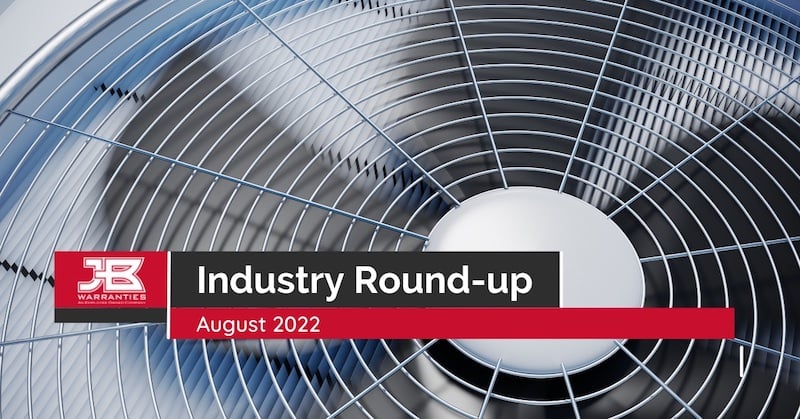 Hey there, HVAC and plumbing industry professionals! We're back again with another JB Warranties' Monthly Round-Up, where we discuss the relevant trade topics and industry conversations that occurred over the past month. We hope that these round-ups equip you and your team with the knowledge necessary to remain current in your trade business.
Back in our July round-up, we highlighted a few trending topics that ranged from A.O. Smith's generous donation to a South Carolina housing community to a new senate billing that aimed to push for electrification across the HVAC industry. With September coming in hot, let's dive into some of the HVAC and plumbing industry conversations that popped up in August.
As part of the Inflation Reduction Act passed on August 12 by the U.S. House of Representatives, the formerly on-again, off-again tax incentives for greater HVAC efficiency are back on the board yet again. According to bill details, there will be three incentives aimed at homeowners, home builders, and commercial builders.
For homeowners with eligible energy-saving HVAC equipment or home components (like windows and insulation), the 25C credit has been extended through 2032 to provide 30% savings on homeowners' tax liability for the cost of improvements. For home builders, 45L tax credits provide a $2,500 credit for each single-family home that meets Energy Star standard and $5,000 for each one that is considered "zero-energy ready."
Under the enhanced availability of 179D tax deductions, commercial builders who can demonstrate minimum energy cost savings of 25% compared to a defined baseline will receive a deduction of 50 cents per square foot. This amount will increase by 2 cents for each percentage point of energy savings over 25% for up to a $1 per square foot credit maximum.
On August 12, Winsupply, a leading supplier of residential and industry trade equipment and materials, made history by completing the industry's first-ever drone delivery. In partnership with Drone Express, the supplier successfully transported a NIBCO product from their distribution center in Miamisburg, Ohio, to a branch location in Centerville, Ohio.
The three-mile drone flight marked the start of what Winsupply plans to be consistent deliveries to customers from the Winsupply Distribution Center. The plan is currently being tested in a six-month concept phase, which can lead to an established drone delivery option if the return on investment is sufficient. The HVAC or plumbing item must weigh 5 pounds or less to hitch a ride.
In early August, XOi Technologies, a provider of technician-focused technology solutions, and the United Association (UA) of Journeymen and Apprentices of the Plumbing and Pipe Fitting Industry announced a new tech-enablement solution for instructors. The solution aims to extend virtual mentor support outside the classroom to allow students to continue learning when out in the field.
XOi's solution currently possesses deep data cataloging capabilities, AI-driven analytics, and remote support options to help enhance the effectiveness of UA's training programs. The two groups hope to better address labor shortages across the trade industries by providing better directed and in-depth training opportunities through cloud-based job data collection and analysis. Such opportunities enable students to reach the required proficiency for job positions more quickly.
In a Reportlinker.com market analysis titled "HVAC System Market Forecast to 2028 - COVID-19 Impact and Global Analysis by Component, Type, Implementation, and Application," data is projecting that the HVAC system market value is expected to reach $455.96 billion by 2028. Following recent years' COVID-19 implications, such as supply chain delays and shutdowns, this is an impressive jump from the current market value, which sits at just $246.10 billion.
This significant increase comes partly from numerous HVAC industry factors, including more consumers searching for new solutions that supply healthier indoor air quality in relation to COVID-19, as well as a desire for more eco-friendly and sustainable HVAC solutions. The growing demand for specific services and solutions is a strong signal to HVAC manufacturers, suppliers, and contractors alike of the potential business opportunities that could arise in the coming years.
This month, the American Chemical Society released experimental findings that outline the creation of an AC system prototype which could potentially replace traditional ACs one day. US researchers developed a prototype that provides cooling via solid refrigerants versus the harmful hydrofluorocarbon gasses (HFCs) used by current industry systems.
Traditional cooling systems operate via a method that cycles a refrigerant between a liquid and a gas. When the liquid becomes gas, it expands and absorbs heat, which can cool a home or business. However, these gasses are simply not good for the environment. Hence, numerous recent HVAC regulatory changes advocate for greener alternatives in recent and upcoming years.
The new prototype uses solid refrigerants, which do not leak into the environment like gasses. An AC system that uses solid refrigerants, also known as barocaloric materials, uses pressure to drive a solid-to-solid phase change rather than a liquid-to-gas phase. Researchers plan to continue to test different barocaloric materials in hopes of finding new replacements for cooling technologies.
Stay Tuned for JB Warranty's September Round-Up
As trade industry technologies and solutions continuously change, so will the news and relevant conversations surrounding them. You won't want to miss the next round-up to learn what September had in store for HVAC and plumbing professionals. Don't forget also to check out JB Warranties' marketplace hub for additional business tools that can help keep your operations up to date.

Brian Bohannan
Vice President of Sales at JB Warranties