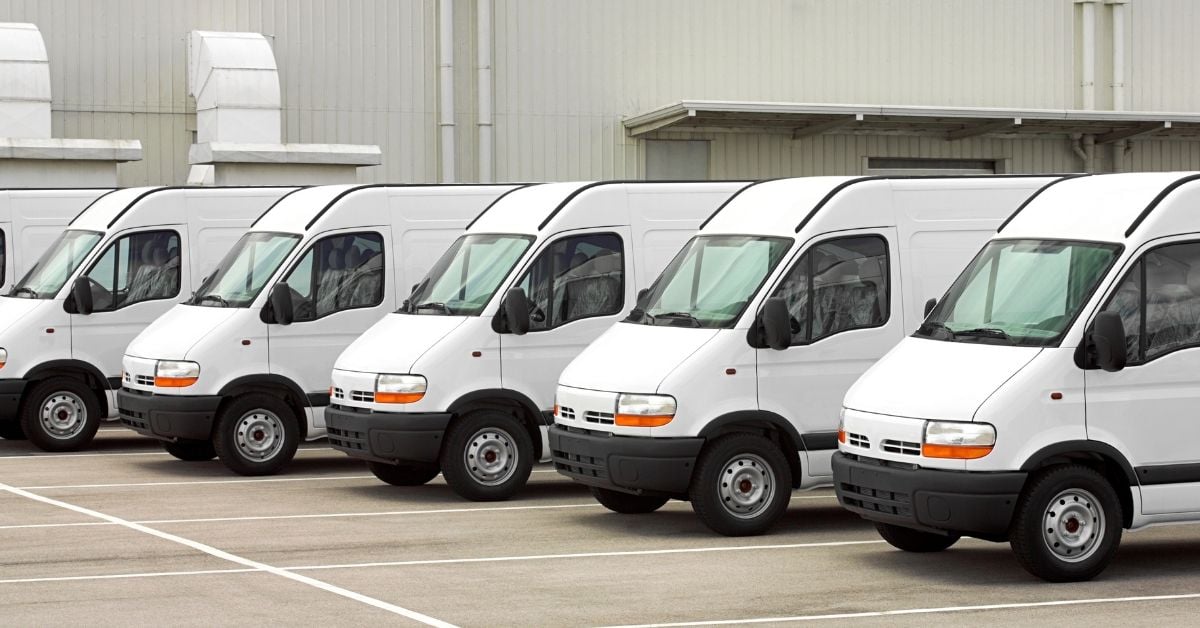 With the peak season ahead, HVAC and plumbing businesses can expect an uptick in service calls. Before long, customers will be cranking their air conditioning, pools, and sprinkler systems back on. So, there's no better time to make sure your company's vehicle fleet is appropriately managed and ready for any upcoming job.
To ensure no work orders are missed, and technicians aren't faced with the burden of vehicle issues, take a look at the best ways to prepare for the peak season ahead.
Establish a Preventive Maintenance Schedule
As the peak season approaches for both HVAC and plumbing businesses, the last thing business owners want to worry about is the chance of company vehicle complications. Fortunately, a preventive maintenance schedule for your vehicle assets can help you better manage ongoing vehicle health and prevent operational issues down the line.
This is helpful towards the longevity of your vehicle assets and towards vehicle costs — especially since the fees for vehicle repair typically run much higher than preventive maintenance costs. The easiest way to implement a preventive maintenance plan is by scheduling monthly blocks for preventive maintenance to be completed.
While many preventive tactics can be completed outside of a repair shop, consider acquiring the assistance of a vehicle professional to ensure the job is done right. Some preventive maintenance techniques include:
Changing the engine oil and filter
Replacing engine and cabin air filters
Inspecting and replacing belts and hoses
Inspecting and replacing transmission, power steering, coolant, and brake fluids
Testing and servicing brake pads and rotors
While the necessity of these types of preventive maintenance will depend on your current vehicle mileage and the time since your last service, establishing a schedule can help guarantee you monitor all aspects of vehicle health. Try incorporating field service management software into your maintenance plan to record exactly which types of maintenance were completed and when. Doing so will allow you to anticipate what types of future maintenance will be needed months in advance.
Ask Technicians to Inspect Vehicles Daily
Outside of general preventive maintenance approaches, you'll also want to tap into your technician team to help quickly locate any emerging issues. This can be done through daily inspections. By establishing a simple daily vehicle inspection protocol, technicians can bring any emerging concerns to your attention before they result in a hefty repair bill. Items that should be addressed daily include testing tire pressure, noting any engine lights, reporting brake concerns, checking tire tread, and inspecting windshield and glass conditions.
By tackling these quick inspection points daily, your team can help rapidly detect emerging vehicle concerns that may be potentially dangerous for the driver. When concerns are detected, be sure you have an established system or designate an individual that technicians can report to in order to document their findings. From there, a judgment can be made on the best approach to preserve the health of the vehicle.
Routinely Replace Tires, Batteries, and Brakes
A flat tire, dead battery, and bad brakes are some of the most common yet debilitating issues a vehicle can endure. Not to mention, these unexpected issues can arise on the busiest of days — causing a significant delay in your HVAC or plumbing business workflow and frustrating technicians and customers alike.
Company vehicles generally endure more annual mileage compared to the typical commuter, meaning they present a more timely need for maintenance and component replacement. To remain one step ahead, use the start of the spring season to replace these essential components of your vehicle fleet. With preventive maintenance and daily inspection systems already in place, you should be able to identify which vehicles should be given a high priority when needing to replace tires, batteries, and brakes.
Improve Fleet Vehicle Efficiency
In addition to improving the longevity of your vehicle fleet, you'll also want to consider preventive maintenance tactics to increase vehicle efficiency — and increase both gas and maintenance cost savings. With heavy mileage comes heavy gas cost, so first, make sure that technicians are using company vehicles for job completion purposes. GPS vehicle fleet tracking systems can help company operators monitor vehicles for idling, speeding, and unnecessarily long routes to help reduce gas costs and ensure company vehicles are being used properly.
Likewise, while many vehicle operators are hesitant to invest in eco-friendly vehicle options due to the upfront cost, long-term vehicle costs can be significantly reduced by choosing hybrid/electric options. With the hybrid and electric vehicle market currently soaring, many manufacturers are introducing vans and trucks fit for HVAC and plumbing company operators. So, before buying a repeat of the vehicle you may have just needed to retire, consider eco-friendly and high-efficiency vehicle options to help save long-term.
Get Your Fleet Ready for the Busy Season
Before your HVAC and plumbing company vehicles gear up to hit the road this season, protect efficient company workflow by preparing your vehicle fleet. From implementing preventive maintenance schedules and daily inspections to replacing common trouble-making components, setting your vehicles up for success can go a long way. Along with reduced long-term cost, a well-prepared vehicle fleet, you can ensure on-time technicians, happy customers, and safe employees.

Brian Bohannan
Vice President of Sales at JB Warranties