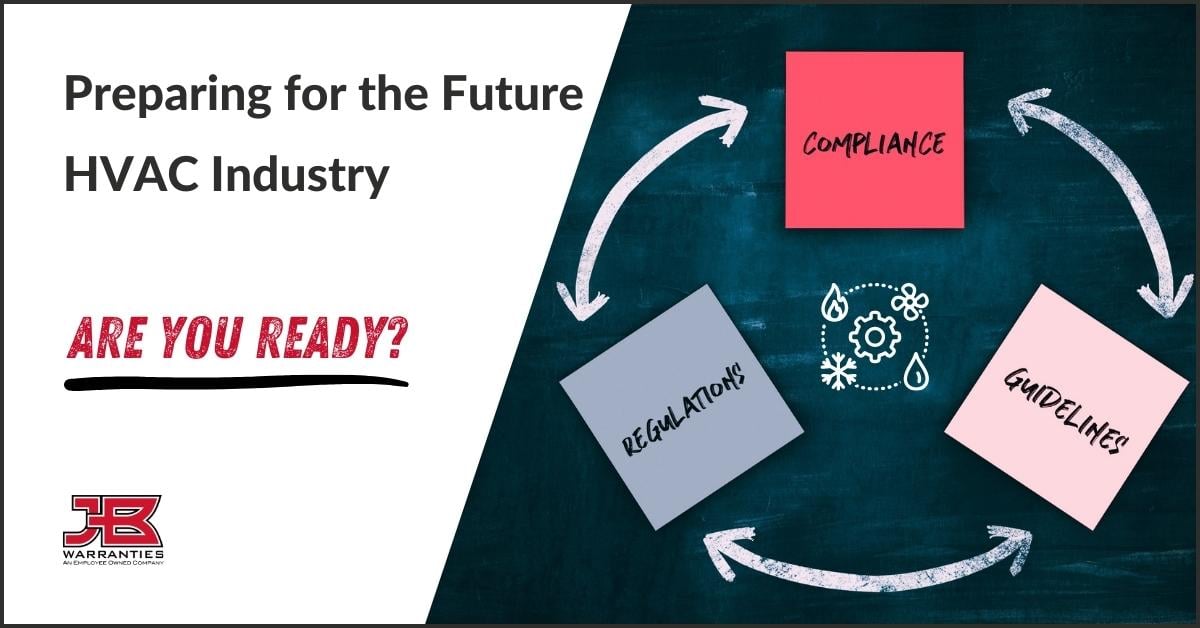 Beginning January 2023, technicians and contractors should gear up for incoming HVAC regulations that can impact operations and services provided to customers. Alongside the various statutes slated to become law in the coming years, now is the best time for HVAC trade professionals to prepare for the industry's future.
Whether you're an HVAC company owner or a field technician, it's crucial to understand how these new regulations will impact your daily workflows. Keep reading to learn more about what the future has in store for the HVAC industry and the steps you can take to prepare today.
What's in Store for the HVAC Industry in 2023 and Beyond?
Back in 2019, the Department of Energy (DOE) passed regulations requiring HVAC professionals to comply with new minimum efficiency standards effective January 2023. These upcoming regulatory changes will increase the Seasonal Energy Efficiency Ratio (SEER) minimum requirements for air conditioning systems and heat pumps installed by HVAC companies.
Under current SEER minimum requirements, HVAC systems installed in the northern United States must meet a minimum of 13.0 SEER, and the minimum is 14.0 SEER for systems located in the southern United States. Come January 1, 2023, new regulations will now require a 14.0 SEER rating for HVAC systems installed in the northern United States and a 15.0 SEER for systems located in the southern United States. As for heat pumps, a point increase from 14.0 SEER to 15.0 SEER is also required nationwide.
Because of these upcoming compliance changes, HVAC companies must remain mindful of the equipment they offer to customers and make necessary adjustments to accommodate the new minimum SEER requirements. On top of these already set-in-stone changes, additional legislation in the works could potentially become law, including the following two acts.
Installing Clean Efficient Energy Hastens Our Transition (ICEE HOT) Act
To speed the electrification of HVAC systems and reduce fossil fuel consumption and carbon emissions, the ICEE HOT Act aims to offer financial incentives for HVAC manufacturers who produce specific cleaner HVAC equipment. Such efforts could lead HVAC operators to eventually see an uptick in the availability of sustainable HVAC solutions.
Under the potential law, HVAC manufacturers and distributors would be eligible for rebates on produced heat pumps, heat-pump water heaters, and certain appliances that meet set electrification standards. Companies receiving these rebates would also be required to pass on a minimum of 90% of their value to customers to provide reduced costs for HVAC solutions.
Heating Efficiency and Affordability through Tax Relief (HEATR) Act
Similar to the ICEE HOT ACT, the HEATR Act would offer manufacturers savings in the form of tax credits for the production of heat pumps and heat-pump water heaters. Based on specific Energy Star criteria, each heat-pump water heater that meets the criteria could receive a tax credit of up to $800, and each residential space-heating heat pump could receive a tax credit as high as $1,000.
With both of these acts aimed at electrifying the HVAC industry, cost-effective, sustainable options may be in the near future.
So, How Can I Prepare My HVAC Company for These Upcoming Changes?
With new minimum SEER requirements set to hit the industry in January 2023 and additional industry updates under review, now is the time to prepare your HVAC company. Follow these three tips to ensure complete preparation for whatever new regulations bring your way.
1. Educate and Prepare Your Employees
One of the first and most important things to do is to educate and prepare your team and your HVAC business for the changes ahead. Educating your HVAC technicians and office staff can ensure consistent operations once new regulations kick in. Failing to educate staff on upcoming changes could cause compliance issues and customer concerns.
One of the easiest ways to educate teams is by hosting a team training seminar addressing employee questions that may surround upcoming changes. Consider these questions when determining how to best train and prepare your team for the new 2023 regulation changes:
What are the new equipment SEER rating minimums?
How do we assess a system to confirm SEER compliance?
How do we calculate the energy consumption of new and old systems?
When and how do we inform customers about the impact of new regulations?
2. Assess and Adjust Your Current Inventory
For HVAC companies with a large inventory of air conditioners and heat pump equipment, now is the time to ensure these systems won't go out of date. Possessing an overflow of systems that fail to meet necessary efficiency requirements starting in 2023 will set you back financially and keep you from meeting customer demands, which can significantly impact revenue.
In the meantime, look at which systems do not meet upcoming efficiency requirements and put those at the top of your list to get sold by 2023. Upcoming regulations do not impact installed HVAC units, so you may consider offering discounts on these units to ensure a profit before the new year. You can begin restocking with inventory that meets 2023 efficiency requirements.
3. Educate Your Customers
In addition to the impact upcoming changes will have on your business and team, your customers will also need to be made aware of the effects the changes may have on them. Because these regulatory changes aim to reduce environmental impact, now is an excellent time to educate customers on the importance of system maintenance and the options they have to update their system efficiency. In addition, since HVAC companies have until January 1, 2023, to sell off any soon-to-be outdated systems, it's important to inform customers of the upgrade opportunities they have if they are on the hunt for a less expensive albeit less efficient system. While this isn't the long-term goal, the short time frame before 2023 poses great upsell opportunities for you and your customers.
Don't Forget to Supply a Quality Extended Warranty Come 2023.
Outside of upcoming regulatory changes, HVAC companies can expect more consumers to turn to energy-efficient system upgrades, especially as the market seeks more and more sustainable solutions. With each new system install, supply an extended warranty offering that can promise peace of mind for their system for years to come.
JB Warranties premium protection plans offer fast claim processes, affordable pricing, and coverage on all leading industry brands to ensure both you and your customers are protected from any unexpected system hiccups later on down the line. To learn more about what our warranty services can do for you in the age of HVAC regulations, contact us today.

Brian Bohannan
Vice President of Sales at JB Warranties