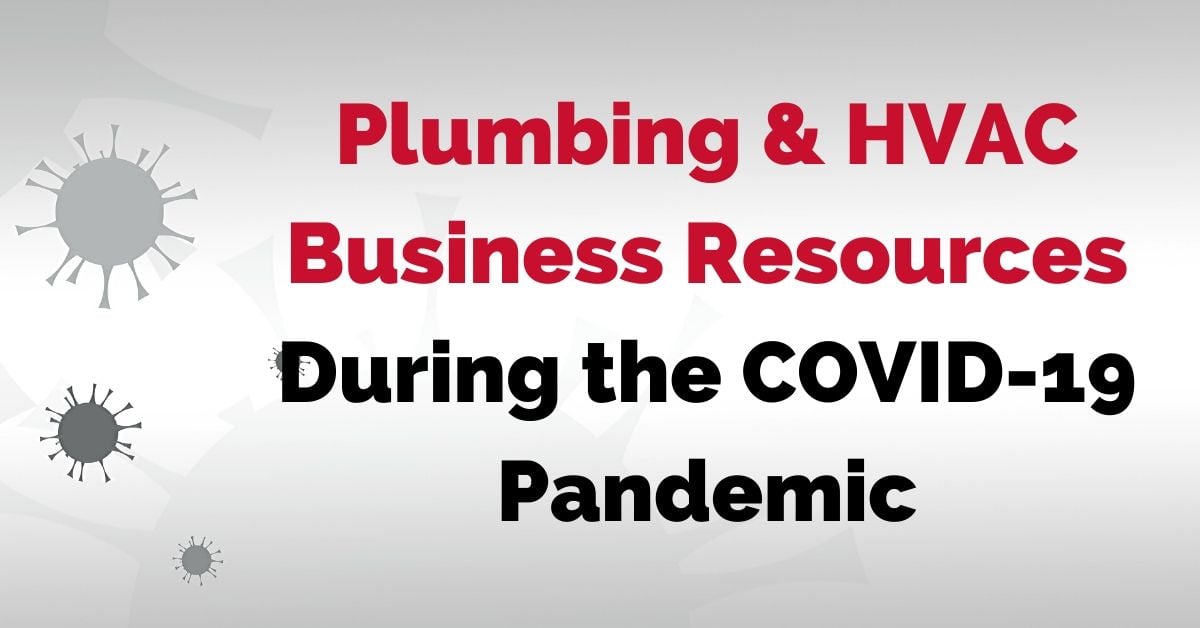 It's been a wild ride this year, hasn't it? In the past week or two, we've seen how much a virus can change our ways of doing business -- even our ways of just living our lives.
Some businesses have the option of letting employees work remotely. Others, like our friends in the plumbing and HVAC industries, don't necessarily have that luxury for the majority of their team members. Techs have to go on location to fix things. On the flip side, people are social distancing and aren't necessarily making calls for appointments unless absolutely necessary.
We know these can be trying times, so we've assembled a list of resources for plumbers and HVAC contractors to help you during this crisis. If you come across a valuable resource we've missed, please share it in the comments section. We'll be reading those suggestions and updating this post with great ideas you may share.
Information & Assistance for Plumbing and HVAC Business Owners During the COVID-19 Pandemic
Facebook Small Business Grants Program. Facebook announced that it will offer $100M in cash grants and ad credits to 30,000 eligible small businesses in over 30 countries. As of 3/23/2020, there are no further eligibility details or information on how to apply. We recommend you sign up for updates on the linked page to ensure you have immediate access to apply to the program once it opens.
Small Business Association (SBA) Disaster Loan Assistance. During the coronavirus outbreak and beyond, you can visit the SBA Disaster Loan Assistance page to check your eligibility for an SBA disaster loan. There are loans available now for those affected by coronavirus in their communities. Plus, you can apply for these types of loans during other times of disaster, too (hurricanes, tornadoes, etc.).
State-Specific Programs for Small Businesses. Your state may have a disaster or emergency relief program for small businesses in your region. Check with your state's government websites for programs. If you aren't sure how to find your state's government websites, check out this page from the National Governors Association. You can click on your governor's page and access various links for your state.
Connect with your local SCORE chapter. SCORE is the country's largest network of volunteers and expert business mentors dedicated to helping small businesses. SCORE offers free mentoring to those interested. Chapters are also still holding workshops online to support business owners during this time.
Check with Your Local Chamber of Commerce. Your local chamber of commerce may have assistance or resources to share with small business owners in your community. The link provided will give you access to a directory of chambers across the United States.
Research what trade associations can offer in the way of resources and education. Here are a few examples.
Keep up with your local news. Many people find themselves glued to the 24/7 cable news channels these days. National and international news is important, but you also need to stay up to date with how the virus is impacting your area.
Stay on top of the trade news. Here are a few examples of different news outlets sharing industry-specific coronavirus tips and information.
We've got tips for your techs working in the field, too. Check out Don Napier's advice for reassuring customers and taking appropriate precautions when visiting a customer's home during the COVID-19 outbreak.
We're All in This Together
During this pandemic and the necessary measures all of us have been asked to take, it's important to remember that we need to help out one another. We'll keep adding resources to this post as we find them or as you suggest them.
If you'd like to learn a little more about selling extended warranties, especially during this period where you may see declines in service appointments, check out our
.

Jeff Bohannan
President & CEO of JB Warranties