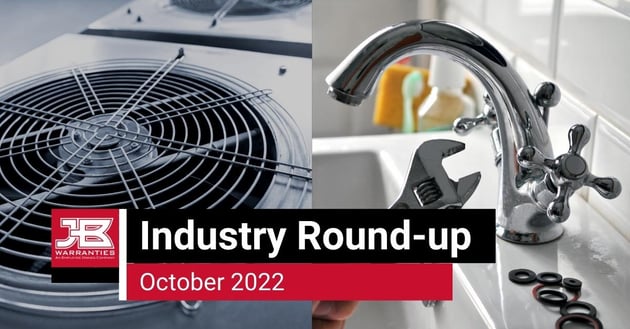 Welcome back to another JB Warranties' Monthly Round-Up, the corner of the internet where us tradesfolk discuss relevant trends that have impacted the HVAC and plumbing industries. With these various trending topics and conversations, we hope to better equip you and your team with resources that can elevate your operations.
In our September Round-Up, we covered a few industry topics like the U.S. Senate's ratification of the Kigali Amendment, the upcoming Solar Forum in Phoenix, Arizona, and the latest efforts by HVAC manufacturers to adjust to upcoming energy-efficient government incentives. Let's fast-forward through the month to chat about what went down this October.
This month, Habitat for Humanity announced the new EPIC (Electricity, Plumbing, Innovation, and Construction) Program to introduce local youth to various trade industries. Three Kentucky youth program locations, including Girls Inc., the Boys and Girls Club, and the Neblett Center, were chosen to host the new program, which will leverage each facility to target specific industry focuses.
The Girls Inc. location will focus on electrician and welding trades, the Boys and Girls Club will focus on plumbing and innovation, and the Neblett Center will focus on construction. Program leaders hope these programs will inspire local youth to explore these various industries for more well-rounded career decisions later on down the line. Program leaders also hope that better introduction to these industries can help curb the ongoing concern of trade labor shortages.
Johnson Controls, a leading global fire, HVAC, and security equipment manufacturer, recently announced they would begin offering Florida, South Carolina, and North Carolina residents affected by Hurricane Ian emergency rebates on various equipment. Equipment eligible for the rebate program includes new air conditioners, heat pumps, furnaces, air handlers, residential package units, and ductless systems.
Homeowners living in a Federal Emergency Management Agency (FEMA) declared disaster area can apply for rebates on DuctedSystemsIncentives.com using the Personal Use Rebate Program for systems installed between October 1 and December 31, 2022. Applicants can expect varying rebate amounts depending on the system type, with higher efficiency systems earning a larger rebate.
Harts Services, a prominent plumbing company founded in Tacoma, Washington, announced this month that they would be introducing a new apprenticeship program. The program, named Harts Academy, will act as an in-house apprenticeship initiative that works to better prepare upcoming plumbing professionals for a long-lasting and high-paying career.
The Harts Academy program will operate for eight weeks via comprehensive classroom sessions that provide hands-on experience and instruction by industry professionals. Following the eight-week program, students will merge into a two-to-three-year supervised field apprenticeship, following licensed plumbers in preparation for the upcoming licensing exam.
In recognition of National Indoor Air Quality Awareness Month, the Biden administration recently hosted a Summit on Indoor Air Quality (IAQ) to bring attention to reduced interest in IAQ in a post-pandemic world. On October 11, numerous public health, private sector, and education experts gathered at the White House to discuss a wide variety of IAQ concerns and future efforts.
During this event, Harvard University Public Health experts stressed that the role of IAQ now goes beyond just preventing COVID-19. Instead, a healthy IAQ should be a high priority in any building, regardless of income level. The summit also discussed recent IAQ efforts in schools because many expect more than half of school districts across the country will use American Rescue Plan (ARP) funds to improve ventilation in classrooms for increased IAQ.
Though you're probably well aware, the HVAC industry is very (unfairly) male-dominated. But did you know that out of the entire HVAC industry workforce, women make up less than 2%? This month, leading HVAC industry publication, ACHR News, announced its 2022 Top Women in HVAC List to bring recognition to the women making an impact on the HVAC industry.
The list contains a vast collection of female HVAC professionals, ranging from company presidents to multi-decade veteran technicians, demonstrating the huge potential for women in this industry. First published last year, ACHR now plans to announce the Top Women in HVAC annually to spotlight tradeswomen and call out industry improvements to make it more welcoming for women seeking a career.
Stay Tuned for JB Warranties' November Round-Up
As you can see from the robust variety of topics and events that surfaced in October, HVAC and plumbing industries can encounter tons of updates month-over-month. To remain up to date, tune in to JB Warranties' November Round-Up to learn what's next, and stop by the JB Warranties' marketplace hub for additional business tools to enhance your operations.


Brian Bohannan
Vice President of Sales at JB Warranties