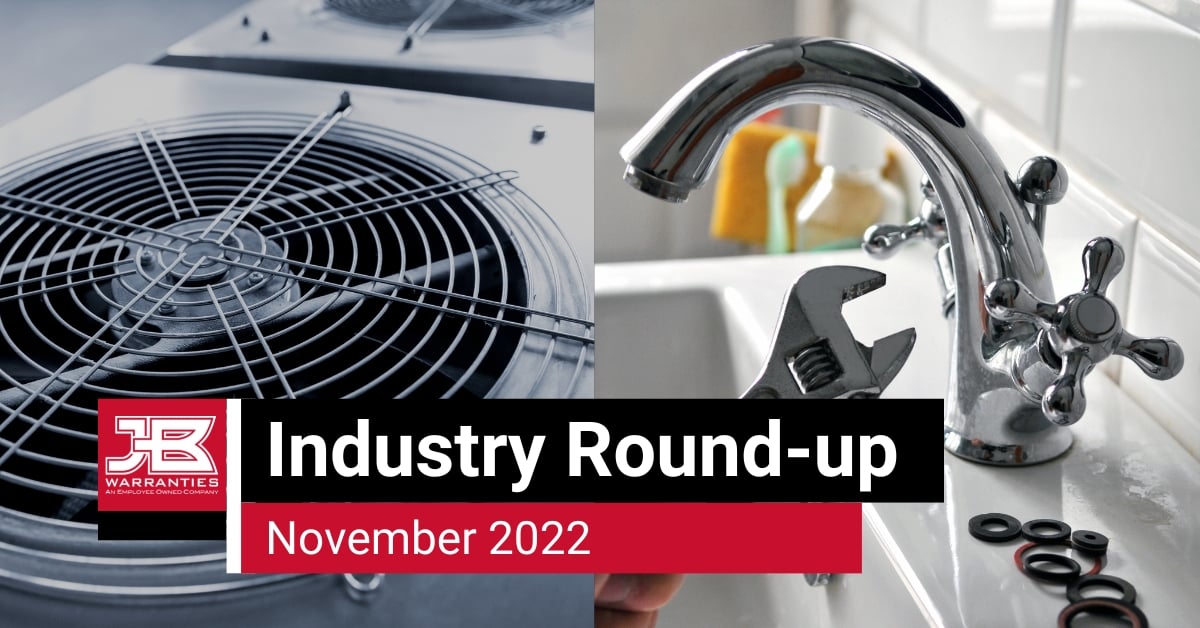 Welcome back, HVAC and plumbing professionals! We're here with another of JB Warranties' Monthly Round-Ups, a recurring post to discuss the various topics and trends that have impacted the trade industries over the course of the past month. With these monthly discussions, we aim to better equip you and your trade company with resources that can enhance your overall operations.
In our October Round-Up, we highlighted a few industry topics, including Johnson Control's recent emergency Hurricane Ian rebates, the White House's Indoor Air Quality Summit, and the 2022 recognition of women in HVAC. Let's now take a look at the month of November to navigate through the latest updates that have influenced the trade industries.
As you're probably well aware already, 2023 has become quite a large year for federal HVAC-related regulations. This month, the Environmental Protection Agency (EPA) issued new regulations in partnership with the American Innovation and Manufacturing (AIM) Act that works to further reduce the production and mechanical consumption of hydrofluorocarbons (HFCs), a harmful and potent greenhouse gas.
This long-term environmental protection effort by the EPA aims to decrease the number of HFC production and consumption allowances to 15% of baseline levels by 2036. Recently issued 2023 allowances are currently used to determine which manufacturers can produce and consume HFCs throughout the upcoming year, and at what level. According to issued 2023 allowances, Honeywell International, Chemours, and Arkema were given the largest production and consumption allowances.
This month, Mitsubishi Electric Trane HVAC US LLC (METUS), a leading manufacturer of HVAC equipment, announced they would be partnering with a leading wholesaler entity, BellSimons Companies, to open a new training center in Waterville, Maine. This Mitsubishi Electric Authorized Training Center (MATC) will be the first operated by BellSimons — and holds a huge opportunity for those looking to enhance their Mitsubishi technology skill set.
With training sessions beginning this upcoming summer, the facility aims to provide industry professionals with enhanced Mitsubishi-based education to help better serve customers throughout Maine. Participating contractors will be provided hands-on experience and education involving various Mitsubishi HVAC models, including their SMART MULTI Outdoor Unit and MSZ-GL wall-mounted indoor unit.
Interplay Learning, the leading provider of online virtual reality (VR) training for skilled trades, announced this month that they would begin offering video-based OSHA and EPA training for entry-level HVAC technicians. These skill sets are crucial for workplace safety and can aid in keeping HVAC workplaces and keep their teams injury-free.
Through the new training program, technicians will be able to earn their OSHA 10-Hour Card and EPA 608 refrigerant certification completely online via a wide variety of video-based prep exam courses, study materials, and knowledge checks. Interplay partnered with CareerSafe, an OSHA-authorized online training provider, to administer certification exams and get technicians out in the field faster and safer.
Following the recent impacts of the COVID-19 pandemic and the need for enhanced indoor air quality (IAQ) solutions, the Build Engineering Services Association (BESA) established the first World Ventilation Day on November 8th. This day is meant to bring awareness and recognition to the HVAC industry to improve the general understanding of IAQ as well as how to improve it.
The inaugural World Ventilation Day shone a light on how the general public either ignores or is extremely unaware of indoor air quality and how poor air quality can significantly impact health. Through this campaign, BESA hopes to improve public awareness through continued education and a push for IAQ HVAC solutions and best practices, including more effective ventilation systems.
Service 1st Financial, a leading financial technology and innovation company that services residential home service contractors, announced this month that they secured $20 million in funding to help drive the decarbonization of home HVAC systems. With the push for more sustainable and eco-friendly home comfort systems growing bigger each year, Service 1st hopes to leverage these funds to make it easier for consumers to access and afford such systems.
With the $20 million, Service 1st will work to rapidly scale the company geographically to better support new product innovation across the country. This expansion also includes working with various original equipment manufacturer (OEM) partners to promote the sale and use of high-efficiency heat pump technology that works to support the overall goal of decarbonization.
Stay Tuned for JB Warranty's December Round-Up
It's clear that the trade industries encounter many new conversations and topics that could potentially factor into your overall operations month over month. With the new year quickly approaching, be sure to tune in to JB Warranties' December Round-Up to learn what's in store next. Be sure to also check out the JB Warranties marketplace hub for numerous business management solutions that can help trade businesses hit every one your HVAC or plumbing 2023 company goals.

Brian Bohannan
Vice President of Sales at JB Warranties