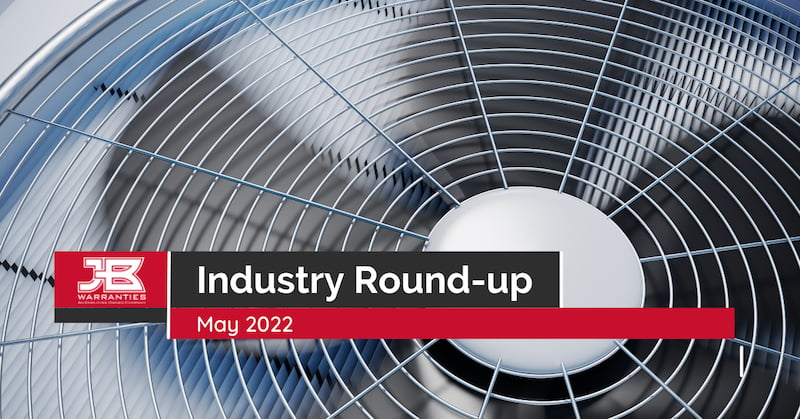 Welcome back, HVAC and plumbing industry friends! JB Warranties is here with another Monthly Round-Up, where we dive deep to discover relevant conversations happening right now across our trade. We understand the importance of keeping up with industry trends and the beneficial influence they can have on your operations, so we strive to keep our readers in the loop.
In case you missed our April Round-Up, we previously discussed a few industry topics, including Johnson Control's recent energy efficiency survey, the Air Conditioning Contracts of America (ACCA) conference, and ServiceTitan's launch of their Titan Intelligence capabilities. So let's dive back in and keep the HVAC and plumbing conversation going with these top topics for May.
On May 13, the Heating Air-Conditioning and Refrigeration Distributors International (HARDI) Focus conference took place in downtown Minneapolis, bringing in industry professionals from all over the country. At this year's conference, slated speakers discussed a wide range of subject matters surrounding marketing, sales, and supply chain functions of HVAC operations.
During a time dubbed the 'Great Resignation' era, a hot topic amongst attendees was the importance of encouraging positive workplace cultures. Lisa Ryan, a speaker at the conference and founder of a business consulting firm, stressed that working hard to build and maintain a strong company culture can help attract and retain quality employees and keep them engaged.
With years of experience in the industrial sales and marketing space, Ryan shared a few tips to encourage a positive workplace culture, including:
Remain accessible to employees, as they may offer valuable insights about your business or want to connect with leadership.
Show empathy, especially as the ongoing impacts of the coronavirus pandemic continue to impact employees.
Offer flexibility, including scheduling, working remotely, and trying out employees in different work roles.
Encourage workers, support them to share successes, and give kudos to one another.
Establish "stay interviews" to connect with employees on a personal level, learn what keeps them engaged, and receive pointers to help recruit new employees.
Invest in training, from lunch-and-learn sessions to in-house or hired trainers, trade shows, and seminars.
Say thank you.
With these simple approaches to building a positive workplace culture, HVAC and plumbing professionals can better navigate the labor shortages that continue to impact our operations.
Business Development Resources (BDR), a leader in business coaching and training services for home-service industry professionals, announced a new opportunity for HVAC, plumbing, and surrounding industry professionals this month. BDR's Leadership Excellence Academy: Foundations launches in October and plans to host bi-monthly sessions through August 2023.
Year One of the Leadership Excellence Academy will consist of six four-hour training workshops that target various key elements surrounding quality leadership. Each of these sessions aims to provide numerous strategies and best practices that can be applied to empower individual leadership abilities and manage a strong team. The upcoming workshops include:
Determine your leadership level (October 4, 2022)
Determine your leadership style and capacity (December 13, 2022)
How to become an influencer (February 14, 2023)
Go from communicating to connecting (April 11, 2023)
Empowering your team to success (June 13, 2023)
Leading people: managing the process (August 9, 2023)
In addition to these six bi-monthly workshops, BDR plans to offer targeted podcasts that will assist participants in preparation and review for each upcoming session alongside the online courses. For more information, visit the BDR website to learn more about the Leadership Excellence Academy.
As we finish up the month of May, we also conclude the month-long recognition of the 42nd Building Safety Month. Building Safety Month 2022 is an international campaign established by the International Code Council to increase awareness surrounding building safety. The campaign pushed for the adoption of regularly updated and modern building codes and educating the public on what it takes to create safe and sustainable structures.
For Building Safety Month 2022, the international campaign was broken into four separate focuses for each week of the month. Week 1 focused on energy and innovation by highlighting the importance of safe and sustainable construction that addresses areas of energy efficiency, including the choice of HVAC and plumbing systems. Week 2 focused on exploring careers in building safety and the importance of promoting such jobs for the incoming generations.
Week 3 of Building Safety Month 2022 went on to relay the importance of disaster preparedness and understanding the four phases of emergency management, mitigation, disaster preparedness, disaster response, and disaster recovery. Last but not least, we cap off this final week of Building Safety Month by highlighting the importance of water safety in our construction practices and recognizing the worldwide need for an accessible and safe water supply.
Earlier this month, the U.S. Department of Energy (DOE) proposed a new set of energy conservation standards surrounding commercial water heating equipment. This new proposed legislation would cover gas storage, instantaneous water heaters, and gas hot water supply boilers. In addition, if passed, new standards would require commercial water heaters to incorporate condensing technology.
The DOE believes requiring condensing technology in commercial water heaters could significantly reduce energy consumption by extracting additional heat from the combustion process. Officials supporting these new proposed standards claim it would save businesses upwards of $140 million a year and nearly $2.4 billion in additional savings over the next 30 years.
Likewise, these new standards could also reduce carbon emissions by the annual equivalent of 4.8 million homes and cut yearly methane emissions by 2.3 million gas cars. If successfully implemented by the DOE, these new standards could come into effect in 2026.
Stay Tuned for JB Warranty's June Round-Up
For more HVAC and plumbing industry conversations, stay tuned for our upcoming June Round-Up. Don't forget to check out JB Warranties' marketplace hub for additional HVAC and plumbing business tools, from financial management solutions to marketing resources that can help take your businesses to the next level.

Brian Bohannan
Vice President of Sales at JB Warranties