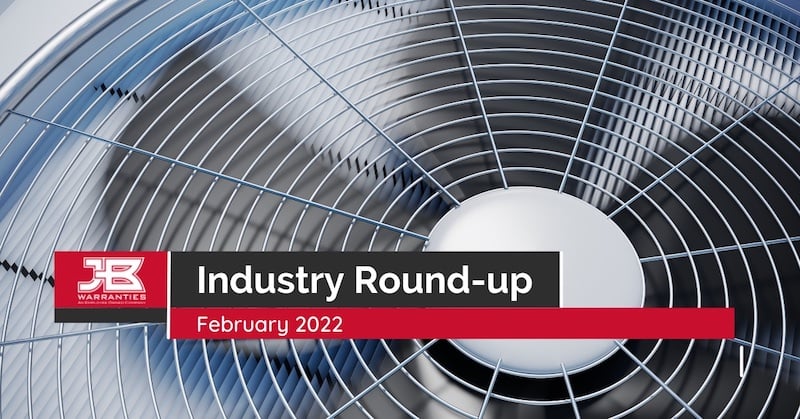 Are you a trade worker looking for the latest on all things HVAC and plumbing? Then, you've come to the right place! JB Warranties, the nation's leading provider of Extended Warranties and marketplace hub for Business Management Tools, is here to introduce our new monthly round-ups. Each month, we'll curate the hottest topics and trends shaping the current HVAC and plumbing market.
From popular events to industry innovation, our monthly round-ups will collect and analyze the relevant industry topics that can impact your trade business, along with local employment. We do the work of hunting down the latest breaking news, so you can focus on what matters most — your business. Let's take a look at the top industry conversations for February.
Each February, we celebrate Black History Month to recognize the achievements, impacts, and crucial roles African Americans play in U.S. history. While many black pioneers, including Harriet Tubman and Dr. Martin Luther King, Jr., are recognized, it's important to celebrate the other African American pioneers who have made significant impacts.
Several African Americans have directly contributed to the modern HVAC and plumbing industry. HVAC and plumbing supply and equipment manufacturer, Rheem, took the time to highlight these three iconic black HVAC and plumbing innovators.
Frederick McKinley Jones (1893-1961): As a talented engineer and automobile mechanic extraordinaire, Frederick Jones crafted numerous inventions throughout his career. His portable and automatic refrigeration unit went on to forever change the U.S. marketplace and how perishable goods could be transported.
Alice H. Parker (1895 - Unknown): While very little about her life, Alice Parker filed a patent back in 1919 for a natural gas central heating system concept. With only coal or wood being used up until this point, her design would go on to become the blueprint for forced-air, thermostat-controlled heating systems as we know it today.
David N. Crosthwait Jr. (1898-1976): After earning a Bachelor of Science and a Master's of Engineering from Perdue, David Crishwait joined C.A Dunham Company in 1920. Throughout his career, he designed heat and ventilation products and obtained over 35 U.S. patents on inventions, including improved boiler systems and thermostat control, which improved ventilation systems in buildings such as the Rockefeller Center in New York City.
This month, the Air Conditioning Contractors of America (ACCA) announced the lineup of general session speakers for the upcoming ACCA 2022 Conference and Expo that's slated to run between Monday, March 28 and Wednesday, March 30. Taking place at the St. Louis Union Hotel in St. Louis, Missouri, we've just caught wind of the conference's four featured focus sessions.
Manufacturer Leadership Forum: Leaders from the top manufacturers host an interactive session addressing issues in the HVACR industry, contractor training, and consumer education.
Contractor Forum Live: Ask the Experts: Using ACCA's Contractor Forum conversations, industry leaders take the stage to discuss a variety of issues contractors face and the solutions they've learned.
ACCA Town Hall - Contractors Lead the Ways: With the help of industry-leading CEOs and founders, ACHR editor-in-chief Kyle Gargaro will conduct a deep dive into business issues contractors face each day.
Lessons in Leadership: The last session to round out the conference will bring multiple leaders in the HVAC space to present step-by-step leadership instructions and teach the audience how to incorporate them into successful business practices.
A recent Panasonic survey of homeowners and homebuilders across the country identified concerns in both groups regarding the impact of air quality on both short and long-term health concerns. Survey questions measured the respondents' knowledge of the risk of indoor air pollution and the impact technological solutions can have on indoor air quality (IAQ).
With the growing focus on health and wellness throughout the pandemic, surveyors found that after participants were presented with scientific findings regarding the health impacts of poor air quality, 1 in 4 homeowners showed interest to invest in IAQ solutions — a new potential upsell. Likewise, homeowners who viewed their IAQ as somewhat or very unhealthy more than tripled from 12% to 39%.
However, Panasonic identified a "knowledge gap" where the majority of builders believed that homeowners prioritize energy efficiency over a healthy living environment. In addition, the study determined that homeowners rated each of these factors as equal priorities, demonstrating a possible lack of industry attention with HVAC contractors and IAQ technology offerings, such as HEPA HVAC systems.
The plumbing manufacturer Oatey Co. recently announced the release of their podcast, The Fix. With an ongoing emphasis on skilled trade workers and their impact on public health and well-being, The Fix aims to bring attention to the importance of the trades while educating and empowering upcoming professionals to support industry longevity.
With each episode, co-hosts Doug Buchan and Katherine Lehtinen sit down with various thought leaders connected to a wide range of skilled trades, including HVAC, plumbing, electrical, and construction. These conversations will explore an even wider range of topics, including solutions to growing labor shortages, career advice, and previous job site experience discussions.
By keeping this conversation going, The Fix hopes to increase awareness of the importance of skilled trades and eliminate the common misconceptions across the industries. Will you tune in?
This month, leading plumbing fixture manufacturer American Standard announced that they are now accepting nominations for their fifth annual Building A Higher Standard Awards. These awards recognize independent dealers across the country who strongly represent the brand's core values of teamwork, integrity, community service, and the focus of continuous improvement.
Each year, four dealers are selected as winners to receive national recognition through major trade publications and local advertising support for their business. In addition to the trophy, an awards celebration will be held for all of the winner's employees to commemorate the hard teamwork that made the win possible.
If you know a dealer who hits all the marks American Standard is searching for, nomination submissions are open through March 15, 2022!
Stay Tuned for JB Warranty's March Round-Up
Now that you've got your February dose of industry news and conversations, stay tuned for our March round-up. You can be sure that JB Warranties will keep you up to date with all the industry's breaking news, hot topics, and innovation that could impact your operations.

Brian Bohannan
Vice President of Sales at JB Warranties