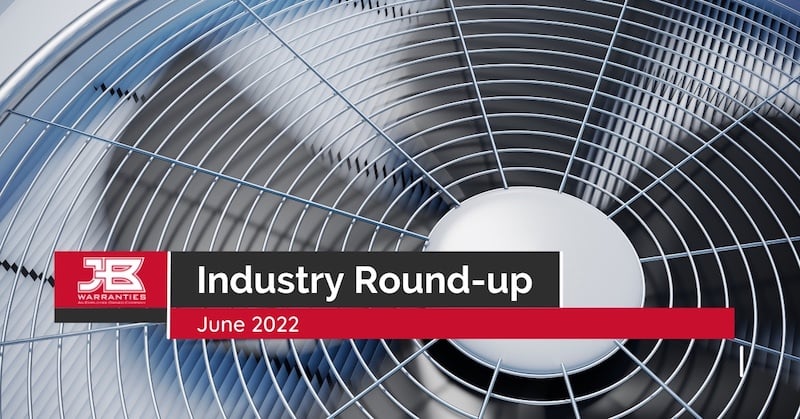 Hi there, HVAC and plumbing industry professionals! Welcome back to JB Warranty's Monthly Round-Up, where we look at relevant topics and conversations happening right now across trade industries. As a professional, it's essential to keep up with current industry innovations and regulatory changes to help understand how they can benefit or impact your operations.
In our May Round-Up, we covered various topics, including the recent HARDI Conference and its discussions on workplace culture, the conclusion of Building Safety Month, and the Biden Administration's new proposal on commercial water heater efficiency standards. With July coming in hot, let's review the HVAC and plumbing trends we saw emerge during June.
While it's a few years away, a new plan recently announced on June 13 by the Biden Administration and the Department of Energy (DOE) looks to phase out non-condensing indoor gas furnaces by the beginning of 2029. Under this potential new ruling, new non-weatherized gas furnaces would be required to hold an annual fuel utilization efficiency of at least 95%.
A minimum 95% fuel utilization efficiency would mean that a furnace would have to produce at least 95 BTU of heat for every 100 BTU of natural gas it uses. Because of this new proposal, non-condensing furnaces would have to be eliminated, as they currently only must meet an 80% efficiency rating.
Altogether, this new proposal is intended to guide consumers toward more energy-efficient technology, such as condensing furnaces that capture heat from exhaust gasses. According to a DOE estimate, the push to eliminate non-condensing furnaces would reduce carbon emissions by 373 million metric tons over 40 years and save homeowners a rough $60 on utility costs.
We rely on daily air-conditioning, refrigeration, and heat pump professionals to create comfortable living and working conditions. These professionals also play a significant role in maintaining public health. However, much of the cooling industry is heavily male-dominated, creating the false narrative that women don't belong in this increasingly important field.
Fortunately, several organizations recently discussed the importance of female workers in the cooling industry and their currently available opportunities. In a new initiative titled the International Network for Women in Cooling (INIC), the United Nations Environment Programme has gathered numerous international partners to promote women in the cooling industry.
Over the coming months, the INIC initiative aims to introduce several programs surrounding women in the cooling industry. The group hopes these programs will support individual women and young girls to secure education opportunities, advance their careers in the cooling industry, and offer a chance to engage with existing cooling professionals.
Leading plumbing supplier, Ferguson, and residential certification program provider, Pearl Certification, recently announced a collaboration that will work to maintain and improve home energy efficiency performance through the collaboration of trade professionals and homeowners.
Pearl Certification runs a mobile application called Green Door that homeowners across the country use to help manage and digitize their home energy performance data. The app also works as a resource homeowners can use to access details about potential upgrades they can make in coordination with nearby trade professionals to boost energy efficiency and home value.
Similarly, Ferguson has expanded its position in the sustainable product and solution space. With this Ferguson and Pearl Certification e-commerce collaboration, future efforts hope to provide special homeowner availability to a Ferguson online catalog that offers direct access to high-performing and energy-efficient kitchen, bath, and lighting products.
The U.S. Department of Energy (DOE) announced this month that they selected the Oak Ridge National Laboratory (ORNL) to receive roughly $6 million to aid in developing geothermal heating and cooling technology at federal sites. The decision comes from President Biden's plan to make the federal government carbon-neutral.
The team receiving funding includes ORNL, three additional national labs, two universities, a state agency, and an industry partner, all of which bring extensive expertise in the low-temperature geothermal space. The team will work together to design geothermal heating and cooling systems using data analysis and performance surveys to aid in federal geothermal expansion.
Strikepoint Group Holding (SGH), one of the largest home services companies in the United States, announced this month that they are launching the Horizon Group Holdings Technical Training Center. This training facility and the program will work to guide upcoming skilled trade workers into the residential HVAC, plumbing, and related industry space.
The 3000-square foot hands-on training facility is part of an effort to address the ongoing labor shortage plaguing the various trade industries. With in-depth, hands-on experience ranging from air condition units to water heaters, the program provides technical training and teaching home service skills to help graduate over 100 technicians each year.
Stay Tuned for JB Warranty's July Round-Up
For more HVAC and plumbing industry conversations, stay tuned for our upcoming July Round-Up, where we'll tackle the top topics and current industry events over the next couple of weeks. Be sure also to check out JB Warranties' marketplace hub for additional business tools that can help take your HVAC or plumbing businesses to the next level as the industry evolves.

Brian Bohannan
Vice President of Sales at JB Warranties