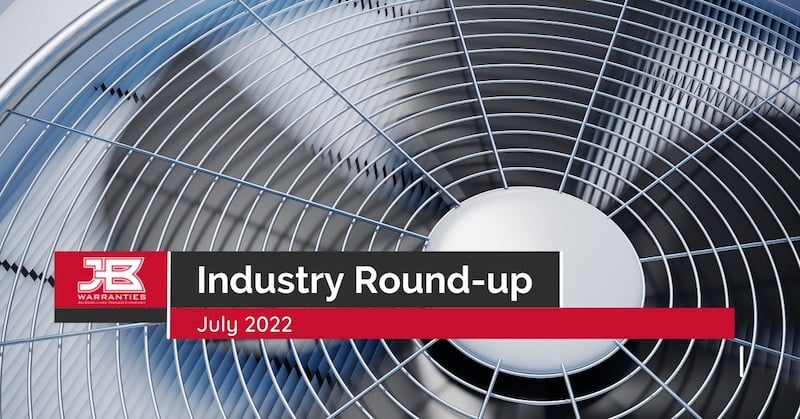 Welcome back, HVAC and plumbing industry professionals! We're back with another round of JB Warranties' Monthly Round-Up, a recurring post for us to discuss the most recent and relevant topics in the HVAC and plumbing industry. We hope these various news topics and trade conversations keep you better informed and equipped to tackle industry challenges.
In case you missed it, we highlighted quite a few interesting topics in our June Round-Up, including the Department of Energy's efforts to push high-efficiency furnaces and Ferguson and Pearl Certification's latest home performance platform collaboration. With August right around the corner, let's take a look at some of the industry topics that arose in July.
In the age of electric vehicle innovation, Tesla CEO Elon Musk took the time this month to discuss his future visions for something outside the automotive industry. After a fellow Tesla shareholder questioned via Twitter if Musk would develop a HEPA HVAC combo system to combat his ongoing allergy issues, the CEO stated his interest in Tesla HVAC systems.
In his response, Musk revealed that the Tesla HVAC systems are currently on the future product list. However, Musk previously mentioned that this technology was already present in his vehicles at a shareholder meeting in 2020, with some pricier Tesla models already offering built-in HEPA capabilities.
Musk believes that with these vehicle systems, Tesla has already done a lot of the work required to develop an energy-efficient, Tesla-produced HVAC system. He has also proposed being able to stack the future HVAC units to fit a home's needs and capacity adequately. While many reviews have mixed opinions on the current Tesla A.C. systems, we'll have to see what's in store for the future of Tesla HVAC.
Leading water heater and treatment manufacturer, A.O. Smith, announced their donation of 26 heat pump water heaters to Habitat for Humanity of Greenville County in South Carolina. According to Habitat for Humanity, these water heaters will be used to support the growth of affordable housing by providing reliable hot water access to the historic Nicholtown neighborhood in Greenville.
Recent development in the area has caused a reduction in affordable housing for residents. To remedy this issue, the city of Greenville donated a five-acre plot of land to Habitat of Humanity to build new housing options. With these affordable housing options, homeowners will be required to pay no more than 30% of their income at the time of closing, with the donated heat pumps also allowing them to further save on utility costs over time.
The U.S Senate recently announced two new bills designed to speed up the electrification of HVAC systems. These come in part of an overall effort to decrease the number of fossil fuels used in buildings across the country to cut overall carbon emissions. The two bills plan to offer financial incentives for the production of certain electric HVAC equipment.
The first bill, the Installing Clean Efficient Energy Hastens Our Transition (ICEE HOT) Act, works to amend the Energy Policy Act of 2005 to expand an existing rebate program with $10 billion in funding from 2023 to 2030. The act would offer manufacturers and distributors various rebates for heat pumps, heat-pump water heaters, and other electrical appliances, encouraging a larger transition to electric options in homes across the country.
The second bill presented was the Heating Efficiency and Affordability through Tax Relief (HEATR) Act. This action would offer manufacturers different tax credits of upwards of $1,000 for each electric heat pump and heat-pump water heater produced. Government officials view this as a win-win situation that helps reduce energy costs for customers while strengthening access to energy-efficient heating solutions.
Thanks to Mitsubishi HVAC, a leading supplier of heat and air-conditioning systems, and their collaboration with the Credit Human headquarters in San Antonio, TX, the building recently exceeded its energy consumption, water conservation, and carbon emission goals. This success comes in part from Credit Human's goal of demonstrating how financial and environmental resources go hand-in-hand.
Using Mitsubishi Electric's Variable Refrigerant Flow (VRF) heat-pump and air-conditioning technology, the Credit Human building accomplished an incredible 91% reduction in utilities and carbon emissions and an 85% reduction in water usage compared to the former Credit Human building. Experts believe the more people see the success of Mitsubishi Electric's VRF technology, the more they expect heating and cooling projects to follow Credit Human's lead.
Stay Tuned for JB Warranties' August Round-Up
HVAC industry trends are like cold temperatures coming from a blocked air vent — they change constantly! Stay tuned for the next round-up to see what the month of August has to offer for those of us in the trades. Before you leave, don't forget to check out JB Warranties' Marketplace hub for additional business tools that can help enhance your HVAC or plumbing businesses.

Brian Bohannan
Vice President of Sales at JB Warranties