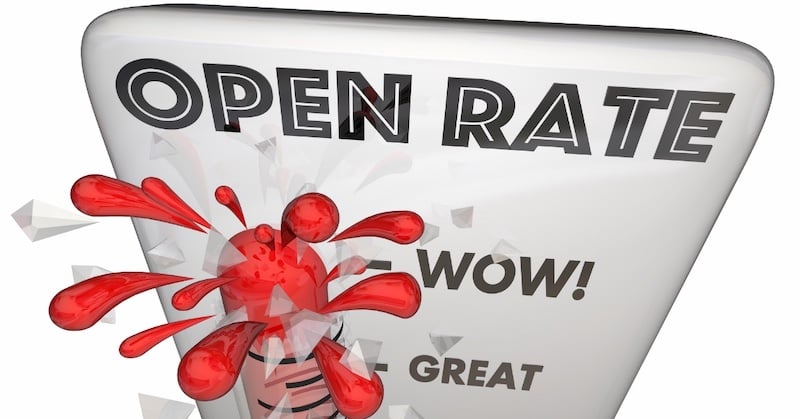 Efficient marketing tactics are key to maintain, increase, and satisfy your customer base. Of the many marketing tools available to HVAC and plumbing business owners, email marketing is a valuable method to help you do just that. Unfortunately, without a basic understanding of email marketing best practices, you risk a rock-bottom open rate—which can plummet your potential to reach customers and stall your marketing efforts before they even begin.
To safeguard your ability to reach both recurring and potential customers with your marketing, check out this guide to increase your HVAC or plumbing email open rates.
But First, What is an Email Open Rate?
An email open rate is the percentage of your current email subscribers who open a particular email campaign you send. If you utilize a platform such as Mailchimp or ConvertKit, this percentage should appear for each message you send to your email list. You can also generate an average email open rate by calculating the email rate for each of your messages and dividing the sum by the number of messages you've sent.
Maintaining a decent email open rate is essential, as it signifies that consumers are interested in your brand and possibly the services you offer. According to 2020 industry data, the average email open rate for home and building services is just 17.71%. While this number may not be as high as you may expect, remember that the average person receives more than 120 business emails each day, so competition is high for inbox real estate.
Tips to Increase Open Rates for Your HVAC and Plumbing Marketing Emails
Research has shown that companies receive $42 in return profit on average for every dollar businesses invest in their email marketing. To have the best return on investment (ROI) and better understand how to get customers to open your emails more frequently, check out these five tips.
1. Segment Your Audience
From contractors to homeowners, your business's various customers will not all be interested in one generic email. To better maintain a good email open rate, be sure only to send each of your customer types email content that would be of interest to them. First, dive into your current customer list and try to segment them into subcategories like homeowners, business owners, and contractors to the best of your ability.
From here, you can construct email marketing material that is best tailored to each of these customer types. For instance, a customer might be interested in coupons, where a contractor might be interested in new commercial services. According to market research, 39% of marketers who used segmented email lists experienced higher open rates, in addition to 21% experiencing greater customer retention.
2. Follow Best Practices to Avoid Spam Folders
Of the many factors that can cause a consumer not to open a marketing email, losing it to the spam folder is number one. Once your email marketing hits the spam folders, the chances of customers seeing it are slim to none. To avoid a customer spam folder, you must follow anti-spam best practices.
One of the top practices you should consider is building an organic email list and only distributing it to individuals who have already agreed to receive email marketing from you. Consider using social media and services visits to gather customer emails and help build your subscriber list. Above all, do not use purchased email lists, which can quickly spam flag your content.
Secondly, always send your email marketing from an established and verified website domain. This domain is typically the one that operates as your HVAC or plumbing business's website. Distributing emails under your company's domain will help signal to email provider spam filters that your company is legit and worthy of the inbox; plus, it encourages readers to open your email because they recognize your brand.
Lastly, always include a reply-to address and offer the opportunity to answer any inquiries in your email. This step signals to spam filters that you operate a legitimate business and demonstrates this to customers as well.
3. Master the Art of Subject Lines
The subject line of your email is the first thing an email subscriber will see in their inbox. This small set of words can easily be the make-or-break decision whether or not the individual opens your email. To maintain a decent email open rate, first, be sure to capture the attention of the specific segmented audience you're distributing these emails to.
Best practices for subject lines to improve open rates include asking questions such as, "Are ____ Plumbing/HVAC Issues Weighing Your System Down?" or using numbers in subject lines, such as "Top 10 Ways We Can Winterize Your System this Season." Looping back into the best spam practices from above, be sure to avoid spam-triggering inserts such as the use of all caps and heavy back-to-back punctuation (!!!, ???, $$$).
Also, bear in mind that many customers will read your email on a mobile device. Be careful with subject line lengths to ensure your content fits on the smaller screen.
4. Automate Email and Schedule the Most Appropriate Send Times
From post-service thank-you emails to follow-up emails regarding project estimate inquiries, marketing tools such as Constant Contact and Blueshift are readily available to create and send automated messages based on triggers. In addition to boosting email open rates, these tools can help maintain a strong connection with both pre-existing and potential new customers.
Automation tools will also provide you with the opportunity to schedule the times when your email marketing campaigns are distributed. Using these tools, test various times of the day when your customers are opening emails more frequently. Whether it's around lunchtime or in the early mornings, understanding when your consumer base is opening emails the most will help you maintain a successful email open rate.
5. Mix and Match Email Types
Repetitive and boring emails are the last thing that's going to influence an overall positive email open rate. Creating one monthly newsletter to be sent out to each of your segmented customer lists may not be enough if you're looking for a decent ROI. Try breaking your marketing efforts down into seasonal campaigns, current promotional specials, event information, "We Miss You," and "Thank You" email types.
Aside from contributing to driving overall sales, mixing and matching your email types will help you maintain strong brand awareness with new and old customers alike. Likewise, be sure to keep these emails looking sharp as it speaks on the value of your company. Consider investing in a designer that can lay out your content, logo, and brand colors in a visually appealing way.
Work on Your Email Open Rate Today
After spending the time constructing email content, it can be frustrating to discover your email open rate is not reaching the typical HVAC and plumbing industry average. But with best practices in mind, you have a better chance of getting those well-crafted emails opened. From breaking down your contacts into segmented email lists to mixing and matching email types, be sure to follow these essential tips to increase your email open rates.

Sasi Madduri
VP of Technology