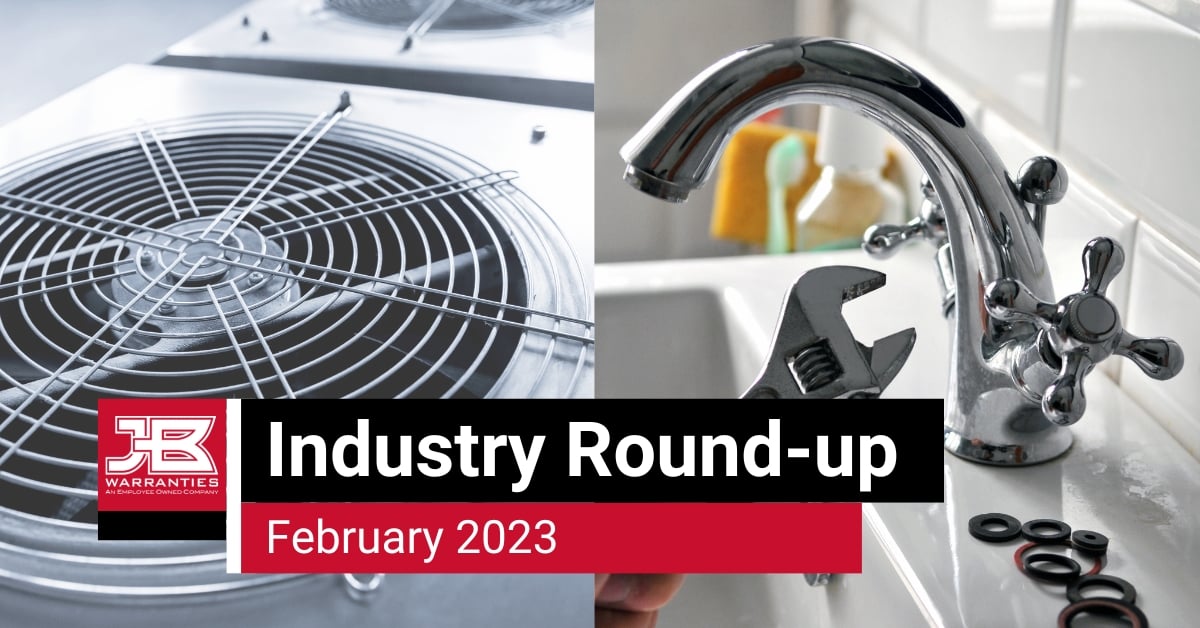 Welcome back, HVAC and plumbing experts! The team here at JB Warranties hopes you've had a great start to 2023, with nothing but smooth operations at each step. As the short month of February has quickly ended (and March is underway!), now is the time to recap the top industry news, trends, and topics in our monthly JB Warranties' Round-Up.
In our previous January Round-Up, we discussed a range of breaking industry news, including but not limited to the Biden Administration's extension of COVID-19 funding, XOi and Interplay's latest partnership announcement, and the Environmental Protection Agency's (EPA) kick-off of the revelation rule-making process. So let's now check out what went on in February!
LG Electronics, a leader in HVAC solutions, announced its new line of HVAC technology this month at the 2023 NAHB International Builders' Show (IBS) in Las Vegas. LG Electronics is already well known for its expansive collection of HVAC systems — including duct-free, split systems, and heat pumps — that have been heating and cooling homes and businesses for decades.
With this latest release, the brand pushes to keep up with growing electrification and energy efficiency consumer trends. For example, the new LG Inverter Heat Pump Water Heater provides an alternative to electric resistance or gas water heaters, saving up to 70% on energy costs compared to conventional electric heaters. LG also released their Art Cool™ Mirror easy maintenance duct-free A/C system, which earned EPA's ENERGY STAR Cold Climate certification.
This month, the Plumbing-Heating-Cooling Contractors Association (PHCC) announced that their scholarship program would award 56 scholarships to eligible applicants. Applicants must be PHCC apprentices or trade school or college students enrolled in plumbing or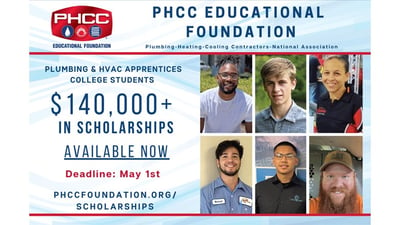 HVAC classes or pursuing majors that align with the plumbing, heating, and cooling industry.
This scholarship is funded by donations to the PHCC Educational Foundation from corporate sponsors like A. O. Smith, Bradford White Corporation, and the Delta Faucet Company. Applicants will be interviewed about their trade interests and must provide a letter of recommendation for a chance to be accepted and awarded a scholarship amount between $1,500 and $10,000. Applications must be submitted by May 1, 2023, and can be found here
This year's International Air-Conditioning, Heating, Refrigerating Exposition was February 6 - 8 at the Georgia World Congress Center in Downtown Atlanta. With roughly 1,800 exhibitors registered for the event, the AHR 2023 Expo covered a wide collection of hot topics, including the new EPA refrigerant regulations and decarbonization efforts across the industry.
This year's AHR Expo also rolled out some new and unique features, including the "Podcast Pavilion," which offered those not in attendance the chance to listen in on Expo recordings and panel discussions. AHR also presented its year innovation awards, which included winners like Copeland HVAC Compressors, SmartD Technologies, and Caleffi Hydronic Solutions for their innovative product work across the HVAC and plumbing industries.
This month, the North American Sustainable Refrigeration Council announced they would hold their first Natural Refrigerant Training Summit from April 4 to 6, 2023, in Irwindale, CA. In partnership with South California Edison, the training summit event is free of charge and will provide technician training on CO2 and propane refrigerant technologies with the help of manufacturers and industry experts.
The event will also offer an exhibit hall that provides attendees with in-person access to the latest natural refrigerant products and service offerings. In addition, this exhibit hall will host an HVAC-R student networking event to help rising professionals build industry connections and discover new opportunities. While the event is free, registration is required, and priority access will be given to field technicians.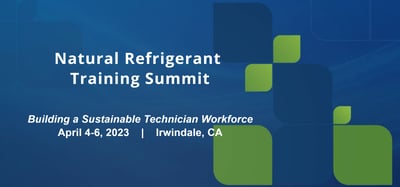 In 2021, the Environmental Protection Agency (EPA) presented a final rule outlining the ban on non-refillable refrigerant cylinders beginning in 2025. Soon after, HVAC industry associations and cylinder manufacturers filed petitions asking the U.S. Courts to overturn this new legislation. Petitioners believe the cylinder ban could harm the industry, jeopardizing job positions, creating unnecessary industrial disruptions, and removing cost-effective options.
Since then, the EPA has not responded to these petitions, leaving many HVAC-R industry professionals questioning what's next. In response to this concern, House Committee on Oversight and Accountability Chairman James Comer sent a letter this month to the EPA asking why there has been no response and to provide a briefing on the concern as soon as possible.
Stay Tuned for JB Warranties' March Round-Up
Now two months into 2023, we can see from just two round-ups that this year will be another busy one for the HVAC and plumbing industries. Throughout March, we'll watch for the top news, trends, and topics to hit the industry, and be sure to share what's important with you. Before you leave, check out the JB Dealer Services Marketplace for industry-leading business management solutions to help your operations keep up in 2023.

Brian Bohannan
Director of Operations at JB Warranties