Plumbers, are you watching these trends and making plans to address them in 2020?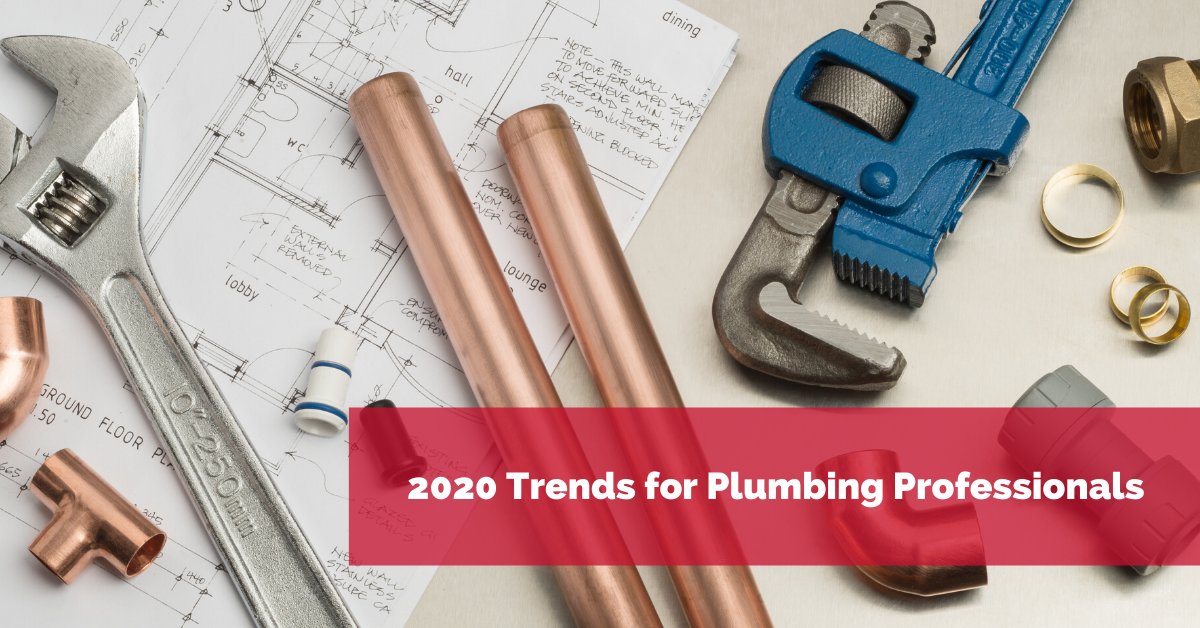 Demand for Eco-friendly, Green Products and Services
Millennials are concerned with making eco-friendly decisions, including ones that involve plumbing. They are usually willing to pay more for products and services that have a positive reputation when it comes to environmental impact. This attitude goes for both homeowners and business owners alike.
Plumbing contractors will see a growing demand for ENERGY STAR appliances (dishwashers, washing machines), low-flow toilets and faucets, and faucet aerators. These products help customers conserve water and decrease utility bills.
Tankless water heaters are also part of the green trend. Tankless water heaters can be up to 34 percent more energy-efficient than traditional water heaters.
Addressing the Safety Needs of Aging Baby Boomers and Those with Limited Mobility
As the baby boomer population ages, many are determined to "age in place." In other words, they are taking steps to make their homes more livable for their changing needs. People with disabilities that limit their mobility will also benefit from safer options at home, especially in the bathroom.
Since most falls occur in the bathroom, you may see an increase in demand for:
Replacement of traditional bathtubs with walk-in tubs or walk-showers
Faucet modifications to make them easier to reach, as well as safety stops that prevent water from getting too hot
Replacement of existing toilets with taller models
and other bathroom remodeling-related services.
Water Heating Options
Along with tankless water heaters, as we mentioned earlier, there are other cost-saving options that homeowners are increasingly interested in. These include:
Maintenance Plans for Improved Customer Retention
We all know that keeping an existing customer is cheaper than getting new ones. One of the best ways to retain customers and earn their trust is by offering an annual maintenance plan.
When you add an annual maintenance plan to your service list, remember that you need to position this as a benefit to the customer. Explain how this yearly service can save them time and money because you will help them identify minor problems before they become big, expensive headaches. Put together some information to show how much a customer can potentially save by purchasing this plan from you.
Remember the old saying, "An ounce of prevention is worth a pound of cure."
Improving Your Online Presence
People want to research and engage with businesses online, and they typically want to use their smartphones for those activities. According to Pew Research, 81 percent of Americans own smartphones. Additionally, 50 percent of Google searches happen on mobile devices. You need to ensure you've got a mobile-friendly website that allows smartphone users to quickly click-to-call when they want to reach you.
However, your online presence goes way beyond how mobile-friendly your website is. You also need to be active on social media. You don't have to dominate every social network out there, but you should be available on the ones your target customers are most likely using.
Also, work on getting reviews and testimonials from your best customers. Set up your Google My Business profile and collect reviews from people who would rate your business a nine or ten from a satisfaction perspective.
Recruiting New Employees
Plumbing contractors are facing similar issues to those we mentioned in our 2020 HVAC trends post. Employee recruitment is one of those shared concerns. The plumbing industry is not bringing in enough new talent to replace retiring plumbers. Company owners will need to form stronger ties with the community to help young people understand the opportunities in the profession. Additionally, owners may need to work with industry associations and look outside the industry to find new employees.
What Other Trends Are You Watching?
We've tackled a few trends that plumbing contractors need to watch in 2020. What others are you interested in? Share your thoughts with us in the comments section below. We'd love to continue the conversation with you.
Make Extended Warranties Part of Your 2020 Strategy.
Learn more about the benefits of offering extended warranty solutions for HVAC & plumbing contractors to your plumbing customers, then register for JB Warranties'
.

Brian Bohannan
Vice President of Sales at JB Warranties