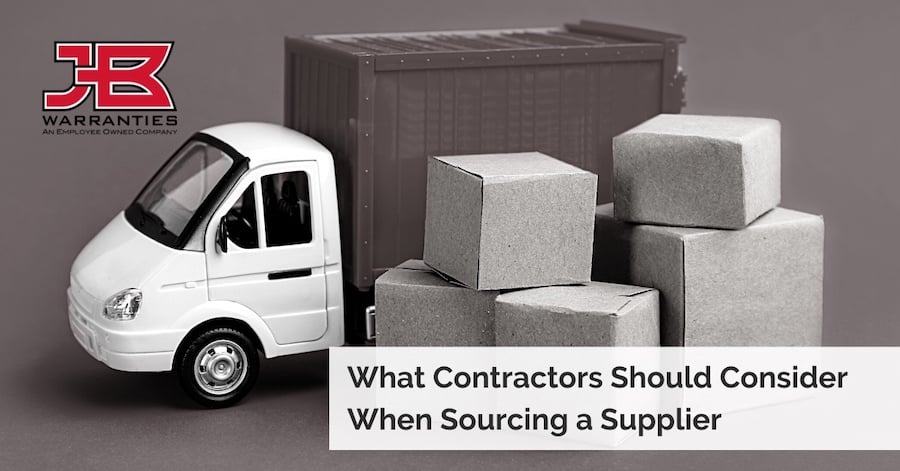 Problems with the supply chain aren't just a nuisance. For HVAC and plumbing contractors, these issues can cause delays in customer service, negative business reviews, and ultimately, lost profit. With ongoing supply chain delays only furthering these issues, HVAC and plumbing contractors must secure strong relationships with high-quality suppliers for optimal operations.
The team at JB Warranties can empathize with contractors' and suppliers' supply chain woes. That's why we decided to dive into the current state of the supply chain and how it can disrupt operations and provide some helpful tips for sourcing a supplier who can help mitigate these concerns.
Current State of the Supply Chain
As a professional in the HVAC or plumbing space, it's not farfetched to say that you've already felt the impacts of ongoing COVID-19 on the global supply chain. With manufacturers continuing to balance fluctuating restrictions, workforce availability, and logistical disruptions worldwide, supply availability has run a bit thin for contractors for practically two years.
According to a recent study by Inverto, 89% of respondents reported experiencing limited availability of raw materials, including steel and copper, these past few years. In addition, many computerized and electronic components required for several HVAC and plumbing systems have also recently faced heavy production delays, creating additional frustrations for contractors.
Without access to various supplies and equipment, contractors have needed to adjust their ordering tactics by stocking up on products whenever they're available and working with multiple suppliers. However, whether you choose to work with one or multiple suppliers, a few factors must be considered before you land with a supplier that can further disrupt your operations.
3 Things to Consider When Sourcing an HVAC or Plumbing Supplier
Delayed communication, inaccurate inventory, and minimal flexibility are just a fraction of HVAC and plumbing contractors' frustrations when working with suppliers. In times of heavy supply chain uncertainty, contractors must take extra precautions when looking for a new supplier.
To best protect your company's productivity, consider these three things when sourcing a supplier.
1. Consider Conducting a Supplier Interview
Before diving in and placing a supply order from a provider you have never conducted businesses with, you may want to learn a bit more about them to best understand if they fit your needs. You can start by researching reviews online to understand personal opinions and past experiences other contractors have had when previously working with the supplier.
If the online opinions and testimonials are positive, you may want to consider taking your research a step further and conducting a one-on-one interview with the potential supplier. Here you can provide the supplier with your previous order records, so they can review your general expectations and determine if they can fulfill similar future orders.
During a supplier interview, you can also take the opportunity to inquire about specific factors that may impact the supplier's overall costs and productivity, such as specific fees and estimated ordering windows. With many industry professionals in a similar boat, be sure to question the supplier's industry partners and their ability to fulfill multiple accounts quickly.
2. Consider How the Supplier Handles Roadblocks
For contractors and suppliers, there's no fighting that the unprecedented effects of COVID-19, global tensions, and spiking inflation rates have impacted us all. However, how a business operator chooses to navigate these setbacks should be a factor in determining whether or not to conduct business with that company.
For instance, contractors will want to seek an HVAC and plumbing supplier with a robust collection of ordering, accounting, and support capabilities, to help contractors stay on track no matter what hurdle is thrown their way. Contractors should also inquire with the supplier to understand how recent or general setbacks have affected their ordering operations and abilities.
Likewise, when dealing with roadblocks, thorough communication is one of the most effective ways to control the situation. There's nothing worse than being in specific need of a material but not being able to get confirmation on current availability from your supplier for days on end. Learn more about how a supplier handles customer communication before placing an order.
3. Consider the Level of Customer Service the Supplier Has to Offer
Running a successful HVAC or plumbing business entails a lot of dedication and time to managing your supply ordering needs and managing customer, staff, and financial decisions. With so much on a contractor's plate, HVAC and plumbing professionals require strong business relationships with suppliers that can provide top-tier customer service capabilities.
Contractors will want to consider a supplier that can provide various capabilities, including online ordering platforms, designated sales reps, and order status tracking. Access to these various capabilities as a contractor helps streamline operations more effectively and avoids the headaches that possibly come with supply and equipment orders (and delays).
Furthermore, contractors should seek supplier relationships that benefit the contractor and supplier. In return for consistent orders and long-term partnerships, contractors need a supplier that can offer benefits for their ongoing purchases. For example, many suppliers offer point systems that can be redeemed for discounts on future orders, helping you save where it's deserved.
Stay Ahead of the Competition with the Right Supplier
With supply chain delays and disruptions continuing to evolve, contractors need a supplier they can trust now more than ever to help keep their operations afloat. Fortunately, effectively communicating your specific needs to a potential supplier and thoroughly researching their services can make navigating supply chain troubles a whole lot easier.
Looking for HVAC and plumbing recommendations you can trust? Be sure to check out the JB Dealer Services Marketplace, home to tons of trusted business management tools that help keep all focuses of your HVAC and plumbing operation on track.

Tommy Cue
Vice President of Strategic Partnerships at JB Warranties