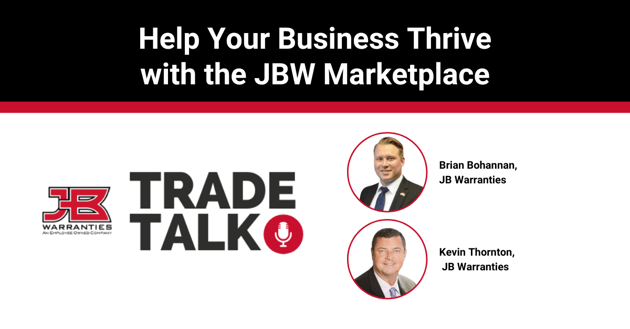 On this episode of Trade Talk, Brian Bohannan talks with Kevin Thornton about the new JB Warranties Marketplace. The Marketplace offers dealers and other types of businesses (even doggy daycares) the opportunity to work on their own businesses to help them thrive and accomplish business goals with vetted businesses.
Here's a breakdown of what you'll learn:
Why did the marketplace come about?
Three key purposes of the marketplace is to help businesses:

Grow revenues
Stay on top of or maintain their business expenses effectively
Mitigate risk

No pay-to-play necessary - you don't have to be a registered JBW dealer to participate.
Deep dive into the four categories available:

Financing & Accounting
Human Capital Management
Marketing & Communications
Field Service Management
Connect with Brian and Kevin:
---
Read the transcript:
Brian Bohannan:
Good afternoon, everybody Ryan with JB Warranties back with another edition of the TradeTalk podcast. Today, I'm happy to have on the show, Kevin Thornton, who's our vice president of partnerships over our dealer services division. And that's actually what we're going to highlight today. So, Kevin, thanks for joining us, bud. Excited to have you here.
Kevin Thornton:
Thanks Brian.
Brian Bohannan:
So the dealer service marketplace is gaining a lot of momentum. I think maybe it's probably had more success than we initially thought it might right out of the gate. So for those that don't know about it, can you tell us the genesis of the marketplace, why you came aboard to help us put this in place and kind of your motivation behind it?
Kevin Thornton:
Yeah, absolutely, thanks. So about a year ago, got together with the management team and as we're looking at JB Warranties, of course, the warranty business is our primary businesses and has been great thanks to our dealer partners. And it really gave us an opportunity with everything that's going on in the world and all the struggles that our dealer partners are dealing with, we had an opportunity to kind of give back and provide additional value to those dealers. And so when we're looking at how we can accomplish that, we said, well our dealer partners are working so hard in the business day in and day out, it's hard to work on the business. There's certain business services, products that are important to all of these small businesses, they just don't have time to vet them, to understand, to know what's on the marketplace, what the right pricing, those sorts of things. We said, "Hey, why don't we do that for them? We've got a large dealer base."
And so when we designed the marketplace, we said, "Look, let's help our dealers thrive." And of course thriving means different things to different dealers. In some cases it's, "Hey, I want to grow this thing to sell it." Okay, that's cool. "I'm creating a generational business where I've inherited this business from my parents and I'm going to leave it to my kids and I just want to make sure there's a good transition." We can help them with that. Or they may just say, "Look, I'm not necessarily interested in growing, I want to provide for my community and I want to provide these services and I want to be able to retire before my back and knees give out," right? And so we said, "Okay, well, based off of that, how can we help them thrive? And how can we help them accomplish their business goals?"
And we really focus in on three key things, Brian, one was, how can we help them grow their revenues? How can we help them kind of stay on top of their expenses or at least kind of maintain and manage their expenses more effectively? And how can we help them mitigate risk? As we know in this day and age there's a lot of opportunity for risk, both there's issues between employees dealing with homeowners by sending technicians into homes, those sorts of things. And so there's there's risk that needs to be mitigated, right? And like to say that in many cases, small businesses are one kind of catastrophic event away from bankruptcy and we want to help them, right? We want to help them thrive.
And so we created a marketplace and at the time we said, "Well, do we want to make it available only to JBW registered dealers?" And we thought, no, like this is applicable to everyone, let's make it consumer facing, let's put it on our website. So what's simple is any small business, any contractor, if they're doing business with us or not, can go to jbwarranties.com. In the top right corner, they'll see a tab for marketplace. Once they click it on that marketplace, they've got full access to all of the marketplace vendors that we do business with.
Brian Bohannan:
Yeah-
Kevin Thornton:
What was that?
Brian Bohannan:
Yeah, that surprised me a little bit, because we initially reached out to all these partners to help air conditioning and plumbing contractors grow. We've been around and seen other dealer programs, manufacturer programs, a lot of those you have to kind of pay to get into. When we made the decision that you wouldn't even have to be a registered JB dealer to access this, I thought that was valuable. So when all these other small businesses, I believe you had a story about your dog's...
Kevin Thornton:
That's right, yeah, doggy daycare.
Brian Bohannan:
Doggy daycare is on there, non HVC businesses using the program. And I mean, it's common sense. Every business kind of needs the same stuff. So what do we have in there? It's kind of broken into a few different categories of financing and accounting, human capital management, some marketing and customer communication, and then field service management. Can you go into each of those four categories more?
Kevin Thornton:
Absolutely. That's funny because yeah, I was dropping my dog off to Camp Bow Wow, shoutout to Camp Bow Wow and I was talking to the owners, two sisters that are running that business and I just asked them some questions, "Hey, what are you doing? Do you use QuickBooks?" "Yeah, we do, but I've got an old version, I need to upgrade that. I got to get around to it." I said, "Well, good news is we can help you with that. By working through us, we can get you discount on QuickBooks." Like, "Oh, that sounds great.' And then another time I drop off and it's like, "Hey, so how are things going?" "Oh, we're having such a hard time with people and trying to find people." And I said, "Oh, do you have an HR manager on staff?" "No, but we really need one, but we can't afford it." It's like, well, hey, what if we could provide you access to a SHRM certified HR manager on demand for $50 a month and her eyes lit up. It's like, "You mean I wouldn't have to spend $70,000 to get an HR manager? I could use this?" I said, "Sure." So yeah, I've been recruiting my doggy daycare for these products.
And so, as you say, when we look at generating revenue, managing expenses, mitigating risks, we broke it into those four categories. So finance and accounting, so we've got QuickBooks, which is of course the defacto accounting package for small businesses. There's millions of small businesses using QuickBooks for their accounting. All field service management applications integrate with QuickBooks so that's a simple one. So with our affiliation through [inaudible 00:06:13] and Intuit, we are a QuickBooks solution provider, which means that we can extend discounts on QuickBooks, not only small businesses that are new to QuickBooks. So if they're switching from another accounting package or they're coming over from pen and paper Excel, or even if they're upgrading, maybe they're moving from QuickBooks desktop to online, we can get them discounts through our marketplace.
We also have a payments platform, which is JB Payments, it's white labeled. Another big thing we heard was the fees are really, really high for credit card processing. We were able to provide a solution with flat rate pricing. It's 2.65% for credit card processing, regardless of the card's present or not, regardless of the type of card. So our dealer partners love that. We have a financing application. So one of the big things we heard from our dealers, and again, Brian, a lot of these products and services that we came up with are based on feedback from our dealers, they were telling us what they need. They were saying, "Look, dealer fees are going through the roof. More and more people want to stay liquid and so they're taking advantage of financing. It's just that our dealers get hit with 15, 16% dealer fees on top of it."
So we're able to come up with JB Fin, which is a direct to consumer multi lender financing platform, zero dealer fees which our dealer loves. In some cases, folks don't or can't qualify for financing, they've got bumps and bruises on their credit, we've got a great partnership with Atwood Rentals HVAC, it's a rent to own program. So again, we're helping dealers find solutions for homeowners. Of course, we've got Warranties on there too, shout out to Warranties. Marketplace is available to those dealers that don't sell our warranties. You'd be surprised how many dealers find us because maybe a TM at one of their distributors or another contractor they know in their local community said, "Hey, I'm using this financing from JB warranties. You need to check it out," they come to our marketplace and it's like, "Hey, well, I noticed I don't sell their warranties. I'd love to learn about the warranties too." So we're actually getting some warranties leads through the marketplace.
We talked about the HR products. So again, the HR manager on demand, low, low cost in some cases where if we have contractors that are doing state or government jobs or federal jobs that everyone that sets foot on site needs to be drug tested. We've got MyHRScreens that provides drug testing along with motor vehicle reporting and background checks. So great to know not only for prospective employees that are coming on board, but if you're providing company vehicles, it's kind of a good idea to do motor vehicle reports at least once a year to make sure that everyone that's driving a company vehicle doesn't have a suspended license, those sorts of things.
Brian Bohannan:
Those last three, Kevin, it's been kind of funny, you started kind of educating the employees around here about the financing and now we've got employees that have used it, we have managers use the HR helpline because you get free access to the SHRM HR. Your managers get a helpline. So if they've got a difficult situation and they just want a third party to consult with them on how to handle it, we've had three or four department managers use that now and it's all stuff that is good stuff. It's not just-
Kevin Thornton:
You don't need it until you need it, right? And that's what a lot of times we find with dealers, it's like, "Hey, do you have an HR manager?" "No." "Well, let me guess. It's your office manager that also does the books who's also responsible for recruiting who's also responsible for managing the break room and oh, by the way, they do kind of HR and legal," right? You can't Google that, right? If you are a business owner and your CSR walks into your office and says that they've had a dispute with one of your senior technicians, maybe it was a comment was made or something inappropriate, what do you do, right? There could be a lawsuit or you could have something serious that comes out of that. So having someone that you can pick up the phone, share the details and get advice back as far as how you should handle that again for $50 a month, it's a no brainer.
Brian Bohannan:
And it is one of those things you don't know you need it until you need it, right? It's the person that's wearing all those hats who thinks that they're... And there's a lot of people like that, I used to be like that. I'm not a professional in HR, but I used to manage an HR department or still do. It's a different feeling when a letter shows up in the mail and you've been served with a lawsuit or now you've got to really find out, are we on solid ground here? For 50 bucks a month, I love just the helpline. The help line is great. In the past, we've used the NBR reports pretty easy to keep it all in one house too. We were using a background check person, NBR person and then we didn't have a help line so to get it all in one box is pretty good.
Kevin Thornton:
Agreed, yeah. And so this kind of go into the HR products, and then we also have benefits, right? So benefits, big expense for business owners. In some cases they don't offer it just because of the expense. So we found a program through SMB Benefit Advisors and it's what's called a MEC plan, it's minimum essential coverage. So things like discounts on prescriptions, it's access to telemedicine, it's your two cleanings per year, that sort of thing. But it's cost effective. You need a minimum of five employees to participate.
But the nice thing is that a business owner can either elect to cover the entire cost, part of the cost or none of the cost, but just still make it available to their employees. Because again, when you start looking at employees, there's a lot of options for them. Yes, they're interested in what their pay is, but it's the culture, it's the quality, is their voice heard? Are they respected? Are there benefits? All those things kind of come into play when people are deciding where they want to work. And so having a benefits plan that is relatively low cost could be the difference of someone staying or leaving.
Brian Bohannan:
Yeah, it's a good recruiting tool. It's almost essential to have that as an offer now if you're going to get your top talent
Kevin Thornton:
Agreed. And when we talk about people, that's one of the top two things we always hear we're here, "I need more people, I need more leads," right? And so we've got a partnership with Blue Collar Talent Scouts, which is a boutique recruiting group just for the trades so they can provide consulting services. But also, "Hey, I need a technician in Ohio and the needs this certification, this type of employee," they can go out and they can source that person a la carte for you. So that's been very popular.
Payroll is another service that there's some of the big guys that are out there, but we have a partnership with Journey Payroll, and they're typically 20 to 40% less. So again, saving our dealers money. 20 to 40%, less than the big guys that are out there. But what we really like is that their retention rate on their customers is over 98%, which means that they're providing that type of white glove service to these small businesses, which again is very important. When you're dealing with a dealer with eight employees, you got to make sure you pay people right and get paid on time and the right amount and whatnot, because you just don't have time to deal with that stuff. So dealing with a partner like, Journey Payroll, absolutely makes sense.
Another area, again, this time of this time of year, especially here in the south where the phones are ringing off the hook, you have to make sure your phone system can keep up, right? Last thing we want to do is have drop calls or if you have a tree ring groups that aren't managing the calls to the right people at the right time. People don't have time, they're going to hang up and they're going to go to the next name on that Google list. So you got to make sure you got a phone system that can hold up. We're working with Zoom Phone right now and we've been extremely happy with them. The interface is fantastic, the call quality is great and versus what we're paying before through our other VOI provider, substantial savings. So that's one that we're really, really happy and I think we can provide a lot of our dealers some really nice savings on.
Brian Bohannan:
Yeah, I didn't realize how important that having that phone infrastructure in place is because of how it works with call routing and marketing campaigns and organizing the call trees. I wouldn't have thought about that because we didn't really have that when I was on the contractor side, it was everyone just used their cell phone and if that guy left the company, well, probably there go your customers with them because you have no way to know who's calling him. So just let it live on their phone, but be a software that literally gives you data, management capabilities and organization. And it's cheap. I mean it's cheaper than anything we were doing that was hardlined.
Kevin Thornton:
Yeah, and as you say technician gives a homeowner their cell phone number, right? And so four months from now on a Saturday night, all of a sudden your phone rings and it's that homeowner, because they've got a service call, I don't even work for that company anymore, right? And so it just doesn't make sense. It also doesn't make sense for a technician to carry three different devices with them, right? And so the ability for either comfort advisors or technicians to bring their own device to work but to have their own personal cell phone number but also a company issued number that is attached with that phone so that if a homeowner calls, it can be routed to that number and they know that inbound call is actually a work call, but the homeowner is not getting access to their personal number is great.
Also, if you think about it from a practicality perspective, say I'm a junior technician and I'm standing in someone's backyard and I'm trying to get this unit to work and I just hit a wall, I can quickly pull up my phone through Zoom Phone, I can see who's available close by. I can chat, I can place a call to a Ring group, say a senior technician or the service manager picks up, says, "Hey Bob, I got this problem." It's like, "No problem, turn this phone call into a video call, turn your phone around, show me what you're looking at and I'll help you troubleshoot it." That's pretty cool. And that's all built in. Also at the admin panel, the ability to add and remove lines and permission based permissions like that, it's definitely worth it. So yeah, we're big fans of Zoom Phone for sure.
Brian Bohannan:
Well, there's a lot of reputable companies that have made that switch recently too, right? I mean it's not just us.
Kevin Thornton:
Yeah, big global manufacturer, HVAC manufacturer moved tens of thousands of phones over to Zoom Phone. Walmart is another one. So yeah, some very large multinational companies are using Zoom. Zoom's known of course for video, but it's all kind of unified communication. And so they've taken all of that expertise on Zoom video and brought it over to telephony and over 2 million phones in circulation and growing exponentially on a daily basis. So they're doing some great things.
Another one that we work with is Podium. So again, online review reputation management, very important, right? And so Podium is really the leader in that space when it comes to, "Hey, I've completed a job at your house. While it's kind of in the moment if you're completely happy, would you be kind enough to leave us a review?" Those reviews are then broadcast everywhere, which of course increases your rankings through those different social sites that helps with repeat business, et cetera. So, yeah, Podium's a great partner and really a leader in the field service space.
Brian Bohannan:
Yeah, there's a reason why they've found their way into most of the elite dealer programs and how these contractors who have been around for 30, 40 years kind of get lapped in the Google reviews, which is how people of a younger mindset are finding people. This is your way to catch up. It's amazing when you can see a contractor go from four Google reviews to 400 in a couple years, all five start ratings. Podium is worth the cost, it's worth its weight in gold in this day and age. And you're right, that's definitely the go to. And good people over there, nothing but positive things to say about Podium. If you're watching this, I think you should check out anything. If you're a small business owner or if you're an operator and you're looking at mitigating risk, cutting expenses, all these things are great. Podium is one that will help you really with your sales as well.
Kevin Thornton:
Yeah, absolutely, yeah. From a marketing perspective, yeah, it's a great platform. The last one, and again, we're adding additional products and services so we're vetting different partners. In fact, I just got off a call with a partner that offers a phenomenal service that we're going to be adding here shortly. Of course, I can't share who it is, but, but we'll be adding them shortly. And that's what we'll do, we'll continue to get feedback from our dealers in the field and make additions where it makes sense.
The last product that we'll talk about, which we're really, really excited about is Sera, which is in the field service management space. So Sera is really becoming the emerging field service management platform of choice for dealers. And there's a lot of options that are in the marketplace, but really what sets Sera apart is the way that they leverage artificial intelligence. And it really focuses in on a few key things, efficiencies, right? Making sure that all of your people are working efficiently and all of the time is tracked. The time management down to the minute is itemized and tracked so you know exactly what your costs are. Profitability, a lot of field service management applications are talking about, "Hey, our dispatch board is better, it looks faster," whiter whites, brighter brights. It's like, but how does it help the dealer, right? And so having an application that helps them understand the benefits of warranties, the benefits of margins, the benefits of having a dynamic dispatching and scheduling platform that really helps you focus on the stuff that you should be focusing on.
And so the visibility, the profitability and the efficiency, those are kind of like the three key things for me why Sera stands apart. It was designed and kind of built by the founder, Billy Stevens, who extremely successful operator building, selling, building again HVAC and plumbing companies. And so the field service management kind of software is kind of the enabler as I look at it. A lot of these platforms do the same thing. It's the ability to managing inbound request, right? It's either a phone call, it's an email, it's a text, people saying, "Hey, I need service," or, "I need a quote." That information comes through, a task is created, it's sent out to either a comfort advisor, to a technician. The record is being added to the CRM or it's being edited if it's an existing customer, it then goes to the schedule, it goes to the dispatch, it's dispatched out, the technician grabs it they then show up, they do the work, they get paid for the work, it flows back through QuickBooks. That's the whole kind of work flow in a nutshell for field service management.
But with Sera, just the way that it handles all these things so eloquently it really helps provide the reporting and the dashboards that are important for business owners to make smart business decisions and make sure that the right technician is going to the right job at the right time. It's game changing what Sera is doing and what they're bringing to the field service management space. So we're very excited to have them as a partner. Some of the integrations that are coming down the pipeline are going to be revolutionary. And again, it's going to help our dealers really drive additional revenues through memberships, through warranties, through their service agreements, and just really understanding their pricing. The ability to make priceless changes on the fly instantaneously and to create pricing based off of their margin needs, based on what their overhead and their costs are, it's just absolutely astonishing what they're doing and how new and refreshing it is. And yeah, the dealers are loving it. So we're very excited to have Sera as part of our marketplace.
Brian Bohannan:
Yeah. Well, I would probably say that warranties are my favorite thing in the marketplace, shout JB Warranties.
Kevin Thornton:
I know what to get you for Christmas now, right?
Brian Bohannan:
You got your local rep, get your warranty. But yeah, I think Sera has kind of, I've spent a lot of time looking at different field service management stuff, was involved with the development of some, I think we probably owe it to Sera to do an entire trade talk episode on Sera, maybe we can get Billy on, maybe some of the guys from the Sera team. But you used the word revolutionary, that is truly how I feel about it. I thought I understood how these things work and then you see something like that where it's like, "Okay, I know nothing. This is the way." So yeah, we'll do a full TradeTalk episode too on Sera, because we do need to get that word out.
It's slowly becoming maybe not the best kept secret in HVAC. I know it's in all of the groups online and there's a lot of people kind of flocking, it's kind of hard to maybe even get a demo right now. There's a little bit of a waiting line because there's a lot of momentum. Those guys who think they can still do it before summer gets here. But in the next months I would anticipate if you haven't heard of it yet, you will have heard of Sera by the end of summer or in the fall when we fire back up the dealer meetings.
Kevin Thornton:
Yeah, yeah. The software is really the framework, their foundation, really it's the philosophies, it's the mindset, it's kind of the game plan. What you do with the software is what matters. And because Billy has been so successful building and growing and operating these businesses, he's taking those principles and he's woven it into the software. And it's always based on simplicity, simplicity, simplicity. How can we take something that takes 28 touches and drive that down to two or three touches, right? And so every time they look at something or every time we've engaged with them on a process, it's like, how can we do it better? How can we do less touches, right? How can we make it simpler? And so bringing that simplicity to the software is what makes it different, and it's so refreshing for our dealer partners. But yeah, as we get into kind of the shoulder months after the busy season and things start opening up definitely there's going to be some great new developments and announcements coming of how the system is evolving. And we look forward to being part of it. I think it's going to be fantastic.
Brian Bohannan:
Yeah. So we'll try to get that scheduled so keep your eye on the TradeTalk podcast for the next couple episodes. One of those will be with Sera. Now, do you want to tell people how to find the marketplace? I know we mentioned you don't have to sign up for it so how do you find it?
Kevin Thornton:
Yep. Yeah, it's real simple. So just jbwarranties.com/marketplace, or even if you just go to jbwarranties.com on our main landing page on the top right corner, you'll see a tab for marketplace, click on that tab and once you do, you're going to see the full marketplace. We break it down into three easy steps. On the left navigation bar, we've got the category. So if there's just a category, like human capital management that you're interested in, you could click there and just look at those products. But as you scroll through, you can click on more information so there's some additional information if you're not familiar with a product or may say learn more. And then if you're interested, you can click on it either says, request info or request a demo. Once you request that demo or request info on the left hand, navigation bar, there's a shopping cart or an interest cart, if you will. And what it'll do is as you go through all of the products and services, and you click on those, it'll add that to your cart.
So you may be interested in QuickBooks and JB Warranties and Blue Collar Talent Scouts, it's adding those as you go through. Once you're done and once you've seen all the products and you've added all the ones that you're interested in, you just hit submit. At that point, you just fill out one referral form. So you just provide your information. Once you send that, it comes into our business development group, we then take it, we parse it out to our partners and then there's an outreach, set up a discovery call, provide information via email, provide you pricing, a quote. And again, we try to make it simple. So instead of you having to go out and fill out 16 different referral forms and go to all these different sites, we'll bring it into one convenient location. Again, we're trying to make it very, very simple for our dealers to thrive by helping them increase their revenue, decrease their expenses and mitigate the risk.
Brian Bohannan:
And then also, I mean, there's some incentive for them going through JB Warranties, correct?
Kevin Thornton:
Oh, yeah. Yeah, we've negotiated some favorable rates. So we've used our size and scope with these vendors to get favorable rates from these vendors. And so, yeah, absolutely, you're going to get better pricing coming through us than what you would get going directly to the vendor on your own.
Brian Bohannan:
Awesome. Well, Kevin, thanks for joining us today, man. Congrats on your first episode of TradeTalk by the way.
Kevin Thornton:
Thank you, sir. It's been a pleasure.
Brian Bohannan:
So that's the marketplace. Give it a look, we're really proud of it. Go to our website, click the marketplace button. If you find nothing of use on there, Kevin will buy you lunch. And if you do find something useful on there, tell somebody about it, because we put it together to help people get started with our customers, now it's kind of grown into something bigger than we thought it would be. But if you're a heating and air conditioning contractor or a plumber, there's a good chance you'll find something in value on there.
Kevin Thornton:
Yep, absolutely.
Brian Bohannan:
So with that we'll wrap it up and see you on the next episode where we hope to have Sera.
Kevin Thornton:
Thanks, Brian.