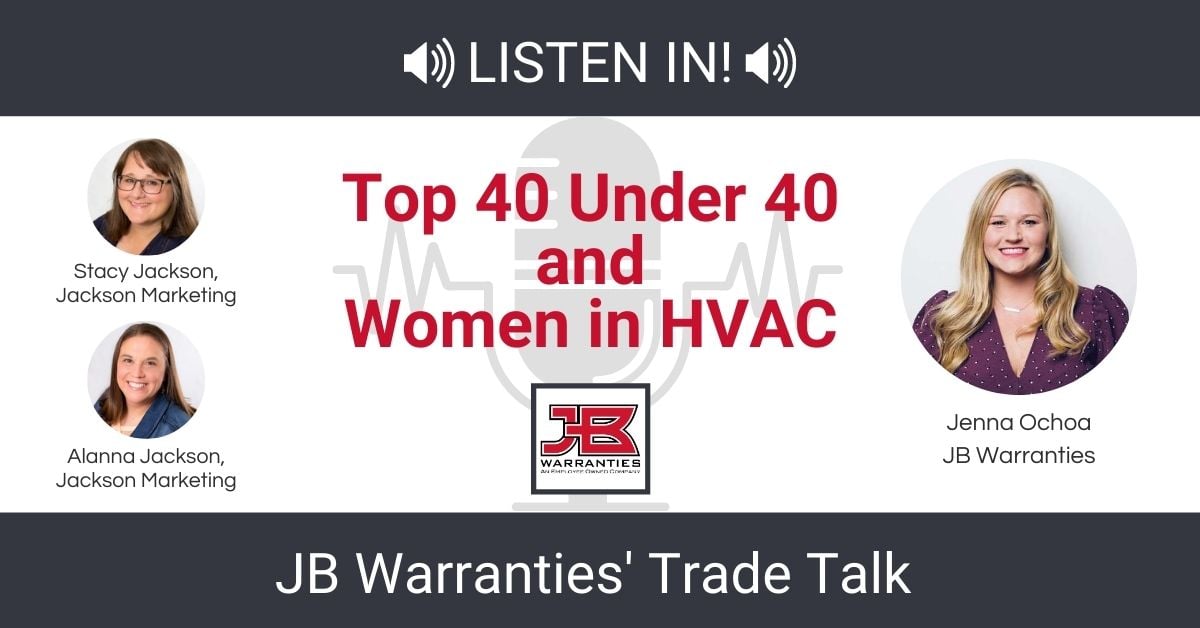 In this episode of Trade Talk, Stacy Jackson and Alanna Jackson from Jackson Marketing talk with Jenna Ochoa from JB Warranties about being listed as one of ACHR News Top 40 Under 40 and what it's like to be a woman in the HVAC industry.
Hosts:
Guest:
---
Contact Janet
Phone: (855) 742-5522
Email: jenna@jbwarranties.com
---
Not in the mood to listen? Read the below transcript instead.
Alanna Jackson: Hello everyone and welcome to this edition of JB Warranties Trade Talk. In this episode, Stacy Jackson and Alanna Jackson, who are part of the JB Warranties extended marketing team, speak with Jenna Ochoa, the VP of claims at JB Warranties about being named by ACHR News as one of the top 40 under 40 and what it's like being a woman in the HVAC industry.
Alanna Jackson: Young talent in the HVAC industry needs to be coming through the ranks in order to secure a positive future. To provide some much needed congratulations to the hardworking younger generation that's transforming the industry, ACHR News has a top 40 under 40 list each year for the HVAC industry.
Alanna Jackson: The individuals who make the list represent every aspect of the industry, manufacturing, distribution, instructional and contracting sectors. This list is a great way to highlight some of the best and brightest that are making a difference in the HVAC industry.
Alanna Jackson: Today, we are talking with JB Warranties' VP of claims, Jenna Ochoa, who has made the list this year. Jenna, tell us a little bit about JB Warranties and what you do there.
Jenna Ochoa: Yeah, so JB Warranties is a extended service agreement company. They offer labor and part warranties on heating and air conditioning and a little bit of plumbing equipment. They're, I would say, the biggest in the industry for your extended warranty needs and solutions. It's a family ran business that has been around over 12 years and that's really ... I guess it's a insurance product. We worked with a lot of contractors across all 50 states and this year we're opening up business in Canada, and so we work with a lot of contractors to offer their homeowners' solutions on warranty products on their heating and air conditioning equipment.
Alanna Jackson: Okay. I didn't know, you guys were expanding to Canada? That's cool.
Jenna Ochoa: We actually just got the green light. Yeah, it's a weird deal up there with the different provinces. Some are a lot more strict than others, so we've at least entered the market on five or six provinces and hopefully by the end of the year, we'll be in a few more. That's been a big undertaking, so we'll see how that goes.
Alanna Jackson: That's cool though
Stacy Jackson: Very cool.
Jenna Ochoa: Yeah, lot of things to overcome, but hopefully it'll be a smooth transition.
Alanna Jackson: Yeah. So what do you do at JB Warranties? Just to tell us a little bit about your day to day stuff and the things that you take on?
Jenna Ochoa: Sure. So I really, my primary focus, is on our claims administration side of the business. So staying compliant in all 50 states and then the territories. Just working with our insurance providers, we're backed by a A rated insurance company, Dealers Assurance Co. so working with them to stay compliant, dealing with issues that pop up state by state. Then on the daily basis, I oversee a group of claims adjusters that are reviewing, processing and issuing payment on claims that are submitted by our contractors for repairs they've done on the warranties they've sold.
Jenna Ochoa: So when they go out, make a repair on some equipment, they send us over a claim. The claims group is reviewing all that information for accuracy. They're adjusting it how it needs to be adjusted, and then they're issuing payment to those contractors.
Alanna Jackson: So you have a very important part of the job because people won't get paid if those don't get processed.
Jenna Ochoa: Yeah, yeah. The cool part about being on that side of the business is we get to work with a lot of contractors, really closely with a lot of contractors because obviously it's great to sell a warranty, but really we're where it matters is getting paid when you do work under those warranties. So we like to work closely with both homeowners and contractors to take care of them the best we can. So I get to do that on the day to day and it's really been a fun part of the job.
Stacy Jackson: Well Jenna, congratulations on making that list. As far as you making the list, you're a woman in the industry and there just aren't a lot of women in the HPAC industry. However, it's definitely changing. So how did you get involved in the industry and how long have you been in it?
Jenna Ochoa: So I got into the industry about eight years ago when I started working part time with JB Warranties. It is a family business, so I had an easier entry into the industry. My dad started JB Warranties with my grandpa and I came on board about eight years ago. You're right, it is an industry with not as many females in it and I think that we're making strides to change that here in the last ... especially the last few years with all these different groups, like Women in HVAC and there's just been a lot more female entering into the sector. So it's really exciting to see, I'm excited to see how it continues to grow for women in HVAC.
Stacy Jackson: What's it like working with your family? Alanna and I both have experienced working with family members. Wonder what your perspective is.
Jenna Ochoa: I really enjoy it. I get to come to work every day and work with quite a few family members and friends, and we've been able to successfully use each person's individual input and ideas to have a great mix and be able to create a good product for our contractors.
Alanna Jackson: Yeah. There's always ups and downs of working with family, but I think there's more ups usually, if you have a good tight knit, at least.
Jenna Ochoa: Yes, absolutely. We've been able to really make a unique atmosphere at JB Warranties. It's a little less corporate, I guess, and that's one of the perks I think of being in a family business is you get to choose the way you run the business and the atmosphere you create for your employees. So I think this is a positive.
Alanna Jackson: Yeah and that's one thing that we've noticed in working with you guys, is that while your family runs and owns it, everyone there feels like they're part of a family. So it's more than just a company, right?
Jenna Ochoa: Absolutely, yeah. We try to really invest a lot in creating our culture and making it a family dynamic. So I think each one of our employees feels valued and everyone brings something different to the table and we like to treat everyone just like our own family. So, love the atmosphere we've created up here.
Alanna Jackson: Did you say you've been there eight years? Is that right?
Jenna Ochoa: Yeah.
Alanna Jackson: So, in your eight years, would you share with us one of your biggest career achievements?
Jenna Ochoa: One of my biggest has really just been, we started out with ... About eight years ago, we had about six employees and from that point until now, we're over 45 employees, we're growing rapidly. We just got named again the Inc 5,000 Fastest-Growing Companies list-
Alanna Jackson: Nice.
Jenna Ochoa:... so we're really proud of that accomplishment, but just really taking the process of, for contractors, submitting claims on these warranties that they sell, taking that all online and making it a seamless process, just putting together a team, assembling the group of really awesome individuals to accurately adjust these claims and make sure our contractors are paid quickly, typically within 14 days. So just really proud of the processes that we've come up with and implemented.
Alanna Jackson: And that's some of the things that we've seen on some of the reviews that people have left, is that not only are you great to work with and you have great people working there and great support, but your claims get paid in a timely manner. So you definitely have done something there because a lot of people mentioned that in your reviews and that's a really good thing to have from what I understand. I don't know that everybody is good at getting those turned around so quickly.
Jenna Ochoa: Yeah. That's where we like to differentiate ourselves, is the customer support is just bar none with our company and we get to work closely with our contractors every day. Working on the claims side of the business, that's something I really get to enjoy, is working closely with our contractors, helping them through any issues that come up and just the most important part, getting them paid for the work that they've done.
Stacy Jackson: So that's exciting that you get to be part of all that and that you have your own achievements, where you've carved out your own spot in JB Warranties. Obviously, all that's part of why you made this top 40 under 40 list. Can you tell us what it means to you to be included with those other professionals?
Jenna Ochoa: Yeah. I mean, there's a lot of people on the list with huge accomplishments. So it's definitely an honor. This is the first we've had someone on this list, so to be that person is just really an honor. I just hope we can continue to do great things over here and provide a great experience for our contractors.
Alanna Jackson: So do all of your brothers realize that you are the one that is on this list for the first time for the company? And are they in awe of you now?
Jenna Ochoa: No, I think only Brian knows probably. I'm not sure that the others do yet, so it might be a little bit of a surprise to them. But I think growing up with three older brothers and being the youngest, I've always been a little bit mature beyond my years in taking care of them because they were wild, very wild. So that's what everyone always tells me, is I'm a little bit mature beyond my years, I guess. So I don't know that they'll be super surprised, but I think that there'll be happy for me and proud.
Stacy Jackson: Yeah and that's cool that are still trying to grow their place and now the first person from JB Warranties is a woman to make this list, yeah.
Jenna Ochoa: Absolutely, yeah. That's a big thing. I just started getting involved with Women in HVAC, the group and been networking through that. It's just really cool to see women coming into the industry and they're just easing that barrier that was previously there and just educating women on the different roles that are available. It's really awesome to see it growing.
Alanna Jackson: Yeah. Would you say are some of the biggest challenges that HVAC industry is facing in 2020? I mean, we've had a crazy year so far but it could be related to the pandemic, or it can just be in general challenges.
Jenna Ochoa: Challenges that I see is the need for labor, skilled labor. There's always been that demand for trained, high caliber technicians. There's just a shortage of that and I don't know if the word just isn't spread quickly enough about the different opportunities in the industry, but just finding good, reliable labor that you can count on, it's tough. These contractors, they're always having turnover and short-handed and especially in these summer months when it's just crazy, just being able to find good reliable workers is going to be a tough one.
Alanna Jackson: Yeah, that's got to be hard, especially in today's technology-driven world. People think they have to do certain jobs and they don't see the value in what they can get out of doing a trade job.
Jenna Ochoa: Yeah. I think there's been a little bit of a campaign around it this last year, the different opportunities in the trades. I think there needs to be a stronger push for that because you don't have to go to college and try and go that route. There's a ton of jobs readily available with minimal schooling and training that you can get into that really are awesome career paths. So hopefully, we can do our part to continue pushing the path for more people entering the trades.
Alanna Jackson: Yeah, definitely. Do you think being identified as essential workers during this whole pandemic thing is going to help give it a boost with more people entering into the industry?
Jenna Ochoa: Yeah, absolutely. So the pandemic, I mean for the air conditioning sector has really been a spotlight on it because you can't go without air conditioning, especially, we're approaching summer. We're in Texas and people just, they don't go without. They might be dialing back their spending on other things commercially and homeowners, but they're not going to go without air conditioning. So, I think being essential just shows the reliability of this industry, the stability of it. We've been really blessed to go through this pandemic and continue to see growth. So, I think that the HVAC industry in general is just a really strong industry to be in.
Stacy Jackson: That brings to mind a question about the lack of women in the industry and maybe that's one area where people should be focusing their recruitment efforts. What do you think the challenges are for women who do want to enter the industry?
Jenna Ochoa: Well, I mean, you're right. There is definitely a shortage. I think I saw a statistic the other day that 48% of the workplace in general is women and in HVHC, it's like 2%. So it's a super low number.
Stacy Jackson: Wow.
Jenna Ochoa: Yeah and the challenges are just that, that it's been such a low number of women in the past. I know there's groups popping up, like I mentioned earlier, Women in HVAC, to highlight the opportunities for women in the industry. As a woman that's entered this industry, I think you just have to have a different outlook. You've got to have your voice and you've got to have an opinion and you can have your beliefs and put them out there and contribute. Really, once you get into the industry, it's an awesome industry to be in.
Alanna Jackson: Do you think with all the craziness from 2020 that ... A lot of people lost their jobs this year, do you think that that might be an opportunity where you might see more women getting into the industry?
Jenna Ochoa: I think so. I think going through this COVID thing with air conditioning being an essential service, it highlighted how stable the industry is and what a good opportunity it is to look at potential careers in this industry, just because it's not going anywhere. It continues to grow, I think there's more stuff going around on social media and everything that highlights the opportunities for the trades, how you don't have to have a college education, you can get into it relatively quickly. You can do a two year trade school and really get your foot in the door with a lot of these companies that are constantly hiring.
Alanna Jackson: And the pay is actually pretty good too?
Jenna Ochoa: Yeah.
Alanna Jackson: You can make more doing that than you can on a lot of jobs that people are doing these days.
Jenna Ochoa: And no student loan debt.
Alanna Jackson: What advice would you give to women that are out there that might be considering getting into the industry or that maybe are in the industry? Do you have any advice that you would offer them?
Jenna Ochoa: Yeah, I would just say, you can have different opinions. You can have different methods for doing things, but be heard. I mean, have a voice and don't be afraid to not speak your mind and your opinions because a different mix of people can come together and collaborate and really come up with the best practices and the best way to do things. So, I would just say put in the hard work and be comfortable being a woman in a male-driven industry. It's definitely a fun one once you're in it, to be in, and there is a lot of potential and I would just say, keep working hard and it'll pay off.
Stacy Jackson: Well, Jenna, thank you so much for sharing your story with all the listeners. If people would like to get in touch with you, what's the best way for them to reach out?
Jenna Ochoa: They can reach me on LinkedIn. You can search me under the JB Warranties page, or you can just email me jenna@jbwarranties.com.
Alanna Jackson: Okay people, there you have it. Jenna Ochoa is making an impact on the HVAC industry and representing the women in HVAC.
Alanna Jackson: All right folks, that does it for this episode of JB Warranties Trade Talk. Thanks for listening in. If you're looking to improve your customer satisfaction, increase retention, and generate additional revenues, trust the experts at JB Warranties. Register for your premium protection plan dealer account today.