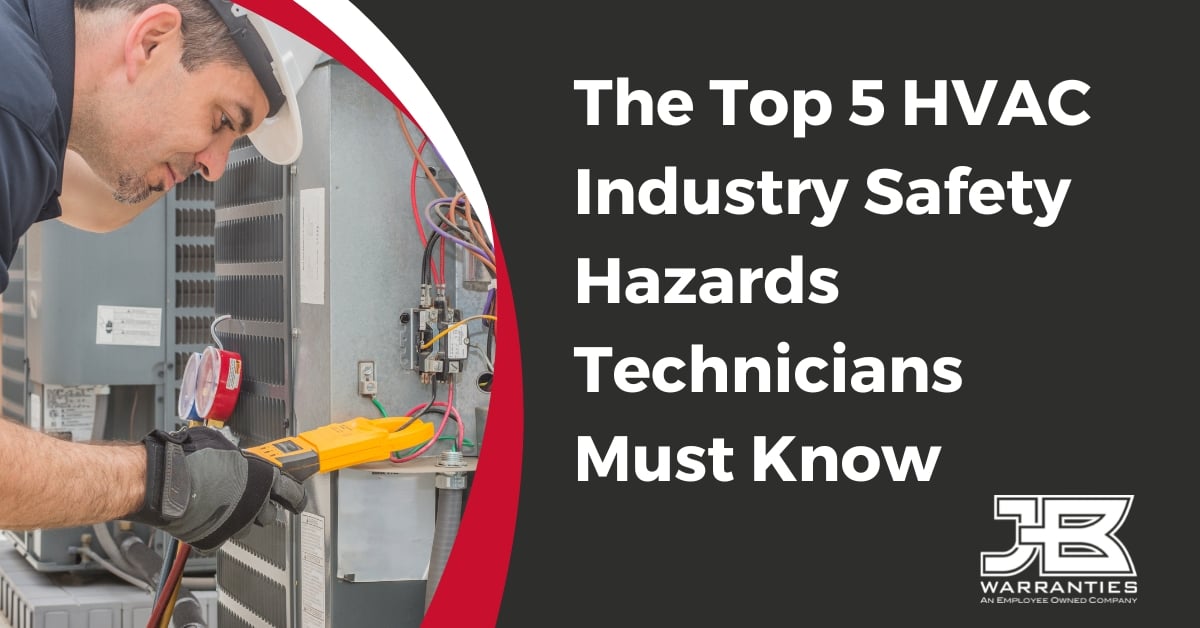 Every day across the HVAC industry, our contractors and technicians face many safety hazards that can put both themselves and their customers in harm's way. But while it's the industry standard to educate teams on general HVAC regulations, it's too common for operators to skimp over the basics of common safety hazards, including how to avoid illness and injury.
When technicians join your team, it's your responsibility to keep them safe to the best of your ability. Likewise, when your technicians visit client homes and businesses, it's your duty to inform them of the safety risks that may be present so they can prepare to the best of their ability. Take a look at what you need to know to manage technician safety, along with the top five HVAC hazards.
Current State of Safety in the HVAC Industry
Although the HVAC sector is considered one of the safest for employees throughout the trade industry, technicians, contractors, and even our surrounding customers are still prone to significant safety risks. According to the U.S. Bureau of Labor Statistics, 5,190 fatal work injuries were recorded across the country in 2021 alone, the highest annual rate since 2016.
Of the many fatal work injuries reported in 2021, installation, maintenance, and repair occupations accounted for 475 — or nearly 10% — of them. In addition to fatal workplace incidents, the U.S. Bureau of Labor Statistics recorded 2,607,900 nonfatal workplace injuries and illnesses across the entire industry. In other words, safety has been a bit of a sore spot in recent years.
With these statistics in mind, there has never been a better time for HVAC company operators to address their current technician safety standards and concerns. From chemical exposure to road safety, there are several HVAC safety hazards that may not be apparent to technicians or customers but can ultimately contribute to the rate of fatal and nonfatal workplace injuries over time.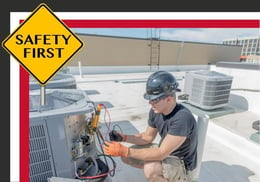 Why Implementing HVAC Company Safety Standards is Crucial
There are many reasons why implementing company safety standards is crucial for HVAC businesses, the primary being regulatory compliance, company liability, and employee and customer wellbeing. These reasons all culminate in standards set forth by the Occupational Safety and Health Administration (OSHA), which was established by the Department of Labor in 1970.
Between properly handling HVAC refrigerants or electrical wiring and using adequate safety support on rooftops, there are numerous OSHA regulations that HVAC companies must abide by to avoid costly compliance issues and potential impacts on professional licensing. These regulations not only help preserve both employee and customer well-being but also reduce overall liability.
Liability is significant for safety-related workplace incidents, as HVAC businesses are subject to potentially paying out worker's compensation for employees who were injured on the job. Likewise, if a customer is injured due to a technician's mistake, the HVAC company can face legal repercussions, resulting in expensive medical bills and property damage reimbursements.
The Top 5 HVAC Industry Safety Hazards Contractors Need to Address
Worker safety is paramount in the HVAC industry. For continuous company-wide protection, look at the top five leading hazards in the HVAC industry and how you can ensure worker safety.
1. Chemical Exposure
HVAC technicians work around dangerous chemicals — including refrigerants, gasses, solvents, and cleaning liquids — that can be harmful and potentially deadly if they come in contact with humans. To avoid exposure concerns, ensure technicians properly handle and store chemicals and use necessary personal protective equipment such as gloves and safety glasses.
Furthermore, it can be beneficial for contractors to conduct post-work assessments to ensure a customer's home or business is free of chemical exposure risk. Specific checkpoints can include ensuring all HVAC valves are properly shut, and protection devices are in place and secure.
2. Electrical Hazards
Electrical hazards are prominent when working around HVAC systems. Therefore, technicians must avoid the risk of electrocution by remembering to turn off a unit's power before inspections and repairs. Be sure to educate technicians on lockout and tagging procedures to eliminate the concern of an employee coming into contact with an HVAC unit that's still powered on.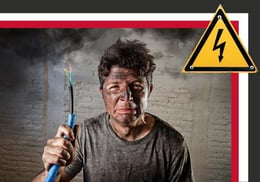 3. Respiratory Health Hazards
A technician may be exposed to various respiratory hazards, especially when working with air filters and HVAC systems that customers failed to replace or maintain. These items may contain harmful bacteria, fungi, and mold. HVAC professionals may also come into contact with a faulty pilot light or leaky heat exchange that can release deadly carbon monoxide gasses. As a precaution, supply technicians with industrial-grade face masks and educate them on proper ventilation to prevent possible exposure.
4. Driving Hazards
HVAC contractors must rely on technicians to operate company vehicles safely. While it's impossible to prevent vehicle incidents entirely, contractors can reduce their liability and the chances of careless driving with fleet management software. Fleet management software is available in many mobile app options to track an employee's speed and location and ensure adequate timing between jobs to avoid unnecessary speeding.
5. Unprofessional Conduct Hazards
Due to the nature of the HVAC industry, many technicians have to work inside homes and businesses close to customers. Unprofessional workplace conduct, such as using underqualified workers or on-the-job substance use, can significantly increase risks of customer injury and legal repercussions. If state law allows, consider using pre-employment screening services and reasonable suspicion drug testing to avoid ongoing unprofessional conduct concerns.
Address Current Safety Concerns for Long-Term Company Success
By determining which hazards pose the highest risk to the HVAC industry, contractors can better equip their teams with the proper knowledge and resources to support worker and customer well-being. Not to mention, proper safety standards for the hazards noted above can help remain in compliance with OSHA standards and reduce liability risk in the event of an injury or illness.
Looking for trade software that can help keep your team safe? Head to the JB Dealer Services Marketplace. With options for field service management and human capital management, HVAC contractors can find all the tools to streamline technician safety in one convenient place.

Tommy Cue
Vice President of Strategic Partnerships at JB Warranties