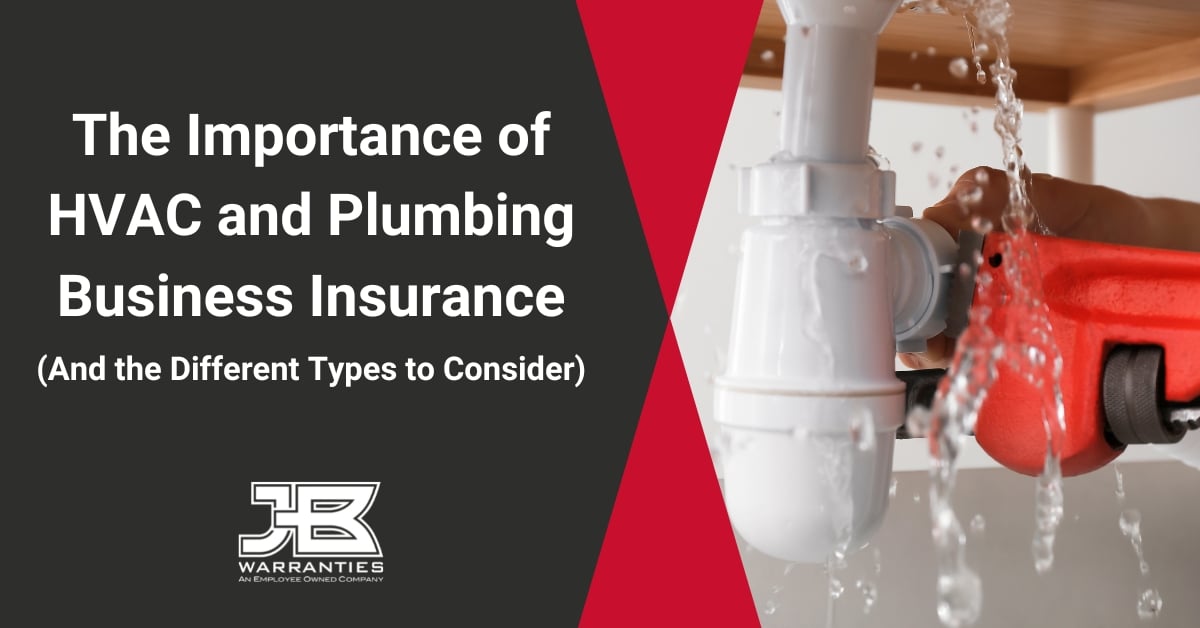 To maintain and scale a profitable HVAC or plumbing business, company owners must protect themselves each step of the way — especially with the proper business insurance. Investing in various types of business insurance protects your employees, company assets, and business at large from unexpected mishaps and protects your paying customers.
Keep reading to learn more about the various types of insurance, from worker's compensation to property insurance, that trade business owners should consider having, as well as the potential risks failing to insure your business can have on your operations. Let's get started.
How Does HVAC and Plumbing Business Insurance Benefit Your Company?
HVAC and plumbing business insurance is a form of protection used to mitigate company risk and provide financial or legal security during unforeseen circumstances. On behalf of your company, multiple types of business insurance can be used to provide support in the event of employee injuries, vehicle accidents, or damage to your company property.
Beyond company assets, business insurance protects your customers in the event of accidental injury, faulty workmanship, or property damage caused by your business. Likewise, demonstrating proof of insurance coverage to potential clients helps create better peace of mind to support their decision to move forward with your services.
Will a Lack of HVAC and Plumbing Business Insurance Affect Your Business?
Comprehending the benefits of business insurance is one thing, but it's another to understand how a lack of proper coverage can impact your operations. Failure to acquire the necessary types of business insurance for your company can have several negative impacts, including:
Zero coverage for damage to business property such as tools, equipment, and company vehicles.
Risk of out-of-pocket costs due to employee-induced damage to customers' homes, vehicles, and equipment.
Significant risk of costly lawsuits and reimbursement requests for medical care following a customer injury caused by an employee or faulty workmanship.
Risk of worker's compensation lawsuits seeking wage and medical cost reimbursement following an employee workplace injury.
With these many complications in mind, you may be stumped on what insurance types you'll need to avoid these concerns. Fortunately, four critical types of insurance coverage in the HVAC and plumbing space can protect owners from these legal and financial risks.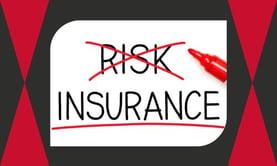 The 4 Must-Have Types of HVAC and Plumbing Business Insurance
To avoid the risk of legal implications and out-of-pocket costs following an unexpected workplace event, trade business owners should ensure they have these four business insurance types in their toolbox.
Workers' Compensation Insurance
According to the U.S. Bureau of Labor Statistics, there were a whopping 2,607,900 nonfatal workplace injury and illness incidents recorded in 2021 across the private industry and another 5,190 fatal accidents. In other words, businesses are prone to frequent worker injury, therefore, obtaining workers' compensation insurance is a complete must.
If an employee is injured while working for your HVAC or plumbing company, workers' compensation insurance covers medical bills and payroll costs while the employee takes time off to recover. Injuries covered under this business insurance include but are not limited to vehicle accidents while operating a company truck, workplace injuries like slips and falls, and even illnesses caused by exposure to toxic workplace chemicals.
Remember that workers' compensation laws and requirements vary significantly from state to state. To ensure complete compliance, research your state's worker's compensation laws to understand the exact coverage your local company will require.
Commercial General Liability Insurance
Although not a common occurrence, HVAC and plumbing companies are still susceptible to causing accidental customer injuries and property damage due to the hands-on, in-person nature of the industry. For many HVAC and plumbing professionals, your operating state may require you to obtain liability insurance before receiving your contracting license or signing specific job contracts.
No matter the situation, commercial general liability insurance is a must in the event of customer property damage, customer injuries, and even cases of system malfunctions caused by faulty workmanship. Without the necessary commercial general liability insurance coverage, customers can be quick to seek reimbursement for costs your business caused by filing a lawsuit against your company.
Commercial Auto Insurance
As with many HVAC and plumbing companies, businesses often possess a vehicle fleet for technicians to travel to and from various work orders. In the event your technician is involved in a vehicle accident, or your vehicles are damaged by theft, vandalism, or natural disasters, commercial auto insurance can help cover the costs of vehicle repair and medical expenses when necessary.
As with liability insurance, most states require you to obtain commercial auto insurance before registering your commercial work vehicles. Commercial auto coverage is essential in cases where an employee using your vehicle is the cause of an accident that resulted in third-party damage or physical injury of another driver or pedestrian. Be sure to maintain continuous complete coverage to avoid any legal hiccups if an incident occurs.
Commercial Property Insurance
In addition to using coverage to protect your company from costly customer property damage, you must also obtain the proper business insurance coverage to protect your personal company property. Business properties, including office spaces, vehicle lots, and supply inventories, are a costly component of your overall operations, and failing to insure them properly could mean trouble.
In the event of a property disaster, such as fires, weather events, vandalism, or theft, commercial property insurance can be used to cover the cost of repair or property value reimbursement. Failing to insure your commercial property is extremely dangerous to the overall health of your HVAC or plumbing operations, as any uninsured repair or replacement costs will be entirely out of pocket.
Get Insured and Stay Protected All 2023
As you're likely well aware, running a successful HVAC or plumbing business is no walk in the park. With unexpected property damage or customer injuries, tradespeople need the right business insurance to help reduce headaches and cover the necessary costs to fix the problem.
Protect your business with the above four types of business insurance. For more business enhancements to help your HVAC or plumbing business thrive throughout 2023, check out the JB Warranties' Dealer Services Marketplace for a wide collection of business tools to match your every need.

Tommy Cue
Vice President of Sales at JB Warranties