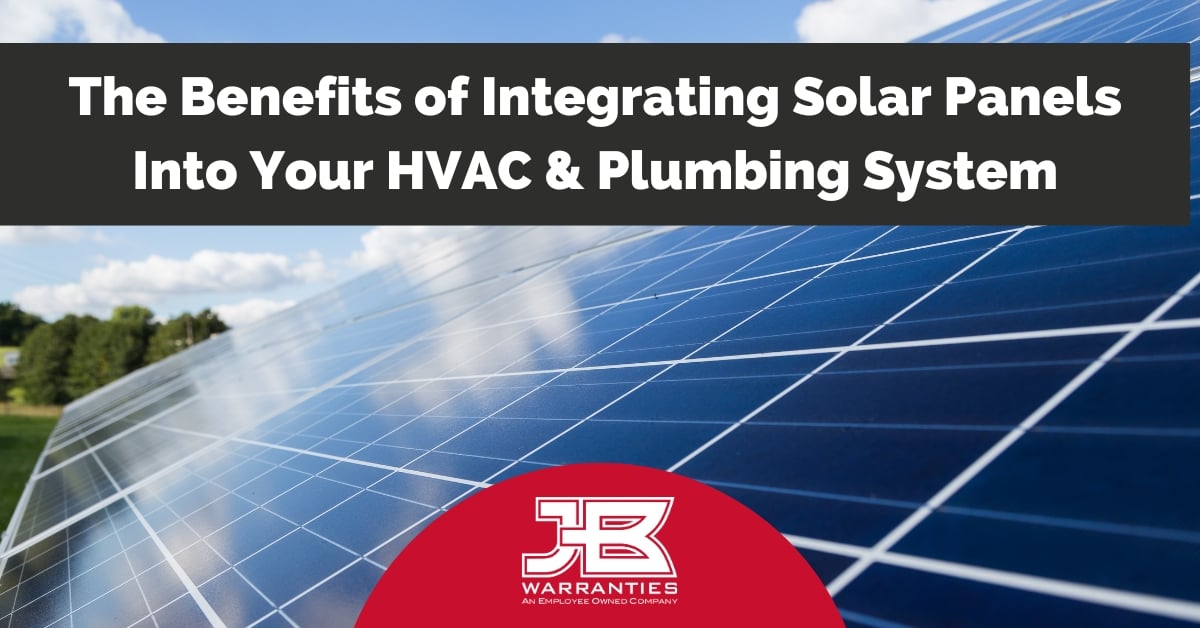 Any service professional must keep up with emerging customer trends and demands — and HVAC and plumbing professionals are no exception! In today's HVAC and plumbing market, consumers are searching for sustainable, eco-friendly services, such as solar power integration, that'll help them reduce their negative impact on the earth's environment and natural resources.
However, before you integrate solar panels into your service offerings (or even incorporate them into your personal HVAC and plumbing systems), it's wise to read up on the key benefits solar technology can bring you and your customers. Here's what you need to know about the rise of solar technology in the HVAC and plumbing space and the top benefits to market to consumers.
The Rise of Solar Technology in the HVAC and Plumbing Space
From solar-powered water heaters to solar-powered air conditioning systems, the rise of solar technology has taken many trade industries by storm, particularly residential real estate and home services. By the end of 2021, the solar industry reached approximately 3.2 million residential installations in the United States alone, with growth expected to more than triple by 2030.
This uptick in solar power installations comes at a time when consumers are increasingly seeking eco-friendly and cost-effective HVAC and plumbing solutions for their homes. Unlike solar-powered systems, most classic HVAC and plumbing systems like A/Cs and water heaters are powered by costly, environmentally harmful fossil fuels, which have driven a need for sustainable alternatives.
Because solar power is a sustainable and clean energy source, now is the time for professionals to get involved. There are specific solar certification and licensing requirements to offer these services. However, trade companies can streamline this process by partnering with certified solar professionals who have mastered installing solar HVAC and plumbing systems, maintenance, and repair.
Benefits of Integrating Solar Power Into HVAC and Plumbing Systems
Whether you're looking to add solar power to your home or want to market solar panels as a new service offering, it can be helpful first to understand the benefits. The following benefits are excellent selling points for your technicians to cater to homeowners interested in new solar panels.
1. Save on Energy Costs
While the upfront costs for solar installation can be quite steep, you can offset this concern for yourself or your customers by informing them of the extensive energy cost savings solar will encounter. On average, a solar-powered home can save between $20,000 and $97,000 on electricity over the lifetime of the solar panel system.
Saving amounts will depend on the size of the solar panel system purchased and whether the entire home is solar-powered or just specific household systems, such as A/C units and water heaters. Utility rates and seasonal energy needs can also vary significantly from state to state, so research your operating state's average annual solar energy savings before informing customers.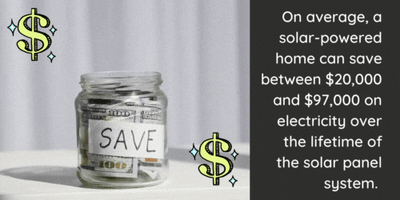 2. Reduces Carbon Footprint
According to the EPA, 13% of greenhouse gas emissions in 2021 came from the residential and commercial use of fossil fuels, including natural gas and coal, for functions such as heating and using gases for refrigeration and cooling. Greenhouse gases, including carbon dioxide, negatively impact the Earth's environment by fueling global warming and contributing to air pollution.
Because HVAC and plumbing systems are usually a household's biggest energy consumer, solar integration can significantly reduce household carbon footprint by replacing fossil fuel energy with zero-emissions electricity. As a sustainable and clean energy source that simply never runs out, solar is preferred for homeowners looking to reduce their negative environmental impact and curb ongoing global warming concerns.
3. Tax Credits and Incentives
The Federal Residential Solar Energy Credit is available to those who have recently had a solar system installed in their home — even you! This federal tax credit can be claimed on your annual income taxes for a percentage of the total costs needed to buy and install the new solar power systems. For systems installed between 2022 and 2032, homeowners can claim 30% of solar system purchase costs.
Bear in mind the federal government has placed specific requirements and limitations on this credit, including the types of products purchased, qualifying expense types, and whether or not you lease the solar product. Review the federal guidelines to ensure proper customer education and any state-level tax credits a customer may be additionally eligible for.
4. Increases a Home Value
In addition to reducing energy costs and carbon emissions, many homeowners are unaware that their solar systems can also increase their home's value. According to the National Renewable Energy Laboratory (NREL), the value of a home equipped with solar systems increases by $20 for every $1 saved on energy bills on average — those are some impressive figures!
This ratio means that if you save an average of $800 in annual energy costs, your home's value will increase by roughly $16,000. And in today's eco-friendly buyer's market, many consumers seeking a new home will search for homes already equipped with solar-powered HVAC and plumbing systems, which gives your customers (or you!) a seller's advantage.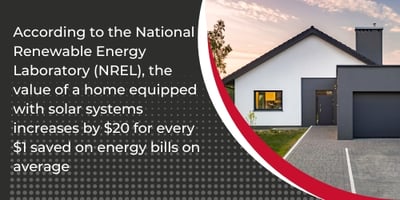 Support Solar HVAC and Plumbing System Longevity with JB Warranties
If you've recently hooked up a new HVAC or plumbing system to a customer's solar grid, it's essential to support the longevity of their eco-friendly investment by offering extended warranty services. JB Warranties is a preferred choice by many contractors thanks to our streamlined claim process and competitive pricing, covering all major HVAC and plumbing brands.
Check out JB Warranties today to learn how our industry-leading extended warranty services can accompany and enhance your solar service offerings!

Tommy Cue
Vice President of Strategic Partnerships at JB Warranties