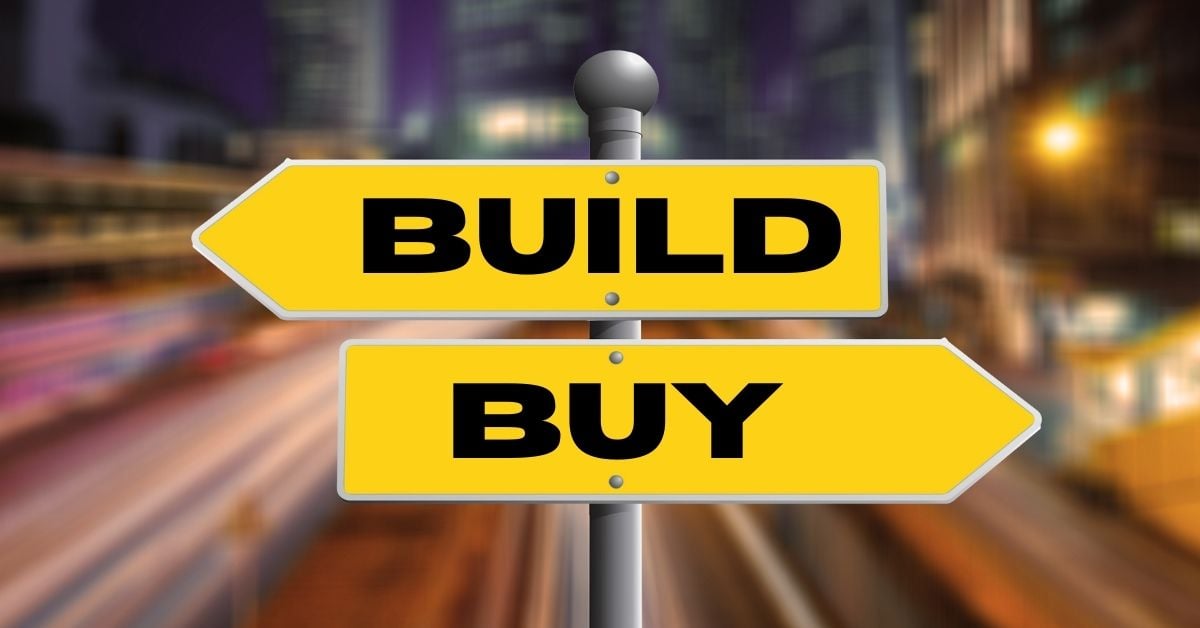 When you decide to take an entrepreneurial step into the world of HVAC and plumbing, you have to begin with one question: are you starting from scratch or purchasing an existing business? With various avenues to choose from, you're probably curious about which option would work best for you. In this last installment of our Boosting, Buying, & Selling: A Beginner's Guide to Business Series, we're here to break down the facts.
From desired personalization to readily available capital, there are several factors to consider when making your big decision. Consider the pros and cons of each to better weigh your options and help you figure out which choice will help your business flourish: to build or to buy?
Why You Would Want to Build Your Own Business
Deciding whether to build an HVAC or plumbing business from the ground up or purchasing an existing company comes down to personal preferences. If your top priority is to have full-influence over the company's branding and financial routes, you may want to consider starting a business from scratch. From beginning to end, starting your own business gives you complete ownership over which avenues are taken and what your overall goals are.
By laying down your financial goals at the start of your business, you can create your own wealth over time. With no outstanding debt or financial roadblocks in your way, you gain the ability to develop a long-term financial plan that specifically addresses your desired income. Not to mention, you're in control over who represents your company. From accountants to technicians, choosing your employees ensures peak company performance and helps you effectively reach any overall financial goals.
What Are the Cons of Starting an HVAC or Plumbing Business?
Along with the excitement of starting a business from scratch, there are quite a few defaults you must take into consideration. To start an HVAC or plumbing business, you must be ready to commit to long hours and the development of a thorough business plan. First, you must complete all necessary paperwork and legal aspects of owning a business. From LLC registrations to acquiring various insurance types, legally establishing your business is a critical component that will require significant time and attention.
With your new company's legal foundations laid out, you'll also need capital or investor resources to jumpstart your business. Heavy equipment, vehicles, and office space are just some of the assets you'll need to get the ball rolling. Take into consideration that branding and marketing strategies will also require some investment. Strong marketing strategies will help efficiently promote and present your new company to the local community, but they will come at a cost.
Don't forget you'll also need to recruit a team that can operate the business to your expectations. While the number of employees you take on will vary depending on business size and personal preference, it's expected you'll need to go through the technician hiring process. Although it may take some time to find top qualified applicants, these workers will act as the face of your company and will help build an initial customer base. Bear in mind, these processes all take time, meaning you may not see a profit in the beginning stages of your company.
Why You Would Want to Buy an Existing Business
If the above steps to launch a brand new business don't seem right for you, there are opportunities to invest in a pre-existing HVAC or plumbing business. A key benefit of purchasing pre-existing companies is the amount of readily available resources. Businesses for sale already have an established presence within the community and may hold an existing customer base. Likewise, an existing company may come with a well-established group of employees who are familiar with a fixed workflow and customer base.
An essential aspect of running an HVAC or plumbing business is also your relationship with outside resource suppliers. From physical supplies to project aid, passed-over partnerships will come in handy when navigating the ropes of your new business. Suppose you decide to take on financial resources to purchase a business. In that case, investors are more willing to invest in pre-existing companies as start-ups hold a higher risk of tanking in the early phases. Similarly, passed-on financial proof can also aid in gaining any financial resources.
What Would Be the Cons of Buying an HVAC or Plumbing Business?
Despite its many benefits, there are hardships of buying a pre-existing HVAC or plumbing business. A factor to consider when purchasing a company is the classic example of "getting what you pay for." Cheaper business deals often lead to companies that require significant repair or hold a negative reputation with the community. With these defaults, you may need to commit to substantial changes regarding the existing staff and company performance. Hidden issues with staff, equipment, and debt/cash flow concerns could also leave you with more work than you bargained for.
When taking on someone else's business, you should expect potential challenges while molding it into your own. With a previous owner's name and operations already imprinted within the company, you'll have to work even harder to replace it with your vision and goals. Rebranding and building up desired customer satisfaction levels will require you to work with staff as well as possible stakeholders in the community. This can be challenging for pre-existing teams set in their ways and may not want to transition into new management operations.
So, What's Best for You?
Understanding your biggest desires as a business owner will help you decide which entrepreneurial route works best. Take these various factors into consideration when making the big decision.
You should consider starting from scratch if:
You want full control over who you work with and hire

You want the company to represent your name and vision accurately

You're willing to commit to the hard work and long hours of a start-up

You want to develop a financial plan that works best with your financial goals
You should consider buying a business if:
Want a turn-key business that holds the necessary resources to get started

You're more of an investor and looking for something with immediate profit

You don't like the idea of dedicating your time to the extensive phases of a start-up

You're confident that you can mold an existing business to your standards and vision
Wishing You the Best of Luck on Your Business Journey
Whether you start a business from scratch or purchase an established business, we welcome you into the world of HVAC and plumbing. We hope our Boosting, Buying, & Selling: A Beginner's Guide to Business Series helped you along your journey.

Jeff Bohannan
President & CEO of JB Warranties