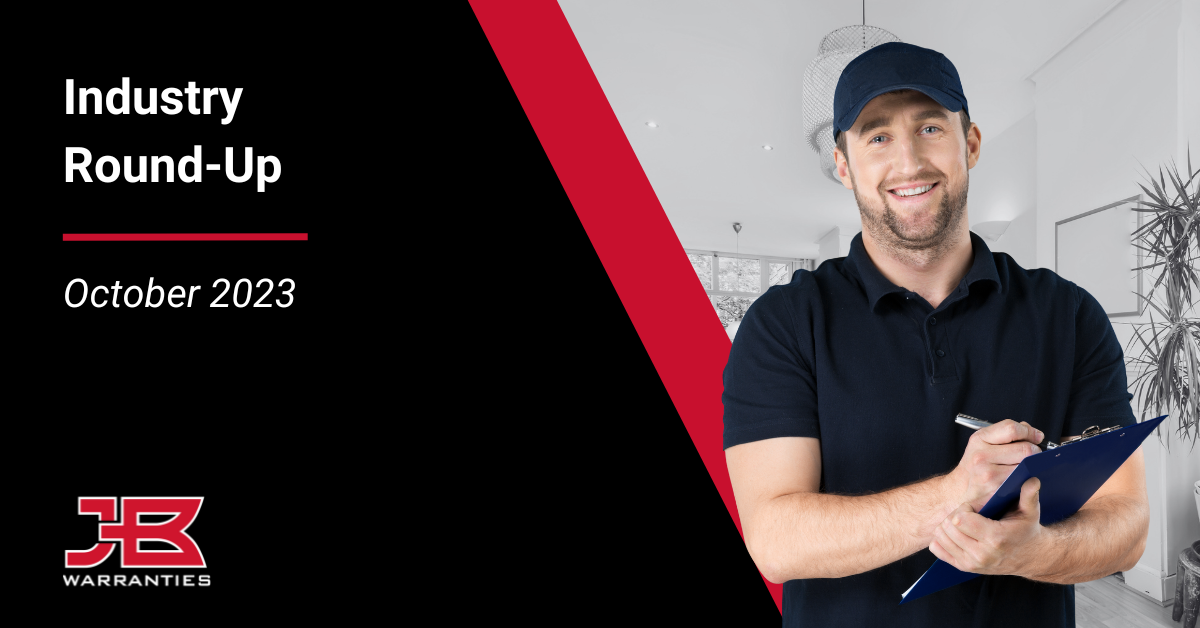 Hey there, plumbing and HVAC professionals! Welcome back to another JB Warranties Monthly Round-Up, our corner of the internet for contractors and technicians to catch up on the various current events and hot topics that are heating up the industry. Speaking of 'heating up,' who else has been installing new water heaters and home heating systems before the cold weather rolls in?
If we had to guess, we'd bet the change of seasons is already keeping you busy. In case you missed it, we covered a ton of key HVAC and plumbing industry topics last month, including New York's latest geothermal heating and cooling legislation, the launch of a new emissions-reducing HVAC system from Johnson Control, and the unveiling of the revised 2024 International Plumbing Code.
With November underway, take a look at what unfolded across the industry throughout October!
This past month, the U.S. Department of Energy (DOE) announced its final energy ruling on energy efficiency standards regarding the use of residential gas furnaces. These Congress-mandated energy efficiency standards aim to bring down household utility costs by roughly $1.5 billion annually, as well as reduce ongoing greenhouse gas emissions nationwide for years to come.
Under this newly finalized energy efficiency standard ruling, all non-weatherized gas furnaces, including those used within mobile homes, will be required to reach a yearly fuel utilization efficiency rating of 95% beginning in late 2028. The new residential gas furnace efficiency standard is one of 24 product categories that the DOE has issued efficiency standards for this year alone.
The collection of new efficiency standards comes in part of the Biden-Harris Administration's ongoing efforts to promote healthier communities and lower utility costs for Americans. The DOE expects that these changes can cut household carbon emissions by 332 million metric tons over the course of 30 years, which is equivalent to the combined annual emissions of 42 million homes.
First debuting in 1930, the Air Conditioning, Heating, and Refrigeration (AHR) Expo is an annual event that gathers HVAC professionals from across the nation to discuss the current state of the industry as well as the future of technology. As part of the 2024 Chicago AHR Expo slated for January 22-24, officials recently announced the winners of the annual Innovation Awards that will be honored at the upcoming event.
Each year, the AHR Expo selects an innovative product from 10 various categories, including cooling, heating, indoor air quality (IAQ), and plumbing. Each winner is then selected by third-party ASHRAE (American Society of Heating, Refrigerating and Air-Conditioning Engineers) member judges, who assess entries based on design, creativity, value, and market impact. A few of the 2024 Innovation Award Winners include:
Cooling:

DSG compressor from Danfossis designed for low-pressure refrigerants and low global warming potential selections, such as R1234ze. With upcoming refrigerant transitions, the DSG compressor supports a smooth transition without big changes to physical compressor sizes.

Heating:

Ephoca Nextac is being viewed as the next generation of Packaged Terminal Air Conditioners (PTAC), with complete comfort control, high-efficiency, self-cleaning coils, and a zero drain requirement.

Plumbing:

Rheem Triton Light Duty Water Heater is the manufacturer's most intelligent commercial gas water heater solution, offering smart monitoring, zero downtime leak detection, and up to 97% thermal efficiency.
For a complete breakdown of the 2023 AHR Innovation Award Winners, head over to the Expo website, where you'll find an in-depth look into each category.
San Francisco Mayor London N. Breed recently announced a new San Francisco Department of Emergency Management (DEM) program aimed at expanding access to air filtration and air conditioning equipment for local community-based organizations. This will be a new effort under the Extreme Weather Resilience Program (EWRP), which was introduced last year to help mitigate the negative impacts of ongoing heat and poor air quality.
Upon the introduction of the program last year, a variety of local organizations, including Boys & Girls Clubs of San Francisco and Self-Help for the Elderly, were selected as part of the program's initial phase. Under the EWRP, these selected organizations will now receive one portable air conditioning unit, five years of filter replacements, and two portable air purifier units thanks to grant funding from the Bay Area Air Quality Management District.
Plumbing Manufacturers International (PMI) announced this month that it would be partnering with the Tomorrow's Workforce Coalition in support of new economic policy development aimed at strengthening the American workforce. The Tomorrow's Workforce Coalition was founded by the Professional Certification Coalition (PCC) and the American Society of Association Executives (ASAE), both of whom advocate for the Freedom to Invest in Tomorrow's Workforce Act.
Under this proposed legislation, American students would be able to use 529 education savings accounts to enroll in skills training, credentialing, and certification programs relating to the various trades, including HVAC and plumbing. Currently, these state-run college savings programs can only be used toward college or professional degree tuition, which limits those seeking a profession in the trades. PMI believes the Act is a great opportunity to promote manufacturing professions in the plumbing industry and build a stronger future workforce.
Lennox International, a leading provider of HVAC and refrigeration equipment, announced another successful run of its Feel the Love program, which annually donates HVAC units to local community members in need. During this year's Feel the Love Installation Week event, which occurred between October 7 and 14, Lennox tapped into the power of its dealer network to install nearly 500 HVAC units in the homes of community members across 43 states.
This year marks the 14th run of the Feel the Love Installation Event, where deserving community leaders including veterans, first responders, teachers, and challenged families can receive new heating or cooling equipment installations free of charge. Since getting its start in 2009, the Feel The Love Program has gone on to help more than 2,300 families in need obtain new heating and cooling systems that offer reliability and high-efficiency energy savings.
Check Back in Next Month for JB Warranties' November Round-Up
The industry might be heating up, but the temperatures are only cooling down. You know what that means—an uptick in service calls for frozen and busted pipes, lukewarm water, and ineffective home heating systems. Here at JB Warranties, we know you'll probably be too busy to follow along with industry news, so we'll be sure to gather all upcoming events, legislation, and more for you!
Don't forget to tune back in next month, where we'll break down what occurred across the trades throughout November. If you're looking for ways to streamline your operations in the meantime, head on over to the JB Dealer Services Marketplace, where you can find more than a dozen trusted business management solutions that help simplify scalability and success for trade organizations.

Matt Cosby
Director of Marketing