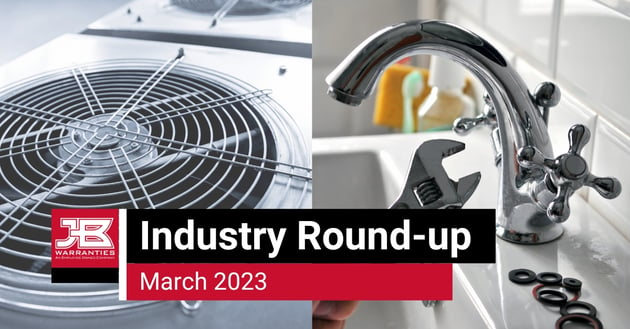 Welcome back, HVAC and plumbing professionals! Believe it or not, we entered Spring this month — and as the temperatures continue to warm up, the signs of the potential 'slow season' are here for many of us trade companies. But, no worries, JB Warranties is here again with our Monthly Round-Up to provide you with a bit of downtime reading material of the top industry news!
We covered a wide range of industry topics in our February Round-Up, including LG Electronics' unveiling of new residential HVAC equipment, a recap of the recent AHR Expo in Atlanta, and recent accusations involving the EPA stalling on refrigerant cylinder ban concerns. Now, let's catch you up with the current events and trends we saw unfold throughout March.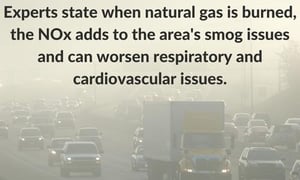 San Francisco Bay regulators have approved a de facto ban on natural gas home furnaces and water heaters. Air pollution regulators approved the ban due to concerns about the nitrogen oxide (NOx) pollution emitted from furnaces and water heaters. Experts state when natural gas is burned, the NOx adds to the area's smog issues and can worsen respiratory and cardiovascular issues.
The ban is slated to take effect in several stages between 2027 and 2031. Climate activists hope that with this ban, there will be more effort to replace gas appliances with electric ones. However, many local government and gas industry officials believe that gas bans will negatively impact overall homeowner costs and could restrict homeowners' rights to heat their homes as they wish.
The Electric & Gas Industries Association (EGIA) and Heating and Air-Conditioning & Refrigeration Distributors International (HARDI) announced a new partnership this month to enhance the relationship between both associations. The two groups believe this partnership will promote profitable and high-quality growth across the U.S. HVACR industry.
Under this new partnership, the associations are developing cohesive strategies to make their energy efficiency training standard and relevant for contractors, manufacturers, and distributors. The associations also aim to enhance contractor utilization to increase the number of high-performing contractor businesses.
Jobber, an industry-leading provider of operations management software for home service businesses, announced this month that they would begin accepting applications for their $150,000 grant. Under this program, 25 experienced business owners will be awarded grants ranging from $2,500 to $15,000 to help them grow their respective businesses.
Eligible home services businesses include but are not limited to lawn care, plumbing, HVAC, and residential painting. The grants will be divided into several categories to support a diverse representation of home service excellence, from businesses that help employees build careers to businesses that give back to their communities. Applications must be submitted by June 8, 2023, and finalists will be announced in August 2023.
We celebrated International Women's Day on March 8 to recognize women's historical and modern-day achievements. HVAC manufacturer Johnson Controls took the time this month to bring attention to women in the HVAC industry. They discussed their efforts to increase the number of women HVAC professionals through various initiatives, including the Women's Global Network.
Regan Axtell, Nan Gordon, and Bridget Klinke, all Johnson Controls employees, were also recognized for their significant roles inside the company. These women serve as senior manager business systems analyst, senior manufacturing engineer, and senior product manager - demonstrating the true importance of women across the entire HVAC industry.
The Biden-Harris Administration has proposed the first-ever national drinking water standard as part of the group's latest action to combat PFAS pollution and safeguard nationwide drinking water. Polyfluoroalkyl substances (PFAS) are a complex group of harmful synthetic chemicals often found in local water supplies which cannot break down in the body.
Under this action, the Environmental Protection Agency (EPA) plans to leverage science and state efforts to limit these chemicals by establishing enforceable legal limits on six PFAS often found in drinking water. If the proposal is finalized, these new regulations would require public water systems nationwide to monitor for these chemicals, notify the public if they are found, and take the proper steps to reduce PFAS contamination levels to designated levels.
Stay Tuned for JB Warranties' May Round-Up
While the spring slowdown may be quickly approaching, there's no slowdown in sight regarding current HVAC and plumbing events. If you have a bit of downtime over the next few months, head over to our JB Dealer Services Marketplace for industry-leading business management solutions that can help you prepare for the busy summer season right around the corner.

Matt Cosby
Director of Marketing