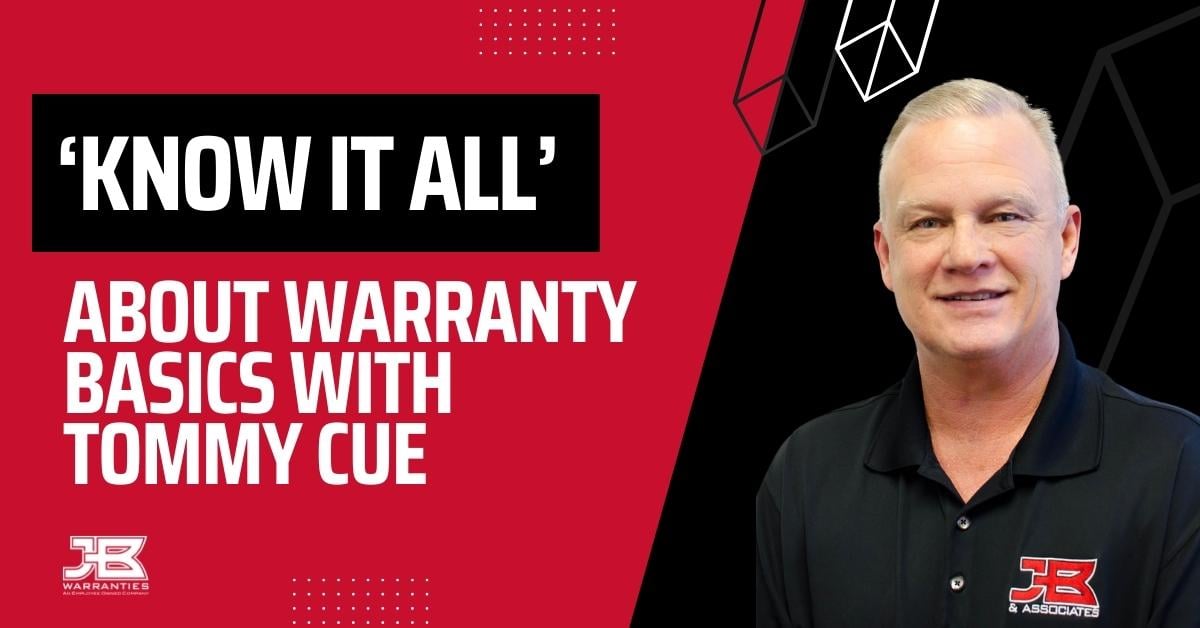 It's no secret that our team knows a thing or two about warranties in HVAC and refrigeration. With a combined experience of more than 100 years in the HVAC/R industry, you'd be hard-pressed to find a management team with more knowledge of manufacturers' limited parts warranties. So, we were honored when our very own Vice President of Sales, Tommy Cue, was featured on the HVAC Know It All Podcast with host and fellow HVAC contractor Gary McCreadie!
Tommy and Gary took a deep dive into warranty basics, from standard warranty coverage in the trade industry to typical manufacturer warranty expenses. Keep reading to 'know it all' about the ins and outs of limited parts warranties, and be sure to tune in to the podcast to learn more.
What Warranty Coverage is Standard for HVAC Equipment?
So, what is the typical warranty coverage on compressors, heat exchangers, and coils in HVAC and refrigeration, anyway? According to Tommy, the original equipment manufacturer (OEM) warranty for commercial products covers one year for parts and five years for the compressor (a 1-5 warranty). A select few manufacturers also offer a 5-year time limit on commercial parts for a 5-5 warranty.
But what about residential OEM warranties? Residential OEM warranties often surpass commercial coverage due to residential systems experiencing less exposure than commercial systems over time. Residential warranties are often longer, with less risk of needing replacement parts throughout the years. "For residential, every brand out of the box is 5-5," Tommy explains.
How Does a Limited Parts Warranty Work in HVAC?
Many contractors are shocked to learn that the OEM warranties described above are not the same as limited parts warranties. Fortunately, there's a simple way to remember the difference — an OEM warranty is a base warranty, whereas a limited parts warranty extends the base coverage for longer. In both cases, the product manufacturer is the entity controlling the warranty.
For instance, all residential systems have an OEM 5-5 warranty. To extend that warranty to 10-10 or even 10-12 for the homeowner, a contractor must register for a limited parts warranty with the system manufacturer per their specific guidelines. Generally, warranty registration should include the homeowner's name, address, system model, and serial number.
However, there are two conditions of a limited parts warranty that HVAC/R contractors should bear in mind. For one, a parts warranty does not include labor costs; the contractor must compensate for labor unless they pass those costs to the homeowner. Secondly, limited warranties only get registered to the original homeowner, and they must pay a transfer cost to the next homeowner.
How Much Do Manufacturers Spend on Warranties?
As a leading provider of HVAC warranty programs for contractors, JB Warranties has extensive insight into how much manufacturers spend on faulty parts. "Some of the biggest manufacturers in the world we have relationships with, and I typically get info on what they put aside for the parts warranty exposure," explains Tommy. "It's an astronomical number."
Though there's no set amount for manufacturers to spend on warranties per year, each corporation sets aside a percentage of sales to account for warranty costs. Try an average of 2% to 4% of sales in the United States. On the commercial side, where systems often have more exposure, this expenditure can be higher.
What Can Void an HVAC Manufacturer Warranty?
Aside from coverage and cost, Tommy and Gary discussed other critical elements of HVAC manufacturer warranties, namely whether or not such agreements can be voided. The short answer is yes; an HVAC manufacturer warranty can be voided. The longer answer is, though it can be voided, it's unlikely to be unless the system has not received the appropriate maintenance.
Let's back up a bit and let Tommy explain.
"It would be difficult for a manufacturer to track down the exact thing that would void a warranty. They will track the serial number by product and track the failures by product type. If they have a problem with the system, they could potentially get involved with a field service representative that would come out and coach you on why the failures are happening."
HVAC manufacturers might ask for maintenance records over the past three or four years and can void the warranty if proper system servicing didn't occur. However, according to Tommy, this course of action is pretty rare. Instead, there's been a change in the industry where manufacturers now require annual maintenance to facilitate the limited warranty for the full length of time.
"Manufacturers rely on contractors to be their eyes and ears out in the field," Tommy adds. "If [contractors] sell a big job that requires HVAC to do maintenance and those technicians don't, contractors can contact the manufacturer to reduce that warranty." In other words, even contractors can play a role in voiding warranties for systems that lack necessary maintenance.
How Can Contractors Limit Warranty Costs?
If all of the above warranty talk overwhelms you, rest assured that we have you covered. JB Warranties is the nation's leading provider of Extended Warranties to the HVAC/R and plumbing industries. Our online system provides contractors with the most comprehensive and easy-to-use extended service agreement solution with built-in protection that can limit unexpected costs.
Our Premium Protection Plan offers HVAC contractors:
Quick and simple claim filing
Reimbursement within 15 business days
Reimbursable labor rates of up to $300 per hour
Unrivaled prices across all brands and all 50 states
Protection to customers on parts, labor, and refrigerant
What are you waiting for? Register for a dealer account with the Premium Protection Plan today or contact JB Warranties to learn more