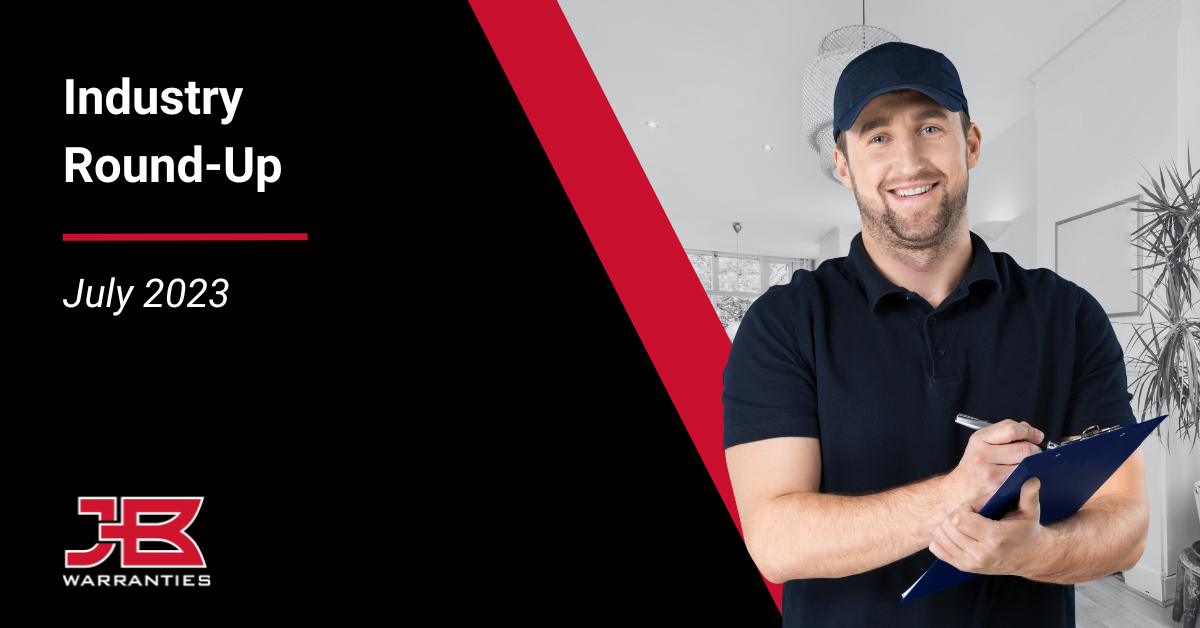 Welcome back, HVAC and plumbing professionals! We're here again with another JB Warranties Monthly Round-Up, our time to dive into the latest industry events, news, and hot topics that occurred over the past month. With scorching temperatures heating up across the country, we can bet that customers have kept you busy—so let's take a break to check out this month's topics!
In our previous June Round-Up, we discussed a few trending industry events, including the launch of a new Johnson Controls HVAC resource app, the urgent IAQ response to the massive Canadian wildfires, and the federal court striking down the heavily opposed cylinder ban and tracking requirements. Now, keep reading to learn more about what occurred over the month of July!
The American Society of Heating, Refrigerating and Air-Conditioning Engineers (ASHRAE) recently announced the publication of its airborne infection risk mitigation standard for buildings. This new standard updated the minimum requirements for buildings that aim to reduce the risk of indoor disease transmission through upgrades to air system design, installation, and maintenance protocol.
There are many components to the new standard, including the implementation of an infection risk management mode by building owners, which activates enhanced indoor protections during elevated periods of disease transmission, such as flu season. The standard also implements new mandates for filtration and air cleaning technology to meet the specified clean airflow and system testing requirements.
This month, a $700,000 grant from the U.S. Department of Energy (DOE) was awarded to the city of Duluth, Minnesota to fund the design of a geothermal project. The grant was announced during a recent press conference, making Duluth one of 11 communities across 10 states that were selected by the DOE to drive the development of geothermal heating and cooling systems.
Duluth project officials plan to direct the funds towards the design of a geothermal district that will use waste heat from the local sewer system to eventually heat buildings across the area. This initiative is in part of an effort to reduce operating emissions as well as implement new practices that work to decarbonize many neighborhood buildings. The first stage of the project is to finalize the project site, study its energy source, and analyze environmental and permit needs.
The Air Conditioning Contractors of America (ACCA) Association and the Building Talent Foundation (BTF), a nonprofit dedicated to promoting the education, training, and career progression of young individuals, recently announced a partnership to help promote HVAC careers. Through this effort, the two groups hope to attract young people into the HVAC sector to create a new pipeline of talent.
This collaboration comes at a time when the HVAC industry is in what some would refer to as a dire need for new talent, while retirement numbers currently outpace the number of new HVAC technicians. The groups will work with participants to connect them with on-the-job training, internship, and employment opportunities that encourage long-term career opportunities.
Interplay Learning, a leading developer of virtual reality (VR) and online training solutions for the trade industries, recently announced the launch of its Interplay Intelligence Lab. The Interplay Intelligence lab will encompass a group of experts who are assigned to design and deliver new innovative solutions for HVAC and plumbing professionals that aid in skill development.
As part of this recent announcement, the Interplay Intelligence Lab also announced the SAM (Skill Advisor and Mentor) project, which will provide an artificial intelligence-powered (AI) mentorship solution to users. SAM's capabilities will tap into the power of Interplay's existing training resources to provide users with in-the-moment AI-driven mentorship, which can ask questions and provide additional context to students as needed during instruction.
ARS/Rescue Rooter, the leading provider of residential HVAC and plumbing services across the U.S., recently released a list of the 25 most energy-efficient cities and regions in the country in reference to HVAC system usage. The list was constructed based on the number of energy-efficient HVAC system installations the company has completed in recent times per area.
According to the list, the top five cities in the United States that have adopted the most energy-efficient HVAC equipment are Alexandria, VA; Seattle, WA; Cincinnati, OH; San Antonio, Texas; and at number one, Riverside, CA. These U.S. locations have been ranked the highest due to their strong adoption of high-efficiency HVAC units, which hold high SEER/AFUE values and require far less energy consumption compared to traditional units.
Tune in Next Month For JB Warranties' August Round-Up
As the months continue to fly by, HVAC and plumbing professionals can expect quite a collection of trending industry topics, events, and news to emerge that everyone should know about. Make sure you tune in next month for our August Round-Up, where we'll present a collection of current events we encountered throughout the month that could impact or be of interest to your operations!
Looking for other solutions to keep your business current? Head over to our JB Dealer Services Marketplace, where you can learn about a wide selection of business management tools and solutions that can be used to enhance your operations and drive customer satisfaction year-round.

Matt Cosby
Director of Marketing