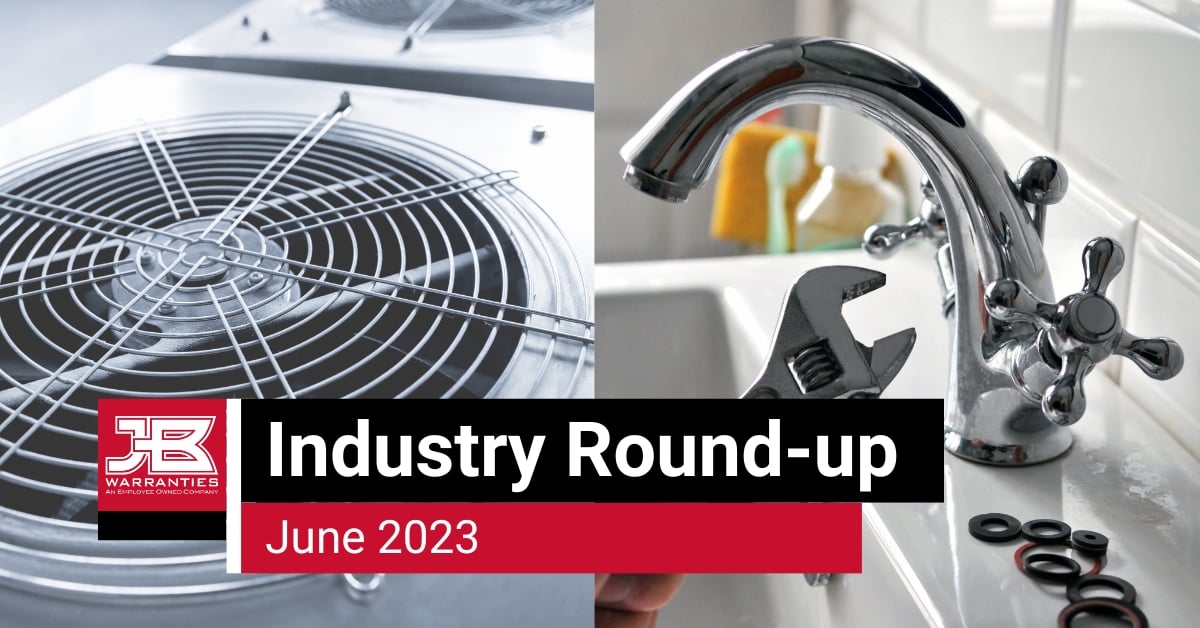 Hey there, plumbing and HVAC professionals! Welcome back to another JB Warranties Monthly Round-Up, the blog post where we share some of the hottest industry topics, events, and news from over the past month. In case you missed it, June kicked off the summer season, signaling busier times ahead for HVAC and plumbing professionals as that summer heat begins to roll in.
The start of summer aligned with tons of topics from our May Round-Up, where we discussed the launch of a new specialized training academy from LG Electronics USA, the EPA's release of the SNAP Rule 26, and a recap of HARDIs 2023 Focus Conference. Now, let's rewind into the month of June to recap some of the notable topics we encountered as those temperatures heated up!
Johnson Controls, a global leader in HVAC equipment manufacturing, recently announced the launch of their HVAC mobile application resource. Titled the Johnson Controls Ducted Systems (DS) Solutions App, the free app provides contractors with access to installation, troubleshooting, and maintenance procedure information for both commercial and residential HVAC equipment.
Johnson Controls developed the mobile app with hopes of streamlining HVAC technician processes by eliminating the need to shuffle through physical manuals. Instead, technicians can simply search for the specific unit they're working on via the model number or QR code listed on the equipment. From here, users can browse numerous resources, including wiring diagrams, warranty details, and parts lookups.
Over the past month, smoke from a collection of massive Canadian wildfires impacted numerous northern U.S. states, resulting in millions being placed under air quality alerts. In fact, New York health officials advised residents to limit their outdoor activity due to the heavy level of air pollutants that could induce respiratory and cardiovascular issues in high-risk individuals.
Due to this massive impact, increased attention to indoor air quality (IAQ) solutions began to arise over the month of June. According to IAQ experts, consumers should seek high-efficiency particle filtration systems equipped with HEPA filters in the event of poor air quality incidents. Contractors should advise consumers to close all windows and run their HEPA systems at full strength to significantly reduce the number of harmful wildfire pollutants that make their way inside the home.
A.O. Smith, the largest water heater manufacturer in North America, announced this month they've launched a newly updated website designed to better meet the needs of both homeowners and trade professionals. Homeowners can now access a Contractor Locator Tool, which can connect them with an A.O. Smith-certified professional to help them with their water heater concerns.
In regards to professional support, A.O. Smith has created a new Professionals Experience that is broken down into various fields, including plumbing contractors, builders, and wholesalers, to provide each professional type with content tailored specifically to their industry. A.O Smith has also updated its Product Literature, Videos, and Images section, making it easier for contractors to locate equipment manuals and instructional videos.
On June 20th, the U.S. Court of Appeals for the District of Columbia Circuit ruled in favor of Heating Air-conditioning & Refrigeration Distributors International (HARDI) in part of an ongoing legal battle between the U.S. Environmental Protection Agency (EPA) and various trade associations, including HARDI, ACCA, and PHCC. The ruling dismissed EPA provisions that would eventually ban the use of non-refillable cylinders and require the use of QR tracking for refrigerant cylinders.
This effort by the Environmental Protection Agency comes in the form of the AIM Act, which is currently working to phase down the production of harmful hydrofluorocarbons (HFCs). The EPA argued that this effort was necessary to prevent the illegal import of HFCs. However, the courts ruled that this was unnecessary due to the fact that there was already a partnership in place with Customs and Border Patrol that has already successfully prevented such illegal imports.
In celebration of National Healthy Homes Month, Habitat for Humanity and the Carrier Global Corporation, a global leader in sustainable HVAC equipment, collaborated with one another to improve home health during the month of June. Designated by the U.S. Department of Housing and Urban Development, National Health Homes Month works to raise awareness of the critical need for healthier and safer housing with the goal to improve the health of individuals and families.
Throughout the month, Carrier employee volunteers ventured out to several Habitat for Humanity builds in locations such as Florida, Georgia, Massachusetts, and New York. Carrier officials donated a collection of their products, including energy-efficient cooling systems and air purifiers to help enhance these construction projects and provide families in need with a safer, healthier home.
Stay Tuned for JB Warranties' July Round-Up
Just like the uptick in summer service calls HVAC and plumbing professionals should expect to see over the coming weeks as the scorching heat rolls in, you can also expect new industry stories and topics to pop up, too. Be sure to stay tuned next month for JB Warranties July Round-Up, where we promise to fill you in on all the latest industry news, events, and hot topics for the summer.
As service calls ramp up, be sure to also check the JB Dealer Services Marketplace to access a wide variety of business management tools that can be used to help streamline your busy operations.

Matt Cosby
Director of Marketing